Praises for I'm With Her's debut single are no "Little Lies"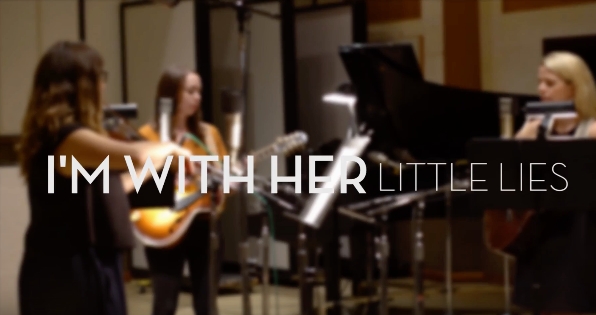 The roots music community is an interesting and almost magical thing. Collaboration might be common to the music industry, and pop or rock artists might feature each other on respective tracks but, with roots musicians, collaborating and mutual creativity isn't the route taken for a temporary change for pace or a short-term boost in visibility. It's the norm. It's practically the rule as opposed to the exception. Often, very little is needed in the way of what sparks the motivation for one or more musicians to launch a new band.
Stringbands in particular have been on the rise – the lineups for which cross and blur the walls between one artist's solo project, another's primary band, and perhaps a third "when in-between tours" project – as is eloquently highlighted in No Depression's Fall 2015 print issue. What the exact breakdown of reasons for forming new groups is varies from one to the next but there's no denying that aggregating multiple talents and spirits of artistry into a single musical pursuit means an even more enjoyable end result.
One such blending of musical minds is the band I'm With Her. Out and about in small doses since 2015, the trio is just now making a proper stringband splash (not to overlook the accolade of a New York Times live review earned during just their brief introductory tour). Comprised of Aoife O'Donovan (Vocals, Guitar), Sarah Jarosz (Vocals, Guitar, Mandolin), and Sara Watkins (Vocals, Violin), the folk trifecta was previously a rare sight and sound precisely because the three keep so busy nurturing respective solo careers, other projects, and personal life changes. Today however, marks a pivot in that preoccupation, with the debut of "Little Lies."
Having previously brought harmonic bliss to others' songs, this original song is granted that same seamless harmonization, as well as ample room to ring out organically – exhalations, metallic string taps and all. Jarosz, Watkins, and O'Donovan share performative duties on both the vocal and instrumental fronts; the collective result contracting and expanding like a living breath, as the verses and the instrumental shifts between them allow the women to truly shape "Little Lies" dynamically, despite its elementally minimal arrangement. Lyrically, the song is equally pure and graceful; exploring both the fear that comes with the choice to be vulnerable and the seemingly selfless intentions hidden beneath the surface action of letting someone go or pushing them away.
I'm gonna hold my cards close
Cover my scars and mostly tell you little lies
I hope you never know this
Kind of loneliness that's eating me alive
Is it all right with you if it's all wrong with me?
Cuz it's all right with me if you wanna be set free
The straightforwardness in how "Little Lies" is written and structured as a song (verse, verse, chorus, verse, chorus / ABCB rhyme scheme), makes its narrative emphasis on emotional pretenses not only feel somewhat ironic, but also gives the song a subtle extra layer of artistic sophistication outside of the melody or instruments entirely. It's tapping into this kind of secondary character reinforces the idea that one shouldn't develop an expectation of sameness from stringbands, solely due to their acoustic nature or common instrumental fare. Even when considering that O'Donovan, Watkins, and Jarosz have similarly gentle voices and can sing in overlapping registers, each injects and projects enough of their individual vocal character so that all the microphones pick up are sounds that complement and naturally enhance, rather than compete or render themselves indistinguishable on top of one another. "Little Lies" is display of deceptively complex, but utterly effortless chemistry among Jarosz, O'Donovan, and Watkins and, as a first step on to what will hopefully be a full length release, I'm With Her might soon find lots of others are with them too.
---
"Little Lies" is available as part of a special EP made exclusively for the 2017 summer tour dates (see below) that is taking pre-orders now. The single is also available through iTunes. Streaming is available on Spotify.
I'm With Her are prepping for the "American Acoustic Tour" with Punch Brothers and Julian Lage, which begins on 29 July in Portland, ME, eventually passing through NYC on 3 August for a show at the Beacon Theater. Tickets for those and the rest of the tour's shows are available HERE.
Stay connected to I'm With Her through its official website and these social media outlets:
Facebook
Twitter (@ImWithHerBand)
Instagram
YouTube