"You Must Be This Tall To Die" and ride Action Park's emotionally turbulent debut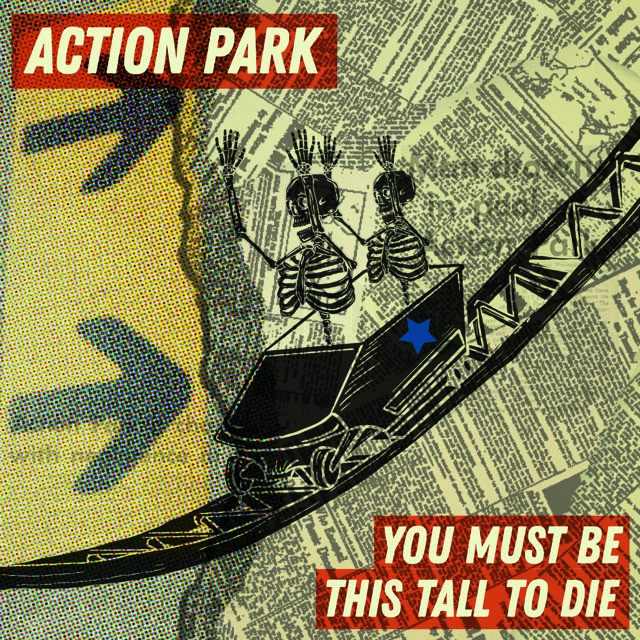 The newest addition to the global punk canon, You Must Be This Tall To Die, the debut full-length from emo pop-punk band Action Park, fits right in with its stylistic peers, both in terms of its musical intensity and its explorations of emotional weight wrought by current social, political, and cultural tensions. Beyond this pairing of foundational qualities familiar in a punk record, the Long Island, NY band's very identity adds an element of sardonic humor that is at once entirely separate from the core of their songs' emotional themes and cleverly resonant without appearing excessively random or distracting. In fact, subtlety and small artistic details are a standout strength of this album, with little choices strewn throughout that, when put all together, make for an appreciable display of attention to certain detail.
Action Park is:
Matt Riley (Vocals, Guitar)
Vinny Carriero (Bass, Vocals)
Bobby DeQuillfeldt (Guitar, Vocals)
Aaron Pagdon (Drums)
Seeming at first to bear a name that, while indicative of high energy, sounds a bit generic, Action Park's namesake is actually very real and its history wholly terrifying: the band shares a name with the previously defunct, recently re-opened theme park from the 1980s, which echoes a legacy of high risk, low safety, injury, and several deaths. While the band is entirely separate from the parks branding, You Must Be This Tall To Die does lean into the overlapping reference in more than a couple of ways – not the least of which is the sharp one-two punch of the album's mildly morbid title and the very creative artistic vision of its cover art. The latter is incredibly vivid and its design feels novel and iconically punk at the same time, and the imagery ties everything – the title, the band's name, the album's emotional moods, and its noir-tinted wit – all together. Suddenly, Action Park's moniker takes on a deeply memorable sense of character.
All of this creative intent plotted out and delivered before a single note is played, opening track "Wrong," goes that extra mile to really embolden the thematic edge of the record and set the tone. The very first seconds of the 2:42 track are actually a sound sampling of the jingle played in an old commercial for the theme park and for band, the cheery feminine vocals contribute an almost eerie vibe to the rapid and emotionally, and well as vocally, ragged music that's immediately to follow. The choice to begin the band's playing off the same chord as what the commercial's jingle ends on, is a nice touch to boot.
I was right and you were wrong,
Ain't that what matters all along.
– Lyrics from "Wrong"
As one works their way through the dozen tracks on You Must Be This Tall To Die, the narrative struggles packaged into each track vary, as do the band's individual approaches to the musical colors of punk style songwriting. Aside from the basic markers of tempo and specific hook, Action Park appears to take on the core compositional aesthetic of different iconic bands that between the various sub-genres of punk, pop-punk, and emo punk. The song's primary rhythmic structure, which is anchored by an chugging bass line with a more defined than jagged tone, and prioritizing of thin-toned guitar leading over the recurring fast pattern of two 16ths and an 8th in the drums' kick and snare respectively, aligns well with the musical framing of early NOFX, whose songs are often known for their less heavy-weighted tonality but fast moving intensity.
Elsewhere, "Guzzo," another track opened with a sound sample – this time from Call of Duty 3 – pushes itself forward with unison guitar and bass giving the opening four note hook a clearly defined, and notably dense foundation. The addition of a mildly distorted lead guitar playing a minor key motif over this layering in the song's second round of the introductory bars, sets up a far more sonically thick and solid piece of music than the more tonally streaky sonic arrangement of a mostly guitar and vocal driven song like "Waiting on the Rain." The combination of "Guzzo's" melodic structure, dynamics, and minor leaning musicality exudes the aesthetic of music from the Offspring of the late 90s. "Amazed," from the band's 1997 album Ixnay on the Hombre presents with a similar song structure, save for the Offspring's lead guitarist playing a fuller-bodied version of its primary hook in contrast with Action Park's singularly lined lead guitar.
All this being said, You Must Be This Tall To Die isn't a record merely playing a who's who of punk band sonic soundalikes. Some of the album's strongest pieces come from its group oriented efforts, with "24 Months," the sole track on the album not only written by Action  Park, giving partial songwriting credit to Jesse Andrus, who also mastered You Must Be This Tall To Die. This track is one of the album's more melodic, as well as being one of the more vocally layered. With three of the four members of Action Park contributing vocals on the album, its songs like this where the group's unity, as well as its harmonizing best shines and sounds its most cohesive. The whole song projects just as much solidity as "Guzzo," but doesn't hit the listener with as much sheer intensity. Nearly the same can be said for "Side by Side" but the execution doesn't land with quite the same level of defined sonic confidence.
This observation isn't a major shortcoming for the album. However, the idea of occasional sonic imbalance does seem to surface on the record with some amount of recurrence. And though this is a pop-punk / punk rock record, there's a difference between creative license or stylistic leanings and objective perception of audible assembly. Riley, for range of emotive deliveries throughout the album, sometimes becomes a casualty of being the only one singing on most songs' verses. "Wrong," for being the album starter, leaves Riley a little lost in the shuffle of Pagdon's very well accentuated drum parts, with the kick and reverberating splashes of the cymbals sometimes burying Riley's voice in the mix. This sonic profile becomes a repeating battle between Riley and the drums, as well as Carriero's (excellent) bass playing on other tracks too, which is a rather unfortunate soft spot in Action Park's otherwise assertive punk frame.
The same can be said for "Airwaves," the album's penultimate track where DeQuillfeldt takes the lead vocal role. Despite his prior resume of experience leading and vocally supporting other bands of adjacent styles, DeQuillfeldt's natural vocal tone is thinner than Riley's which leaves the his voice even more susceptible than Riley's to being rolled over by the band's support. That said, in reality, "Airwaves" doesn't see DeQuillfedlt's vocals shoved down in the mix. Though it would seem logical to assume this is likely from the band toning down the drum and-or bass intensity to give the vocals more space, the band's total backing support is as bold as ever. In truth, DeQuillfeldt's part comes through more clearly, likely due to his experience in knowing what to get out of his voice to stay at the front of the a mix, and also because overall, the track itself sounds more notably compressed than the others, perhaps to help balance out everyone's parts and prioritize the sonic "order of operations" a bit more accurately. Perhaps down the line, given the different but complementary qualities of Riley's bolder voice and DeQuillfeldt's more piercing tone, that the two consider more doubling up in parts or, at the very least, blending together via production, so that the most useful qualities of both are best applied to the benefit of Action Park's collective sound.
By the end of You Must Be This Tall to Die, Action Park has definitely succeeded in taking its listeners on a wild ride. Perhaps it's even more fitting to say many different rides, each promising unique thrills, just like the band's defunct amusement park namesake. There are some areas of potential improvement that the group can look to evaluate in recording going forward but, as a listening experience offering emotional variance, catchy musical framework, and humorously memorable creativity, Action Park's debut is an album that's worth coming back to again and again.
Action Park kicked off their "You Must Be This Tall to Die Tour" with a hometown show in Valley Stream, NY last Friday. The band continues on tonight in Nashville, TN at the Springwater Supper Club & Lounge.
See below for the remainder of their tour dates.
17 September 2021 The Railroad Inn Valley Stream, NY
18 September 2021 The Government Center Pittsburgh, PA
19 September 2021 Blind Bob's Dayton, OH
20 September 2021 Springwater Supper Club & Lounge Nashville, TN
21 September 2021 Hal & Mal's Jackson, MS
22 September 2021 Kick Butt Coffee Austin, TX
23 September 2021 El Chuco El Paso, TX
27 September 2021 Beehive Social Club Salt Lake City, UT
28 September 2021 Surfside 7 Fort Collins, CO
29 September 2021 Lincoln, NE
30 September 2021 Eagles Club 34 Minneapolis, MN
1 October 2021 Chicago, IL
2 October 2021 Detroit, MI
---
You Must Be This Tall To Die is available now.
Find it on Bandcamp and streaming on Spotify.
Keep up with Action Park through these social media outlets:
Facebook
Instagram
Bandcamp