Meet Me @ the Altar's debut might be a "Model Citizen" but it's no idle introduction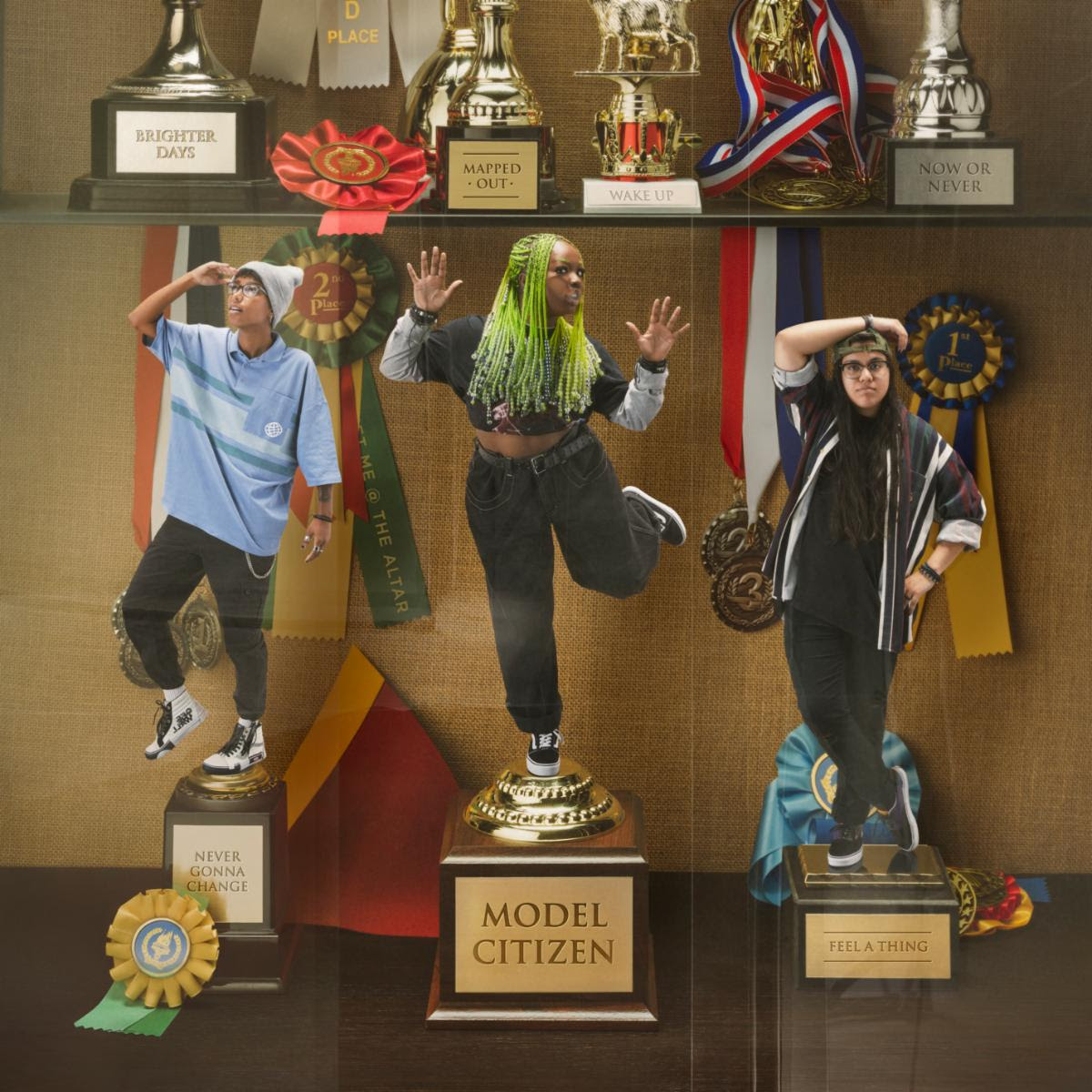 Given the constraints that the past year of pandemic-fueled separation put upon the music industry and all the musicians that work and create within it, the idea of a multi-state based band having its big breakout the summer after the potential gatherings have finally turned a corner, might seem amusingly serendipitous, if not possibly a little opportunistic. However, anyone presuming motivations of the latter kind from pop-punk band, Meet Me @ the Altar, would be inadvertently unveiling a lack of awareness regarding the trio's organic and completely pre-pandemic history. Furthermore, the very milestone the band has achieved – working its way up through the depths of independent, DIY, obscurity, to now launching an EP with iconic alternative label Fueled By Ramen – is a display of widespread public arrival that entirely follows several years of self-motivated creating, self-funded record production, and a painstaking solidification of the band's now heavily praised sound and songwriting style.
Meet Me @ the Altar is:
Edith Johnson (Vocals)
Téa Campbell (Guitar)
Ada Juarez (Drums)
While the absolute avalanche of editorial coverage presently being bequeathed to Meet Me @ the Altar makes their breakout moment look like overnight success, such is more a reflection of the larger musical landscape taking notice within the last year, than a previous lack of journalistic credence. Model Citizen, the band's grand introduction together with Fueled by Ramen, is a project made with enthusiastic support and logistical resources that are hard-earned and a sign of continual refinement. Just the fact the band's very first EP, Red Walls (2015, independent) featured a different vocalist (Campbell and Juarez worked with Rosalind Vo for the release) and the record was openly shared by the band via Bandcamp as having been "mixed in Téa's [Campbell's] garage" is indicative of how much time and effort the three current members have dedicated to each other and the growth of this band and its music which came together purely via remote collaboration over the internet and eventually moved to intermittent live performances held in popular neighborhood venues around Orland, FL.
The musical clarity of Model Citizen almost mirrors the clear-eyed focus that Meet Me @ the Altar has for the band overall: to bring a renewed appreciation for early 2000s pop-punk arrangements and infuse the present day collection of community work with musical hallmarks of those previously championed compositional qualities. There's dynamic variation and a tonal crispness that permeates nearly every aspect of the EP six songs' . This rings especially true for Johnson's vocals, which, while they deliver a carefully honed edge that cuts above the band's dense instrumental backing, never lose their full-bodied quality that confidently shows Johnson has definitive control over the strength of her voice – an attribute that when lacking, can occasionally lead to uneven vocal tone, (non-stylistic) breathiness, or a loss of oneself among other more aggressive elements in the mix. In a genre that's often dominated by nasal-driven vocal tone – particulalrly when overlapping with emo-style influences as well, Johnson's blend of piercing and full-toned vocal delivery, is alone applaudable and prompts repeated listens.
Add to this first quality, the band's embrace of snug harmonies, both in vocal overdubbing and in layers of guitar tracks, and the affinity for pop-punk of a decade gone by is even hard to ignore. Pop-punk of more melodically focused style and structure is hardly unheard of but not necessarily the default creative force in the genre – at least not insofar as shaping instrumental and vocal parts – it's usually one or the other. It's difficult not to want to sing along when those incredibly satisfying tonal moments kick in, like in opening verse lines of "Brighter Days (Are Before Us)" and then even more so during the song's thoroughly harmonizing chorus. The paired notes aren't playing on any kind of edges of arrangement, familiar spacings of minor thirds reign here. However, for anyone who always stopped to catch the fleeting bars of sung harmony in songs like Blink 182's "All the Small Things" it's no less appealing to hear that perfect tonal chemistry, even if it is a fundamental route of harmony writing.
The band offsets this sweeter, smoother side of Model Citizen with its dense instrumental side, as Juarez's drumming and Campbell's guitar parts instantly give dynamic weight, tonal thickness, and a sonic punch to every rhythm chord, beat-driving splash cymbal ripple, and rapid kick drum hit. The doesn't mean the band shuns the use of electronic or more digital affectations. Synth tones providing glittery beeps, and boops in the opening of "Feel a Thing" make this sense of openness clear and makes all the more sense when heard within the context of the accompanying music video, which is modeled after sprite and pixel style arcade games of the 90s and early 2000s. Yet, unlike the current trend of synths at the forefront as  tonal palette leaders in full band arrangements of pop, dance, and pop-punk music, Meet Me @ the Altar assign digital facets a distinctly supportive, accent-related role, as opposed to being the crux of any song's musical character. This again, is a strong sign of the band's leaning toward pop-punk arrangements of the past. Still, there are enough contemporary qualities and creative touches to not makes the trio seem old fashioned or stubborn in their stylistic ambitions.
The general preference for a foundation comprised of more traditional rock band ingredients is a welcome unearthing of past passions in the pop-punk community, as is the density of Meet Me @ the Altar's choruses, opening hooks, and instrumental bridges. It's Meet Me @ the Altar showcasing their laser-focused aesthetic and such surefooted artistry in a rising band is massively commendable and a quality the trio should look to nurture as time goes on. That said, the band has only just taken off from their new label's freshly painted starting line and with this beginning status, comes room for reflection, refinement, and rearrangement of sonic priorities in future work. Model Citizen might be rock solid stylistically, and the band might present a united front about the decisions that made it so. However a more objective look at the EPs mix and its production style reveals a distinct and undeniable tendency proliferating across the record's entire soundstage: The drums, specifically the kick, backseat drive through the whole EP.
While it's been established that Meet Me @ the Altar doesn' shy away from dynamic intensity and tonal weight, there's a difference between collectively offering a carefully crafted wall of sound style song, and having one aspect, of one part in the band's total arrangement, seem to push itself into the spotlight on every track. This isn't to criticize Juarez's actual performance or instrumental skill. No, the drumming ability is there and then some. The friction the kick creates in listening comes from the fact that the drum's beats are given such dynamic priority and the fact that the attack of each beat is smoothed and rounded to the point of sounding more suited to a power metal band than an easycore pop-punk group. To a lesser degree, Juarez's kick parts themselves exacerbate the metal association too, as the rapid and longer lasting bursts of beats feel more ready to keep pace with a shredding lead metal guitarist.
All the same, the latter observation is more a coincidental side note than an actual creative criticism or executional weakness. Collectively, the EP seemed like it was produced with drum and percussive dominance in mind, sometimes to the detriment of all the other subtle but pivotal creative choices Meet Me @ the Altar put into each arrangement. Noting that Model Citizen was produced by Roye Robley, an engineer and producer  who also happens to be a drummer, this slight tilt in the EP's sound stage might find some of its explanation there. Though to be fair, Robley's catalog of work includes tracks of a far less dynamically heavy nature (see Matt Pow's "dancing song") which don't all feel nearly as anchored in lower end beats or tones so it's unlikely this EP's dynamic tilt is indicative of a total auditory tendency on Robley's part.
All in all, Model Citizen is quite worthy of praise from many angles and its success serves as a solid marker for Meet Me @ the Altar to soak up their own achievements and have a tangible way to quickly sum up the trail of the trio's hard work to date. After all, a finished record doesn't just appear and each of Johnson, Campbell and Juarez know every little peak and valley they went through to find themselves holding a mastered recording and a copy of their signed label contract. Any nuances that technically fit in the "needs improvement" column are not even required needs as much as they are simply notes for what the band may or may not choose to embrace further with future songs. It's all up to Meet Me @ the Altar and right now, they and their new record are simply at a place where sitting at the summit and enjoying its great view is all that's required to keep the inertia of genuine and well-deserved interest going well into their next album cycle.
---
Model Citizen is available now via Fueled by Ramen.
Find it on iTunes, through the artist's online store and streaming on Spotify.
Keep up with Meet Me @ the Altar through its official website and these social media platforms:
Facebook
Twitter (@MMATAband)
Instagram
YouTube
Bandcamp
Spotify