City Mouth's "Sanity for Summer" goes crazy with creative cohesion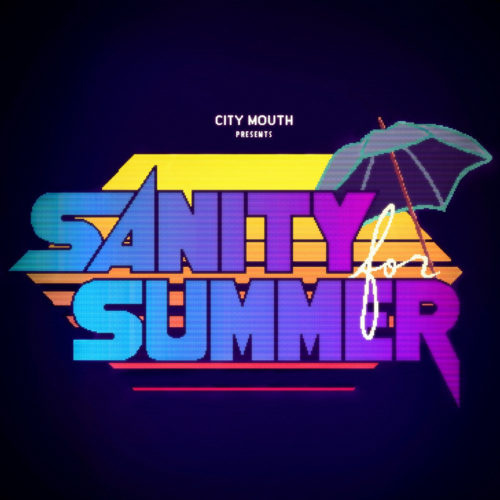 Catchy, fun-focused, repeater singles are no anomaly once winter has taken its leave. Every year, it feels like the race to claim the bragging-rights fueled title of "Song of the Summer" takes off sooner and sooner. As such, ample credit to Evergreen Park / Chicago, IL indie pop-punk band, City Mouth, for holding out until less than five days before the arrival of the longest day of the year to unveil new single, "Sanity for Summer." The band might have cut itself short on lead up time for fans to get hyped but sometimes waiting is the right thing to do and in the case of this new song and its accompanying music video, the wait was absolutely worth it.
Just a few months removed from a year since the release of last EP, Hollows (Take This to Heart, 2018), while "Sanity for Summer" very easily fits the bill for a hook heavy, melodically and mentally magnetic summer fixture, City Mouth didn't take its foot off the creative pedal just to get itself a quick hit on the web. The song inarguably has that carefree momentum of most summer anthems but give attention even a little below the surface of the song structure and conceptual substance is waiting to be appreciated in abundance.
The music video alone is a clear demonstration of teamwork and a reinforcement of City Mouth's great chemistry as group – even in spite of a couple of line changes since the last release. The thought of just hanging out and getting nostalgic with an (applaudably still functional) Super Nintendo seems like a basic enough storyline as the video begins. What could be more cruise control than that? Still, many components went into this seemingly laid back idea, not the least of which includes the meticulous and realistically designed 8-bit characters and environments designed and animated by the band's own Ryan Kress. Given the first full minute of attention, City Mouth went for the classic approach of a fleshed out storyline, extending far outside the run time of the actual song. (With an absolutely terrific teaser in the form of a minimalistic chip tune take on the song's main hook in the game.) This could be considered the first indication that the group was in no hurry to make a hit. The video makes you wait, sometimes anxiously, as the tiny character's audible blips match up with intermittent blinks that feel like they drag on forever, before onlookers are abruptly transported to the bright, neon coated, game-filled space where suddenly Matt Pow comes to life with a mic in his hands, cutting right to the chase with the song's title and choral refrain at the forefront.
Gave up my sanity for a summer
This isn't me; I was always runner.
Ankles are sprained; I won't get far,
crying to Julien Baker songs in my car
Things just got hard.
– Lyrics from "Sanity for Summer"
However, even with that first recitation of the chorus, the song manages to open up further with the first beat from Jessica Burdeaux's kit. What already comes across like a clear and well-balanced mix suddenly breaks out as the sound stage widens and frequencies are let through like a gust in a newly opened window. That added ounce of aural clarity really helps push the music forward and makes the collective "pop" happening across the whole work – between the flashing visual of rainbow game lights, the melodic sparkle of the see-sawing toy piano bells during the pre-chorus, or the dynamic prominence of actively harmonizing bass guitar – feel that much more thematically unified, even if the cleverness of the cooperative result isn't immediately noticeable. When it does become apparent, it's that much more worth savoring.
City Mouth is:
Matt Pow
Jackie Heuser
Jessica Burdeaux
Matt Bactat
Ryan Kress
Evan Opitz
Lyrically, there are moments "Sanity for Summer" unfolds like a recently failed fling in the season it's titled after ("But I'm glad we talked last night / It's nice to understand it all from both sides"). However, understanding that City Mouth doesn't shy away from its sadder, more conventionally emo-pop tinged moments, the surface context fits without issue. Yet, even if perhaps docking some creativity points for this common narrative frame, more specified moments of the song's rhyme scheme and choice of metaphors, (not to mention the decision to include the dreaded syllabic filler section after the second chorus, which gets a pass because the band didn't use it as a substitute for a real bridge), make up for any perceived complacency. The contrast in said bridge that stands opposite from the recurring line in the chorus about always being "a runner" is a prime example:
When you can't find your footing
I think I can't relate
But there's just so much that we didn't say
But either way we both got lost in our long days

– Lyrics from "Sanity for Summer"
Though to be fair, retaining this one aspect of familiarity among a well-arranged combination of so much else that stands out, wouldn't really be complacency so much as it's the band knowing when to exercise moderation around atypical or far-reaching artistic choices for a stand-alone single. Injecting heavy-handed uniqueness at every turn in the creation of a new song can lead to messy structure, aimless narrative, jarring instrumentation, or an overall lack of cohesion, which is the exact opposite of what City Mouth would want from a clear-cut concept like the one conceived here.
Whether looking at and listening to "Sanity for Summer" up close or letting it get carried away by a summer breeze on the highway, City Mouth has released a fun new song with creative range and massive replay value likely to be appreciated as long and unwaveringly as the game console in the music video.
---
"Sanity for Summer"is out now via Take This to Heart Records.
Get a copy through the label, iTunes, or stream on Bandcamp, and Spotify.
Keep up with City Mouth through these social media platforms:
Facebook
Twitter (@CityMouth)
Instagram
YouTube
Bandcamp
Spotify