Sawyer Fredericks shakes up his style with "A Good Storm"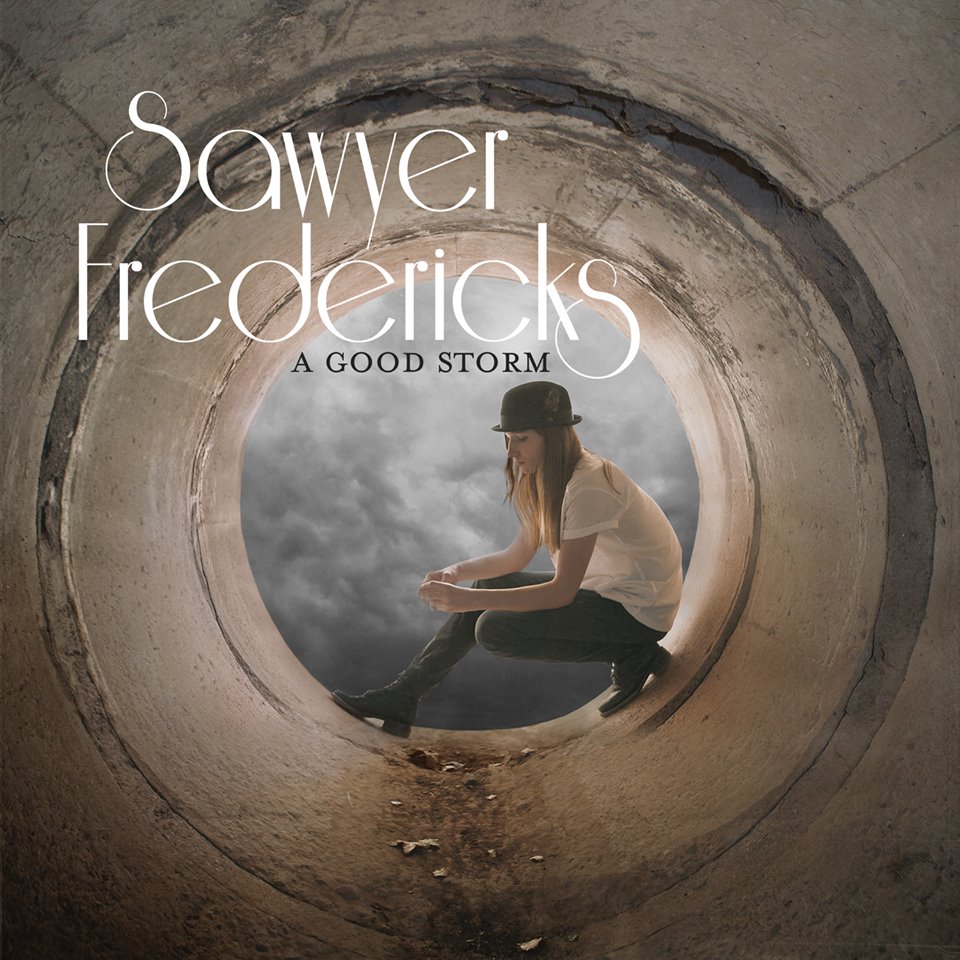 The day-to-night, contrast-loaded setting of Sawyer Frederick's rise to songwriter stardom might sound so drastic it doesn't always seem real. Yet the modest, 17-year-old, from equally modest Fultonville, New York, is in fact one of the most well-known young singer-songwriters on the map today thanks to his visit to the land of reality television and mass attraction to the unexpected aesthetic of Fredericks' voice and compositional style. A long time in coming since that stint on national television, Fredericks finally has a full length album to his name, titled A Good Storm, and it's out today, May 13, via Republic Records.
The zealously anticipated follow-up to the eponymous four track EP from last November, (Republic, 2015), A Good Storm revisits those cuts and adds six more to the mix – seven counting the remix of "4 Pockets" by Fredericks' mentor, Pharrell Williams. While this is hardly Fredericks' first foray into recording music (there are several independently created releases and countless YouTube videos prior to his time in the primetime spotlight) there's no denying the invisible yet practically palpable pressure that comes along with this release. After so much exposure, so much touring, a vast sea of fans, and (what can sometimes feel like) years since the weekly bouts of the U.S. hearing Fredericks' sing, the expectations might have almost been a detriment to the young, rural New Yorker.
The musical aesthetics that take shape over A Good Storm are plentiful, which immediately removes Fredericks from the stable of a one-trick pony. Vibes, moods, and imagined settings for Fredericks' songs traverse the lines of his classic, bare bones, singer-songwriter setup on cuts like "Still Here," "What I've Done," and the titular "A Good Storm." (The latter has a particularly pleasing, very upfront, raw, vocal mix, reminiscent of the style applied to Colin Hay's "I Just Don't Think I'll Ever Get Over You.") Tracks boasting a bit more modernization and polished production, like "Take It All" and "Lovers Still Alone," drip with synchronization potential thanks to elements like nuanced metaphorical narrative and stomp-clap propulsion that falls in line with high risers like American Authors and Mumford and Sons. Not to mention that Fredericks' music has already walked in a type of sync-like shoe with the single "Forever Wrong," featured on an audio companion "soundtrack" to Mitch Albom's new book, "The Magic Strings of Frankie Presto."
The music continues to push the boundaries of Fredericks' projected and expected wheelhouse of musical arrangement, probably most starkly with "Shots Fired." The track features deep, almost monastic, "ooo" backing vocals and a thundering mixture of snapping, clapping, and a bass-kick punch that sounds like something out of Ryan Tedder's mind à la "Counting Stars" (not entirely shocking given that producers Mikal Blu and Izy have worked with the likes of OneRepublic). It works but feels a little awkward on Fredericks – like someone who always dons ripped denim suddenly appearing in formal wear. It's not a bad thing but it might just take some getting used to.
This mentality of needed adjustment is probably the biggest takeaway from A Good Storm, as finally hearing Fredericks with full studio bells and whistles – though exciting to fans for sure – is not what so much of the singer-songwriter's reputation has been built upon as of late. In the prep time leading up to this release, #TeamSawyer, as they go by on Twitter, shares a constantly evolving network of live footage and, it's in these unfiltered, unrestrained, one time through experiences, that most of the fan base lives. Thus, for a popular live request like "4 Pockets," hearing a version of the song born out of a recording studio with a mindfulness for proper leveling makes restraint feel painfully obvious. A song like this one sees Fredericks (along with his packed house audiences) usually engaged at their highest levels of passion and the necessities of studio recording make this potential energy feel lost or confined, like a wild stallion being penned in a ring.
Still, some studio power and aesthetic pivoting isn't too shocking and could even serve well as a source of easier embrace for future compositional change by Fredericks, as the Mia Z featuring track, "Stranger," is able to bring together the two singers' unique inflections and typically standalone energies – both vocal and instrumental – to create a song that comfortably fits them in one space. The result is something that balances genuine sound, recorded clarity, and just the right amount of arrangement finesse to project itself as a good candidate for all the above: album playback, live explosion, or maybe even the next cut for a video; particularly given Mia Z and Fredericks' proven artistic chemistry.
Now in Sawyer Fredericks' story as the teen's debut chapter, A Good Storm has definitely set a handful of different tones. Coasting over everything on this album is a sign that screams diversity. Where Fredericks goes from here, not likely to be turning to the song well of years past but rather go ahead entirely anew, is a mystery not very one-sided at all. The young man has the ability to break out his signature style anytime – one whose popularity shows no sign of waning – or, future explorations could hear Fredericks venturing even further out into the pool of songwriter possibilities, perhaps mirroring his own transition into adulthood as time goes on. Declaring A Good Storm an album tied to so much uncertainty might seem like a declaration of the aforementioned deficit but in reality, it's just an understanding that everyone knew this record was coming and that the true unveiling of Sawyer Fredericks – no primetime pressure in sight – starts now.
---
A Good Storm is available now on iTunes, Google Play, Amazon, and streaming on Spotify.
Keep up with Sawyer Fredericks through his official website, and these social media platforms:
Facebook
Twitter (@SawyerFrdrx)
Instagram
Note: A previous version of this review stated years had passed since Sawyer Fredericks' weekly performances on The Voice reality program but it has actually only been a year's time, based on the show's six month season showing cycle.