DJ Hank's "City Stars EP" shines with supercharged style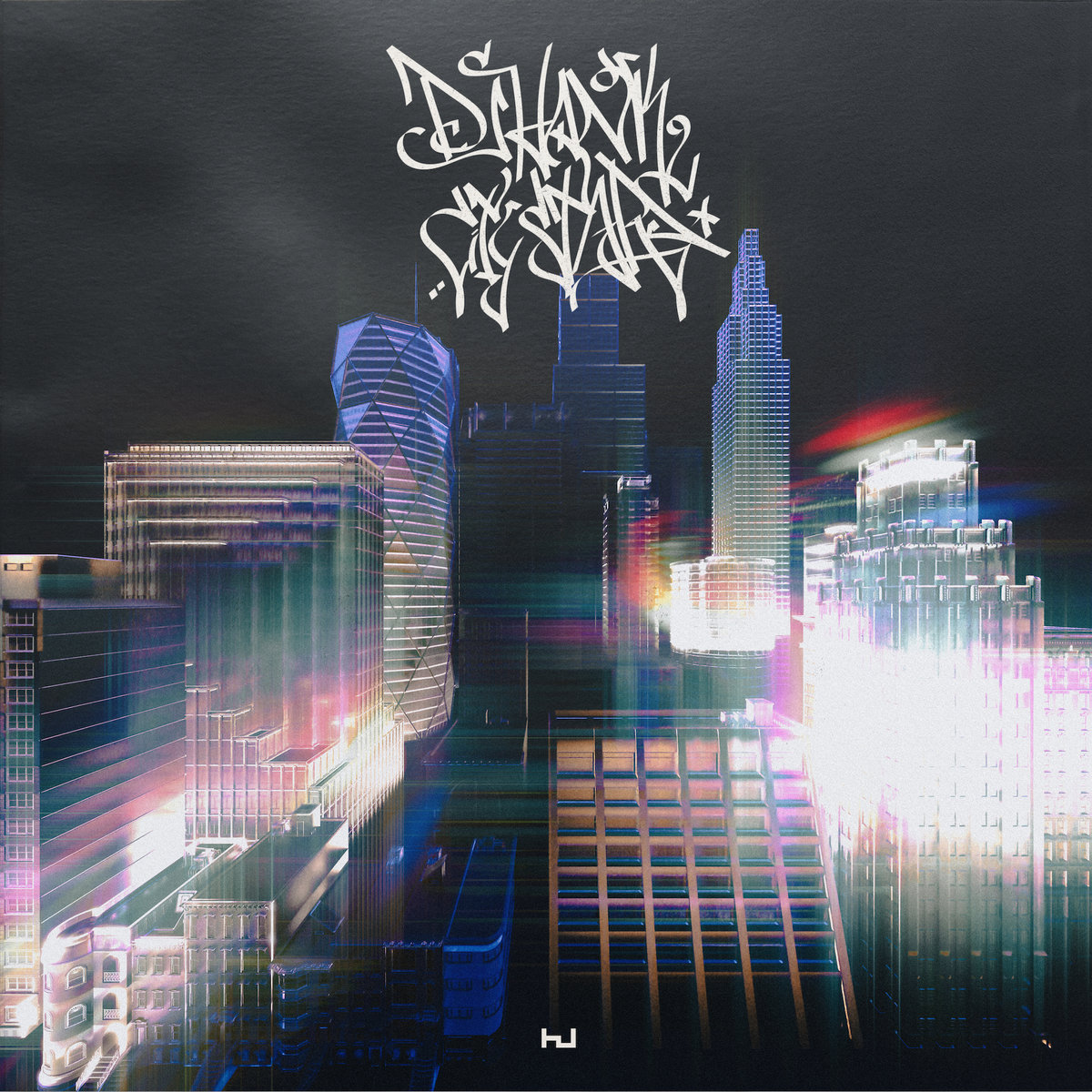 Chicago artist, DJ, and producer, DJ Hank, has been infusing the Windy City's music scene with immensely appealing work for several years. His creativity has caught interest from abroad as far back as 2018, when early track "Get Happy" was included in Burial and Kode9's 2018 mix for longtime BBC1 Radio tastemaker Mary Anne Hobbs. Hailing originally form North Carolina, DJ Hank has established himself as a global presence and now solidifies that reputation with his recent signing to Kode9's iconic label, Hyperdub Records an occasion now commemorated with the release of new EP, City Stars.
First announced back in mid-January, City Stars marks DJ Hank's debut with the beloved, independent, electronic label which, in addition to Burial and label founder Kode9 himself,  keeps the company of powerhouse artists like Loraine James, Ikonika, Jessy Lanza, Hyperdub being the extremely well-curated label it is, DJ Hank and his intriguing blend of UK garage, Chicago footwork, and percussive EDM style throughout his discography, makes him a perfectly fitting, seamless addition to the label's artistically diverse but sonically cohesive roster. For its freshly pressed presence in his discography, City Stars makes for an extremely gripping debut. DJ Hank opted not to steer too severely in any one direction with regard to his primary styles of creativity and instead, developed a musical hybrid of sorts, writing and producing tracks that reflect notable qualities of his familiar genres working together rather than dedicating single tracks to one style at a time, merely coexisting under the EP.
Footwork, for the unfamiliar, is a sub-genre of electronic dance music that aims to inspire just what its name calls attention to. Moving one's feet and dancing. Beyond that however, it's also known distinctly for its role in dance battle scenarios, rather than a form of upbeat music with which listeners merely dance along. The latter – as far as fast-paced electronic dance music is concerned – would be more commonly attributed to the sub-genre of juke which, like footwork, originated out of Chicago, IL's underground scene in the 1990s. Both derived in different ways from house music, the style of footwork began to take shape around the objective of uptempo dance competition, while juke was left for more independent or collaborative enjoyment within faster-paced dance. Still in all, especially today, the two styles are mostly interchangeable in real life applications, rather than separated with compositionally formal purity. As explained in an Wild City Blog interview with Footwok/Juke label Ghettophiles, "Juke is all about dancing with somebody, and footwork is all about dancing against somebody. People juke to footwork tracks and people footwork to juke tracks."
City Stars doesn't stop with a straight intermingling of juke and footwork structural and sonic qualities. The last two of the EP's six tracks – "Kiosko" and "Mkwa" respectively – give homage to ambient music of Japan from the 1980s by giving front and center melodic hook duties to marimba and deep bell tones common to music of that era. The latter parts are soft and wide in their timbre – much more akin to large temple-style bells than anything delicate and chime-like in quality that one might otherwise associate with ambient and chill mixes. The marimba in the penultimate track is dressed with some metallic tonality and placed amid smooth, wah-style synth tones; rustically metallic, urban-style drum samples; and the occasional flashes of mechanical blips and whirs and rush by at the end of some phrases. (Think sudden flourishes of R2D2 sounds, minus the comedic characterization).
Interestingly, "Lift Gate" creates an almost bookend type effect with "Mkwa," as the former's opening sets the EP in motion with another series of bell tones, save for the fact that these are softer and much more definitively melodic in nature, as they are samples of the tones played for what one would presume is a sample of a platform jingle to a local rail station. All the same, it's small but colorful details like this that give City Stars a layer of personality that takes it far past just being a nimble and energy-pumping dance record. The other samples included on the EPs tracks help to diversify the record's sonic palette as well, which is useful against an instrumental arsenal that DJ Hank keeps otherwise notably delicate – at least where more the more conventional elements of footwork like piercing, crackling snares; multiple, bold, kick beats; and punctuated claps, are concerned. The result is a set of tracks that moves with the momentum and pulse of footwork but is colored by the tonality, vocal personality, and instrumental assortment of more contemporary character and attributes.
"Get @ Me" demonstrates this fusion of past and future with ease, as the overall dynamic level maintains a balanced trajectory and the backing tones are kept gentle throughout, with the minor exception of a condense digital snare snap tone that keeps the beat. The pace remains quick and alert while not aiming to catch anyone off-guard with sudden swerves in volume or instrumental tone. The vocal sample provides more than enough contrast, both due to the singer's quality of voice, which is feminine, pointed, and higher in register, and the pronounced places where each sample starts and stops its lyrics. The way the singer's is cut off at "get you,"  at certain points in the track, coincides with the downbeat of the track's digital momentary digital snare splash and for the former sound, listeners are presented with an enunciation that comes across as though it's delivered with a sharp exhalation. This is likely due to the abrupt cutting of the sample to create a properly aligned frame of rhythmic timing but it also creates an effect where the singer seem to mimic the way one might vocalize an old-fashion 8-bit snare or high-hat hit. Again, it's a subtle but effective nuance of production that helps the finished EP to come away with a precisely constructed framework of highly-detailed but fluidly connected musical interactions. The track as a whole sounds lighter, and projects a modern ambient electronica quality but carries itself with a sense of urgency that is well within the bounds of footwork, often moving at the typical 160bpm.
"Stay," the one track on the EP with an accompanying video, really hammers this point home, as the visuals themselves focus on an assortment of people flashing some minimal but fast and precise choreography. All are seen dancing by themselves but, each person's moves are impressively and ever more mesmerizingly lined up with the song's complex beats. What's more, the track itself orbits around a spoken hook that is nothing if not fitting for footwork's culture of dancing in the presence of another and showing superior skill, as the sample repeats "It's about the go, it's about to go down, down…" many times over the track's nearly four minute run time.
The way DJ Hank has integrated so many contrasting musical and long-established stylistic elements on City Stars, the rising producer has presented an embodiment of the notion that these genres are perceived as intertwined. Whether one finds inclination to dance alone, with another, or challenge someone to a friendly bit of competition, City Stars provides just the soundscape necessary. It's an inspiring way to make a first impression with Hyperdub, as this fluidly blended music can be appreciated by fans of multiple styles, and anyone else who wants to hear something new from all of these genres without distorting the characteristics that makes them appealing to the point of lost recognition. City Stars is a stellar variation on the core musical structures of footwork and juke that doesn't just walk the line between them, it unspools and beautifully traverses an entirely new path of its own.
---
City Starts EP is available now.
Find it on Bandcamp,  iTunes, and through Hyperdub.
Stay connected with DJ Hank through these social media platforms:
Facebook
Twitter (@djhank_)
Instagram
Bandcamp
SoundCloud
Spotify