Get a surge of dopamine and nostalgia with VNRVLY's new EP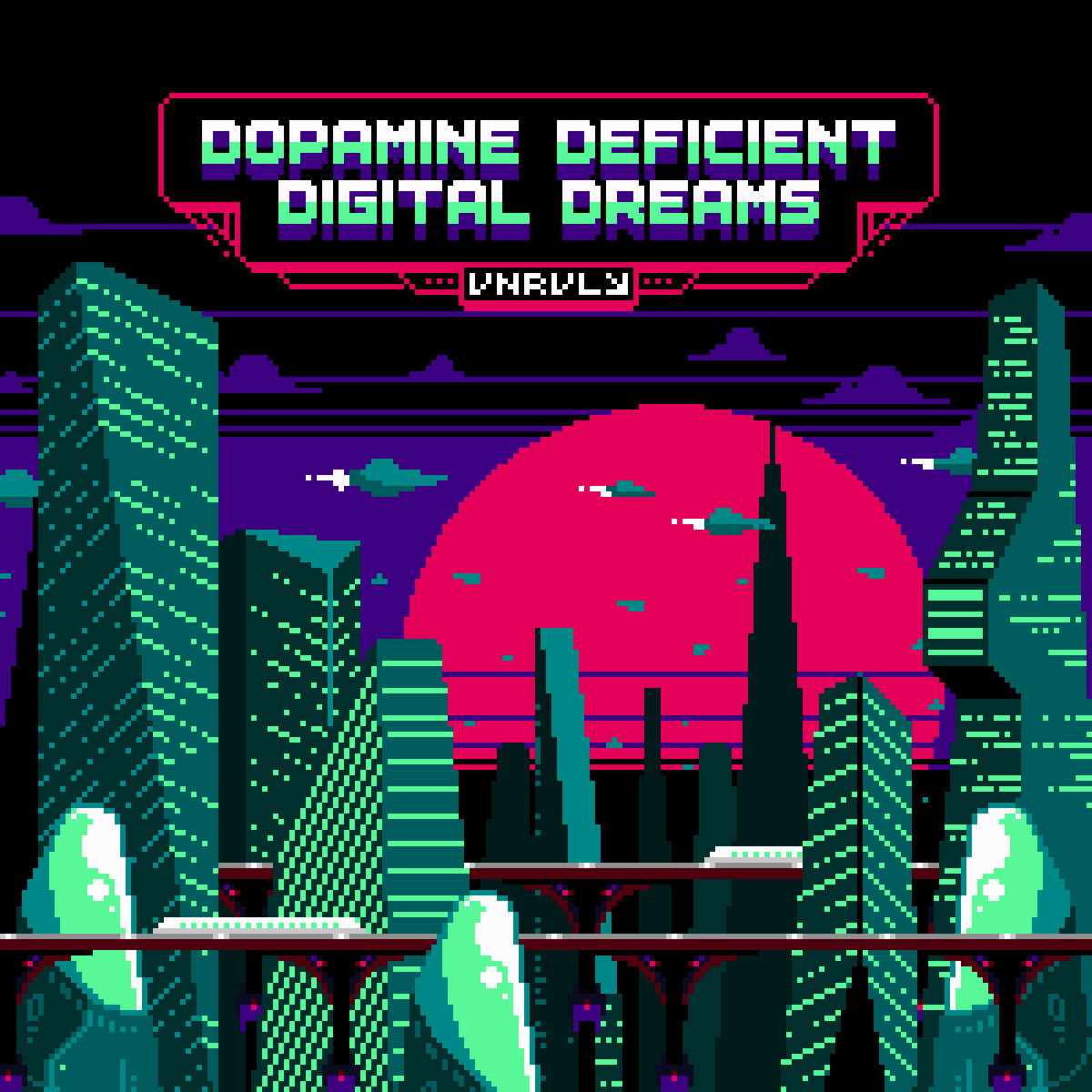 Mixing of genres of instrumental-bending of music typically known in one style often raises eyebrows, either out of shock and displeasure or curiosity and intrigue. In the case of the former, sometimes these experiments in stylistic blending take on so much appreciation that the new iteration becomes a popular trend unto itself. Take for example, the evolution of video game soundtracks from single sound effect melodies created from coded commands of angular sound, to flourishing symphonic scores so exhilarating that entire world tours of full orchestras are designed around live performances of a game's soundtrack.
Thinking with this idea of expanding outward and taking on more sonic complexity in mind, what if the approach taken with a piece of intricate instrumental music, was to contract it? The subsequent initial thought might be that any piece undergoing such a transformation would suffer objective loss of sonic sophistication. However, depending on how one chooses to perceive the surrounding context, it could be argued that managing to convey a complex style of composition with a limited palette of sound and dynamics only solidifies the inherent excellence of both the music and composer.
For Los Angeles, CA songwriter and producer Mitch Anthony, known as VNRVLY (pronounced "unruly"), this is exactly what has manifested through his latest work, an EP titled Dopamine Deficient Digital Dreams.
VNRVLY is:
Mitch Anthony
A musician who describes himself as having been "active in the local [Los Angeles] metal scene" for many years prior to this project, Anthony's development of talent for writing in the very contrasting style of chiptune electronica is relatively recent by comparison, if not perhaps mildly expected, in hindsight. The move toward the entirely electronic framing of "Dopamine" gains a sense of foreseeable context, rather than feeling like a completely polar opposite jump from dynamically tumultuous metalcore to largely dynamically static chiptune, when considered against the backdrop of the heavily digital synthwave and synth rock rooted single, "Empty Streets" that Anthony released as VNRVLY back in October 2019 and the more organic instrumental progressive metal single released prior to that in March of the same year.
"Dopamine" takes the boldest aspects of what VNRVLY has showcased through his prior work and beyond simply joining electronic and metal attributes together in one place, the EP now brings with it the added aspect of chiptune's signature electronic sound and personality. Minimalist in its tonality but extensive in its range of pitch and flexibility of tempo, where chiptune falls short against the sonic dimension of organic instruments and-or painstakingly captured samples, it absolutely can rival the most nimble, frenetic, and compositionally demanding arrangements note for note if given the time and dedication of programming. What makes "Dopamine" so gripping of a listen, is in how the transformation of the music's personality affects the impact of emotional reaction. The composition of each of the EP's three tracks is written as melodic metal, hardcore, and progressive metal, through and through. The tracks each boast many layers of sound, equating to several different instrumental parts and what would likely be many studio overdubs. Passages of impressive performance come and go, ignited by either flurries of notes or rapid pulsations of low end beats that would otherwise be double kick drums. There's no mistaking the genres at heart. But the self-contained tonal character of chiptune tones helps to level the playing field a bit. While this of course, means a reduction in metal's inherent intensity (e.g. that straight-through-the-chest vibration felt from a full band), there's something fascinating and entrancing about hearing all that conceived energy being resized in a vintage video game soundtrack frame. Visually, one might liken the mentality to that of seeing a miniature village, complete with detailed paintings on the walls inside the already shrunken, detail-flushed buildings, each made idiosyncratically to scale.
Though only three pieces long, "Dopamine" runs the gamut of musical variation. The title track presents like an abstract of the record, traversing through a range of high frequency tones, sounds making pitches using timbres of varying shapes, and the undulations between deeper rhythmic beats to push the music forward and more delicate tones to evoke the agile nature of the most focused lead guitarist or keys player. Meanwhile, the other two tracks each seem to highlight the respective eds of the dynamic and timbre spectrums. "Botnet Blasphemy" is driven more by minimally reverb-laden organ-like tones of two different styles – one softly rounded, the other stiff and square-edged – the piece as a whole more on displaying bouts of tightly written harmony lines that aggressive percussion. Then, almost as if to respond to this conceptual volley, "Neural Network Neurosis" retorts with what initially appears to be a similar embrace of nimble organ melodies but which quickly veers off to incorporate heavily sustained low end chords, ongoing pulses of kick-imitating beats, and additional tones of a cutting, snare splash-like nature that draw the attention more to the sheer energy and inertia of the music rather than its tonal color palette and melodic fluidity.
It's not to say that any of these three songs is dramatically missing any element observed in secondary positioning so much as it's an acknowledgement of VNRVLY's ability to create yet another demonstration of creative nuance with his writing for these sub-genre, despite the constraints at hand. Hearing such a thoroughly multi-dimensional collection of compositions, despite there bring such limited room for musical variation in chiptune's tonal medium makes Dopamine Deficient Digital Dreams an especially applaudable piece of work and it makes for another solid example of how genre lines need not prevent artists from exploring new forms of expression, whether through different song form, instrumentation, playing technique, or anything else to make a song come to life.
---
Dopamine Deficient Digital Dreams EP is available now.
Find it on Bandcamp, Beatport, and streaming on Spotify.
Instagram
YouTube
Bandcamp
Spotify