See life through an eerily perfect lens with Forever Honey's "Number One Fan"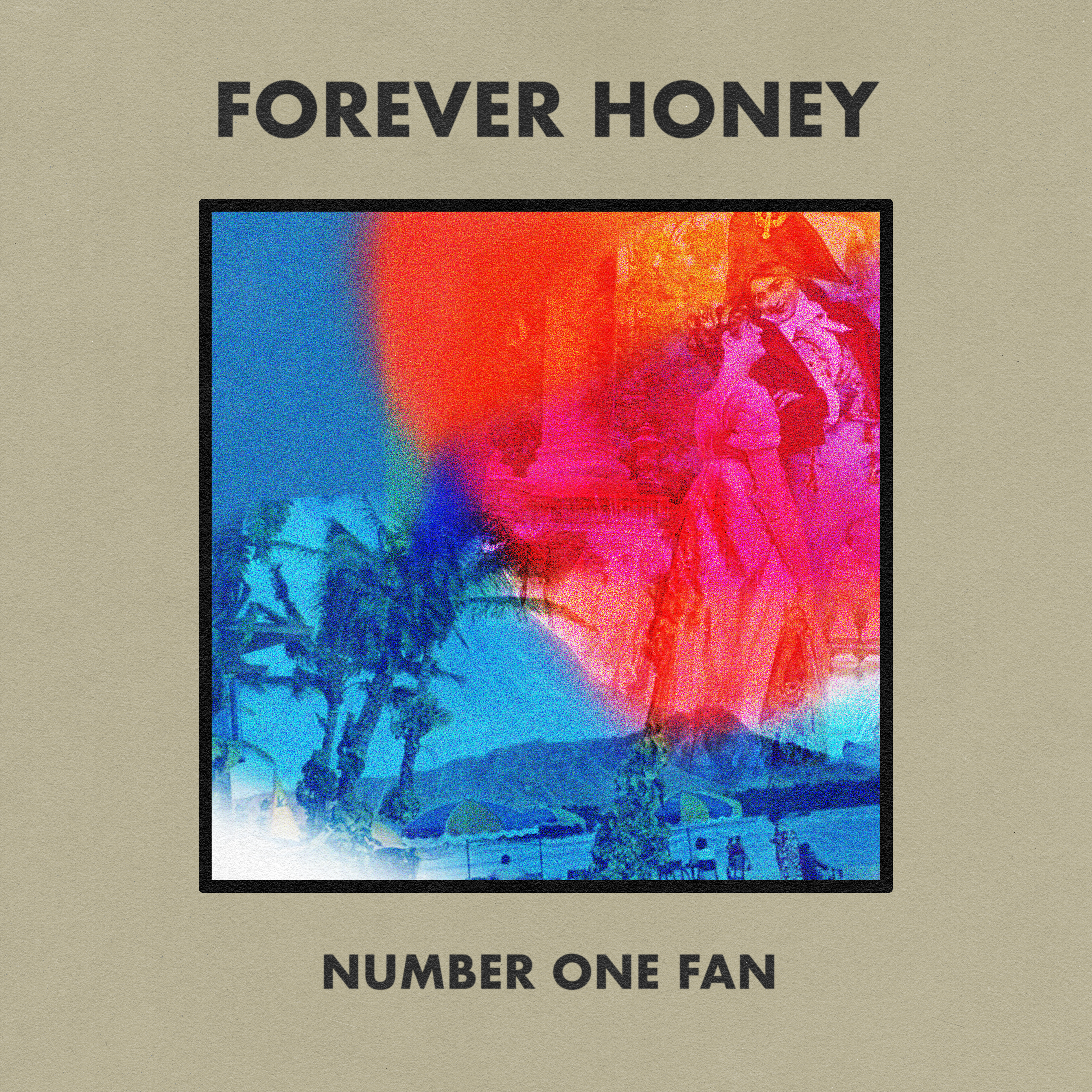 Brooklyn, NY indie jangle pop band, Forever Honey, sounds like the perfect group to help pivot one's thoughts toward the brighter days of spring and the eventual sweetness of summer's long nights. The light and gossamer vocals, tinnier-leaning electric guitar tone, and penchant for lively syncopated rhythms, certainly help the four piece band fit the bill of jangle pop, and its often carefree association, with relative ease. And yet, with their newest single, "Number One Fan," Forever Honey aren't plunging into a pool of glistening positivity befitting of their primary genre.  Instead, listeners are taken on a journey that is at once familiar to almost everyone but likely not quite so scrupulously processed by almost anyone.
Forever Honey is:
Liv Price (Lead Vocals, Guitar)
Aida Mekonnen (Lead Guitar, Vocals)
Jack McLoughlin (Bass, Production)
Steve Vannelli (Keys, Drums)
Though "Number One Fan" is Forever Honey's newest release, its narrative focus maintains the faintest of ties to 2020 debut EP, Pre-Mortem High. The song is built almost entirely of thoughts on overstimulation –– specifically the kind derived from excessive consumption of content shared via social media –– and the mental lethargy that follows those extended frames of social media binging. While the idealistic concept behind social media is to spur inspiration, excitement, and motivation around questions, thoughts, or personal experiences,  an incessant stream of engagement can result in an entirely contrasting mindset. The resulting swing in the opposite direction can foster jaded, emotionally numbed, and indifferent feelings because there's no separation from one concept to the next. While the connection between the two releases isn't an overt or direct one, it stems from the fact that Forever Honey became all the more acutely aware of this mental trend around social media when, like most of the world in 2020, the band was in isolation and left largely to interact with others through screens and barrages of social posts.
"This song, or at least everything except the second verse came together super quick," explains guitarist and vocalist Aida Mekonnen.

"A sort of transcript of things I saw whilst doom scrolling on Instagram, and sort of framing the song in the context of feeling like you know someone really well only it's just their internet presence. Obviously not a hot take but still a habitually troubling experience."
Bearing a song structure of verse, chorus, verse, chorus, bridge, chorus, "Number One Fan" presents itself as a strong and clear-cut pop track. But it's the performative aspect of the music, especially the extremely movement-minimal melody, that leads "Number One Fan" to take on a sense of apathy that its compositional foundation and Forever Honey's own preferred style, might not otherwise initially project. The supporting chord progression provided by a steadily chugging, reverb-drenched rhythm guitar, mirrors the minimalism of the vocals. The syncopated swing shared between the two parts evoking an amusing similarity to the central motif of Coldplay's 1999 hit, "Don't Panic," which tapped into its own version of pseudo-sonic jadedness with an accompanying catchy pulse.
"Number One Fan" isn't stuck in one melodic or emotional gear however,  and ushers in some rejuvenated energy for the chorus with the introduction of a higher descant harmony vocal floating above the central melody and a livelier part from some sparkling-toned keys and just a touch of complementing melodic accents from the guitar. Additionally, in the very last bar of the verses, right before the instrumentation pivots to the melody of the chorus, Forever Honey lets the subtlest of "pre-chorus"-like build up slip out via Liv Price's leaping a whole extra two steps from a minor second to a perfect fourth and then down to a third, to end the sung verse phrase, rather than sing the undulating rhythm of the verses, using only minor second intervals. This shift comes and goes in a flash but its brevity pairs perfectly with the reality surrounding the nature satisfaction that social media actually gives, versus what it purports to offer.
"Honestly, I was feeling pretty numb at the time and a little jaded about the disingenuousness of this dance we all do – hence the sort of monotone nature of the vocals, Mekonnen says. "But we paired that [quality] with choruses and a bridge that are sonically really melodic and emotive — maybe a metaphor for the dopamine rush we get from this faux human connection?? Probably not though."
By the time the song reaches the bridge, which is notably bolder in its dynamic presence with thickly layered, dense-toned guitar and bass chords, pronounced cymbal bell, shaker, and snappy snare tones, one might imagine that despite the seemingly inescapable loop of highs, lows, and repeated refreshing the social media landscape dangles before the world at large, Forever Honey is showing there's a way to snap out of the daze. And after nearly three minutes of a rather safe musical trajectory, the rush of tonal color of performative urgency comes forth with all the more impact. It's a change in pace of the most direct kind and while humans tend to stick to routine and patterns at the expense of more regular bouts of change, "Number One Fan" makes sure to send listeners off on their merry ways with a renewed zeal and perhaps a willingness to take an extra moment or two to remind ourselves amid scrolling, that the portal of social connection can be anything from excessively real to entirely fabricated and its important to be mindful of what side of that spectrum we're currently facing when wading through the sea of social feeds.
---
"Number One Fan" is out now.
Stream on Spotify.
Follow along with Forever Honey's journey through its official website and these social media platforms:
Facebook
Twitter (@foreverhoneynyc)
Instagram
YouTube
Bandcamp
SoundCloud
Spotify