Rachel Eckroth's composer creativity thrives in the "The Garden"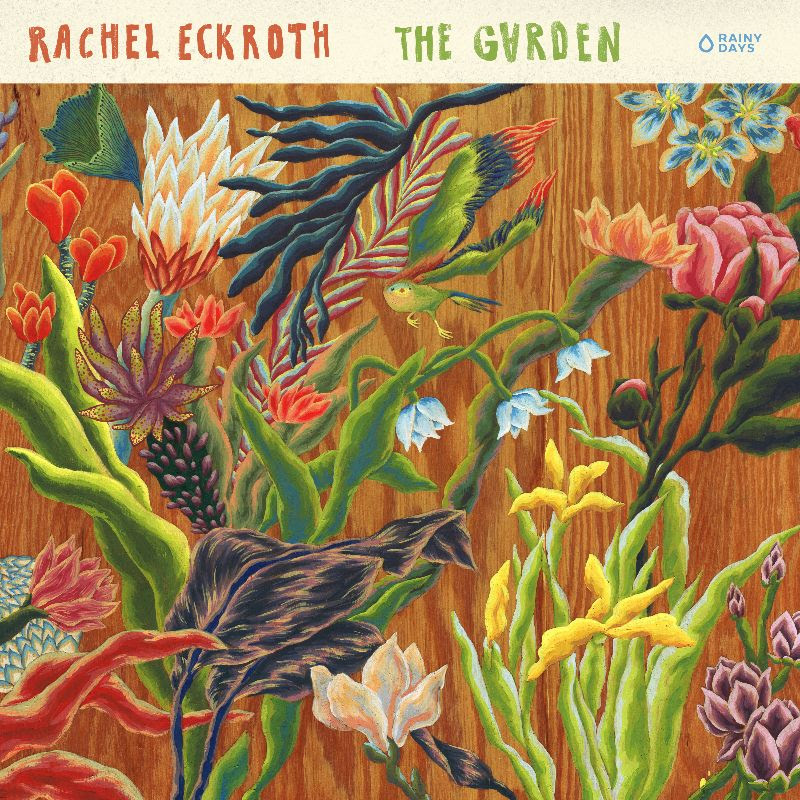 Composer, pianist, vocalist, and clever arranger, Rachel Eckroth, reminds listeners on her newest LP, The Garden (Rainy Days Records, 2021), that imagery paired with music – even something as seemingly straightforward as a garden – deserve extra thought and a reduced jump at presumptions for what said images will mean for the music that interprets and presents them.
A modest looking album at eight tracks in length, The Garden's seemingly limited quantity of new repertoire is rich and dense, running at very satisfying 43 minutes. Right from this first album attribute, Eckroth's latest work proceeds to  continually offer other flashes of deception across many aspects of its creative identity. Opening track, "Dracaena," starts The Gardenon a bold note, with the steady stream of beats by drummer Christian Euman unfurling with an expanding, evolving sound which transforms from reserved, filtered, and somewhat distant, to rugged and prominent – allowed a dash of space for each snare and cymbal hit to decay in the surrounding room, much like the tributaries of vines in a garden are given the space to spread and unfold as needed. These tones dance beautifully with the contrasting smoothness of bassist Tim Lefebvre's clean but bold and thick notes, as well as the fluid melodic line of Donny McCaslin's tenor saxophone.
Befitting the idea of a grand, sprawling garden, Eckroth pivots her musical ideas across each track but none separate themselves so much as to seem out-of-place – even considering the undeniably modernist and progressive nature of her compositional style. Once the music has started, each track prompts just enough of a cliffhanger-type curiosity that it's impossible to turn back or decline from seeing what's to come around the next corner. "Low Hanging Fruit" presents with a bit more straightforward orchestration, as Eckroth leads with a rather stompy, chord-driven piano line. Here, the intrigue comes instead, from a melody that never appears to settle – not in a wild, unpredictable, improvisational manner but more so in that Eckroth never lets a phrase concretely resolve to allow for a feeling of a completed thought and moment of collecting oneself. This approach to the composition almost mandates that the listener stay on the path and again, injects that sense of deliberate, but deceptive, instability.
In between these more macro displays of controlled chaos, The Garden comes equipped with an exorbitant amount of smaller, attention-piquing details. Beyond the sheer amount of layers and interweaving sounds included in the tracks overall, the productions choices by Lefebvre and co-producer Jason Kingsland, serve to enhance the mood-shaping potential of Eckroth's inherently multi-textured writing style and instrumental skill. Often, the more crisp tones of her piano keys give way to the soft, rounded, malleable tones of her preferred Prophet 6 synthesizer and other parts like the Mellotron, heard on the title track. Production-related distortions, fades, and overdubs create a blurred sonic landscape, which only add to the mentality of a surreal, ethereal, and long-winding environment. Oddly enough, the track "Vines," wherein one might expect a piece drenched in echoes and a collective sense of indistinguishable transitions apt for the piece's titular object, is far more tonally distinct than the untamed free jazz interludes of tracks like "Under a Fig Tree." The former nods to the wildness of vines instead, through busy but physically light cymbal bursts and a piano line that occasionally has Eckroth's part taking on a tumbling-esque quality.
The album as a whole sounds the way a vibrant, illustrative oil on canvas painting would look if taken is as a steady unveiling rather than a singular overall glance. The variance in clarity and punctuation of parts throughout all The Garden's tracks give the impression of a relatable image. However, Eckroth's creativity in blending, layering, and pairing sonic textures with vastly different character, prevents the image from ever becoming a completely realism-based representation of any of her ideas. Each piece starts the listener from a place of relative clarity and then shifts gradually, to a more uncertain vantage point that, despite its increasing melodic distortions, is impossible to turn away from. The aforementioned opening track eventually descends to dissonant harmonies overdubbed by the saxophone, which, when combined with the generous reverb and delay on the notes, makes for a simultaneously uncomfortable but completely stable and confident use of modern musicality. More plainly, The Garden sounds like an eerie fun house from hell, painted by Hieronymus Bosch. Of course, anyone who has seen Bosch's work can attest to the fact that though his works aim to create a sense of fundamental disturbance, they are nonetheless artistically impressive, deeply thought-provoking, and inspiring of extensive further exploration, which is what Eckroth accomplishes in spades, with The Garden.
---
The Garden is available is now via Rainy Days Records.
Stay connected with Rachel Eckroth through her official website and these social media outlets:
Facebook
Instagram
YouTube
SoundCloud
Spotify