Connie Han's "Iron Starlet" shimmers with skill and humility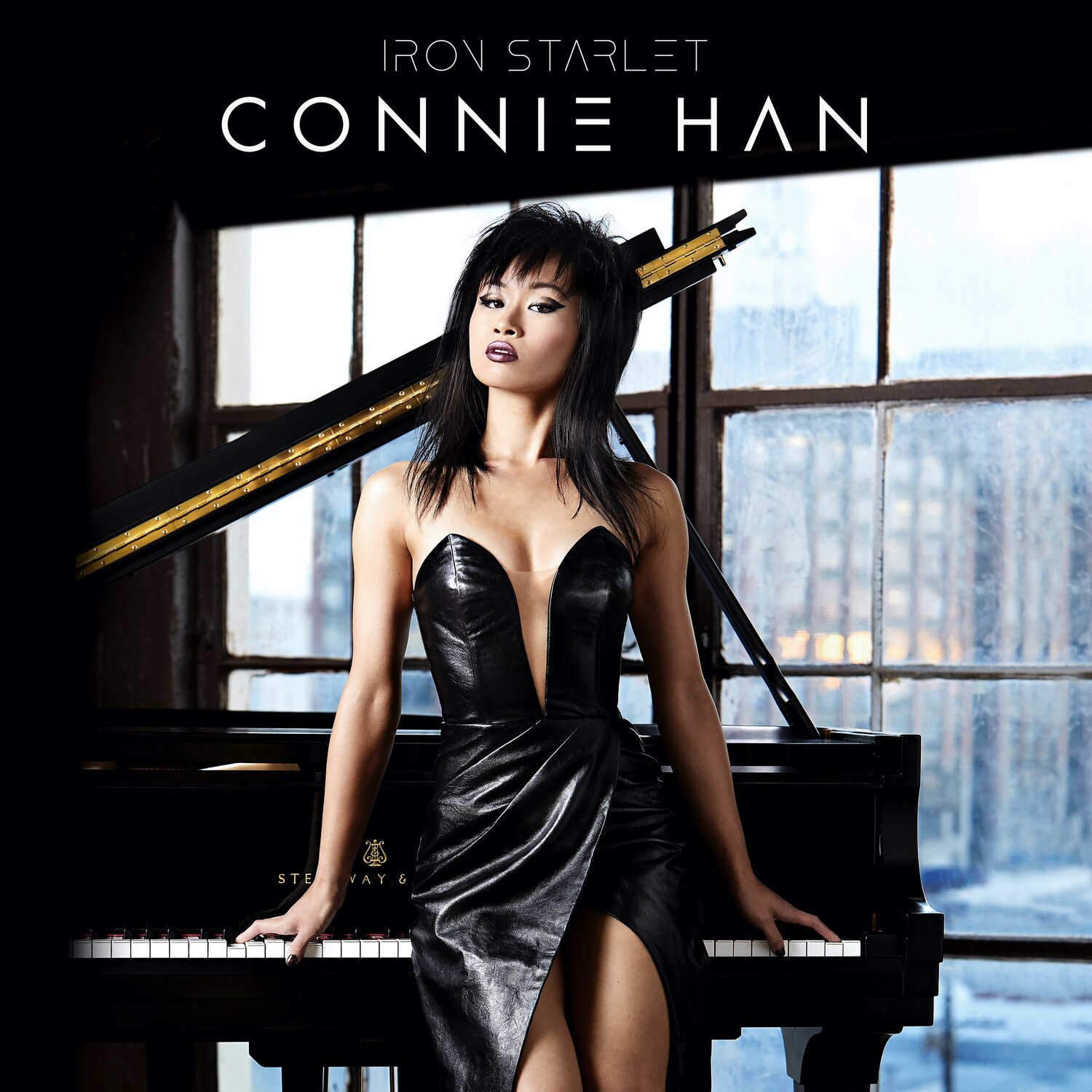 It feels like jazz pianist Connie Han has been an actively heralded musician in the music scene for years, despite only unveiling her sophomore release, Iron Starlet (Mack Avenue Records, 2020) today. While previous record, Crime Zone was an instantly captivating musical supernova for reasons of sheer newness, performative aptitude, and Han's own bold visual and compositional aesthetics, Iron Starlet retains this same fascination but does so now with steadily glowing solidity around what Connie Han is capable of and the kind of artistry the pianist wants to convey.
There's a definite sense of continuity to the sonic approach in Iron Starlet's 10 tracks. Han jumps right on the back of trumpeter Jeremy Pelt with assertive, off-beat, low register chords, as he launches the album forward with a descending, interconnected rapid spiral of notes. This motif acts almost like a signal for the exciting plunge into unknown that awaits the listener. Additionally, for her part in the title track, along with many other selections like "For the O.G.," "Mr. Dominator," and "Dark Chambers," Han affirms her penchant for assertive bass lines and emphatic play style in each. This facet of sonic punctuation reflects an parallel emotional resolve that has carried over from Crime Zone: certainty over wary presumption.
This isn't to say Iron Starlet's statement of arrival is constrained to one dimension of emotional impartation. Tracks like the "Nova" and "Hello to the Wind," – composed and arranged respectively by drummer and producer Bill Wysaske – are equally fortifying demonstrations of Han's complex viewpoint as artist and an adeptness as a piano player. However the trade of weighty bass chords from the piano for balanced and billowy melodies from Rhodes keys, deliver Han's message by way of agile grace over forceful declaration. The latter track is especially illustrative in this regard, as Walter Smith III's legato saxophone line glides over an entrancing, attentively cyclical phrase by Han, which moves the piece forward with an air of calm urgency rather than a crescendo of panic.
The album reveals yet another mode of expression with the likes of Herb Ellis, Johnny Frigo, and Lou Carter standard, "Detour Ahead," and the penultimate track of Han's own making, "The Forsaken." In the case of this pair of pieces, the emotional shift is less drastic but still distinct. Each unfurls with a tender fragility that showcases the kind of delicacy more so associated with seamstresses or glassblowers. The art made in each instance is delicate unto itself but still requires a strong, unwavering hand and focused disposition to execute one's artistic vision.
What's perhaps most interesting about Iron Starlet is that for pieces like "The Forsaken" and even ones written for Han like Wysaske's "Captain's Song," the music grants priority to Han's supporting team, in spite of the clear lanes carved for quietly poised highlight performances by Han. Ivan Taylor's subtle but meaningful bass plucks get the opportunity to splash against Smith III's bright but softly buffed horn tone in Wysaske's original and in Han's composition, her nimble higher register melodies dance alongside a multi-textured percussive foundation of feathery brushed snare tones, carefree hi-hat taps, timbre-jolting rim taps, and garnishing bell tones, all strategically designed for her bandmate and co-creator. In this way, while Han is out to make an unquestionable statement of her abilities, it's made clear that objective isn't synonymous with diminishing those around her for the sake of making that point.
Iron Starlet walks a fine line between many contrasts: new, established; bold, refined; individual, collaborative; and traditional against the refreshingly unforeseen. Yet in the face of so much to juggle, the album doesn't drown in a sea of excess ambition or conflicted direction. There's a single lifeline connecting Han's debut to her present but journeying forward with that in hand, she's picked up more strings along with way, braiding them together into a cohesive, intentional piece of art rather than ending up just a tangled mess.
---
Iron Starlet is available now via Mack Avenue Records.
Get it through Mack Avenue, iTunes, Amazon.
Streaming is available on Spotify.
Stay up to date with Connie Han through her official website and these social media platforms:
Facebook
Twitter (@ConnieHanJazz)
Instagram
YouTube
Spotify