The multi-faceted messages of Gene Wildest bloom on "Future Flowers"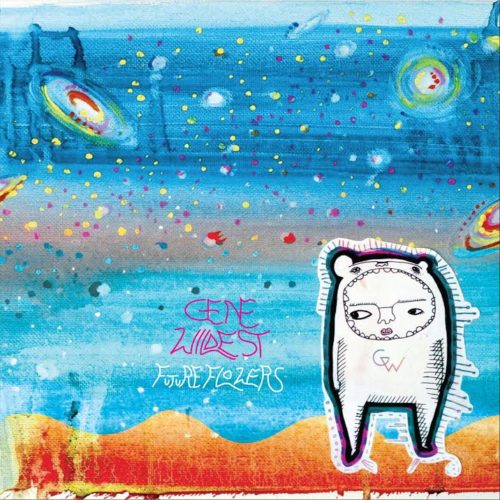 Is the glass half empty? Is it half full? Is the face in the picture looking upward or downward? Are you halfway to your destination or halfway away from your departure? The answers to these questions can go either way, depending on who you ask. And neither response is wrong because in each case, it's all about individual perspective. Math rock quartet, Gene Wildest, is one group that shows it knows all about the relativity of perspective. Whether a long time fan of this Philadelphia, PA ensemble or not, the band's newest LP outing, Future Flowers (independent, 2019), revolves around the very idea of fluctuations in perception around a topic that one might otherwise think of as virtually unilateral.
Future Flowers is:
Brian Corbett (Vocals, Guitar)
Rob Ealer (Guitar)
Sean Corbett (Bass)
Dave Ashcraft (Drums)
Future Flowers, for its combination of bright colors, whimsical character, and a title referencing a naturally uplifting part of nature, is definitely an album where the old adage of, "Don't judge a book by its cover" can apply. Heck, even beyond its cover, the 10 track release still projects a musically friendly disposition, with nimble lead guitar lines and major key centric melodies. However, the album's topical focus of choice is the least uplifting universality there is: death and the grief that comes thereafter.
Those who have been following along with Gene Wildest since its last record, Spectral Terrestrial (independent, 2018), will know that sophomore record represented a direct reaction and first full step together as a group after the passing of the band's original bassist, Eric Richmann in late 2016. Generally speaking, math rock isn't a genre known for dramatic tonality, heavy dynamics, or distorted melodies. The typically crucial sophomore chapter, where bands either solidify a sound they started with, or tweak before settling into themselves for album three, was definitely not what one might consider conventional math rock fare. Nevertheless, that doesn't mean it wasn't helpful, healthy, and necessary in being what it was: A way to start slowly wading through the grief that the band was enduring together and individually.
Knowing what these gentlemen have experienced and had to process, the fact that they chose to re-visit the subject of loss for album three – by when it isn't unreasonable to assume the band has carved out its sonic signature – might seem surprising or perhaps worrying, if thematically heavy concepts aren't the cup of tea someone wants with their math rock. However, with Future Flowers, though the theme remains, Gene Wildest have taken a step back from the magnified mass of their collective experience and turned death on its head. We're not destined for a finite past, we are destined to be future flowers.
What a metaphor huh? Suddenly the one universality of the human condition sounds like the ultimate altruistic gesture to nature.
Taking this vantage point from the get-go for an album tackling grief from death couldn't be any bigger of an opening statement in changed perspective, albeit a cleverly designed one. Corbett, the primary lyricist for many of the album's tracks, was the one whose thoughts translated to the record's more uplifting title. Add to that the more clean-minded tone of Ealer and Corbett's guitars throughout, which definitely makes this collection feel like an aural palate cleanser – especially if heard in direct succession to Spectral Terrestrial. If not, the impact of change might not feel as drastic but the album heard in isolation still provides a light listening experience that aligns extremely well with the arrival of spring time, sunnier days, and, yes, the blooming of flowers in gardens. Compositional elements like the tapping harmonics built into the hook of "So Long," echo the literal epitome of sonic lightness, as well as bring extra clarity to Gene Wildest's math rock leanings, over the fuzz-laden and boundary minimal sounds the band embraced before. The song's main melody also hovering around an more pentatonic tonal center gives the music sets a slightly more somber but also refreshing mood, which is the exact emotional balance Gene Wildest seem intent on presenting.
Prominence of the bass part in songs like "Just Let Me Bleed" sounds like something that would weigh the music down but Sean Corbett keeps pace with his guitar playing cohorts. The tone of his plucks is given a soft edge but not so much as to appear muddy against the thin and rapid, more laser-like lead guitar notes cruising above. That said, the band doesn't shy away from filling out with layers of aggressive rock style guitar tones in the track's later choruses or the flourish of cymbal crashes and drum backing during the bridge of "Psychdelic Frolic." During these moments, Gene Wildest reflects glimmers of some psych-rock and-or surf-rock typical qualities when paired along with carefree synth whistle and Brian Corbett's naturally relaxed, reverb dressed vocals respectively. (One could also argue that alongside the more conventional rock style guitar sounds, Corbett's voice, which orbits close to Brian Aubert of Silversun Pickups, also tilts Gene Wildest just a bit toward mainstream alternative.) Songs like "Digital Beast," which pull back on instrumental crowding but allow more overlapping of sound with looser tones, longer delay, and an overall coat of reverb, connect inarguably well with the sound-flexible tendencies of the psych aesthetic. The precision of the tapped and more frenetic guitar melodies shouldn't go under recognized of course. They get plenty of shining moments throughout Future Flowers. (Note "Sweetness to Tongue," "Kiss Before the War," and "Teledreaming") each in subtly different ways. It should also be noted that Sean Corbett gets into the precision performance action during the end of "Future Breakfasts," when he plays a few bars of unrelenting fast notes underneath the laid-back vocal.
After everything Future Flowers has to show, much like the jumbled up nature of life, which can sometimes throw a curve or two in the road, Gene Wildest don't come out the other side sounding stylistically straightforward in one, two, or even three clear-cut ways. There are techniques, tone choices, and compositional directions that certainly stand out at one point or another to push the band further down one style lane over another. Yet presented together as they are, what Gene Wildest created with these components is simultaneously busy and perfectly comprehendible. Future Flowers is a conclusion of diverse creative ideas, not all that different from a garden filled to the brim with a kaleidoscope's assortment of flowers. There are many different things to see and digest but it can all be brought together in way that makes total sense and is a complete pleasure to witness.
---
Listeners local to or visiting the Philadelphia area can look forward to Gene Wildest celebrating the release of Future Flowers late in May at Johnny Brenda's. Full show details are below.
Thursday, May 23, 2019
Johnny Brenda's
1201 N. Frankford Avenue
Philadelphia, PA 19125
Doors: 8PM
Music: 9PM
$10.00
21+
Tickets available HERE
Streaming available on Spotify.