This guitarist can Sketch the Sky of "Hidden Villages"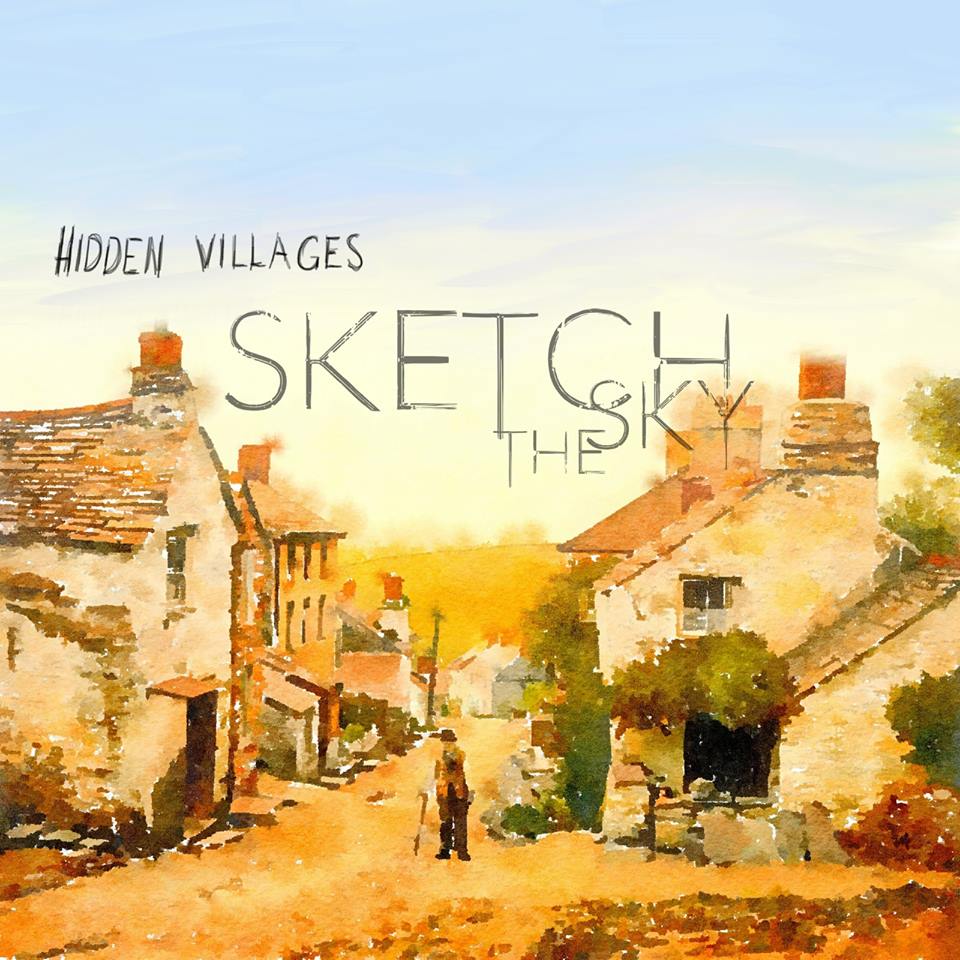 A multi-instrumentalist hailing from Port Shepstone in the culturally rich and musically vibrant nation of South Africa, Ethan Naidoo – performing under the stage name Sketch the Sky – has just begun to put himself and his artistry out onto the world stage since sharing a single track back in December of 2016. Describing his work as "progressive guitar-centric music," one would almost see the artistic style Naidoo showcases as being well suited to an acoustic tapping approach, since said performance typically makes the guitar the sole focal point; not needing anything else to keep listeners engaged and show shrewd skill.
However, the injection and occasional emphasis on some crunchier and edgier tone settings throughout parts of Naidoo's debut album, Hidden Villages (independent, 2017), show that Naidoo maintains a very keen interest in making sure the music remains teetering on a suspenseful cliff rather than sticking with a completely clear, one lane musical highway. That's not to say there's anything wrong with a singularly designed instrumental album, as their sense of unwavering establishment can be wonderfully comforting. Still, it's always pleasantly surprising to see an up and coming artist buck – even if just slightly – against some of the stayed expectations that are built into any given sub-genre and progressive rock/math rock are definitely not without established sonic and compositional norms of their own.
The seven tracks that comprise Hidden Villages are exceedingly well made and dynamically balanced for an independent first outing and that's noteworthy simply for the fact that if the album were of lower recorded quality, listeners wouldn't get the full picture of Naidoo's overall musicianship. More specifically, listeners would lose the full understanding of Naidoo's ability to very carefully but effortlessly navigate the wide-ranging landscape of a guitar or bass fingerboard – all while delivering poised changes in dynamics that arise leisurely rather than with an overt and pronounced start to changes in intensity.
Then there's the gently applied, but significant amount of, diverse compositional character that runs through Hidden Villages. Like was stated before, there is an initial dimension of contrast that manifests between dominant cleaner, smooth guitar tone and, recurrences of sharper, more jagged rock tone that oscillates withing tracks like the aptly named "Crossover." Sketch the Sky takes the music between calming melodies and bursts of energetic and more aggressive breaks. Once settled in a type of tone – typically within the quieter and more acoustic-leaning of the two – Naidoo injects even more musical detail with the transition between standard plucked notes and those whose sounds are generated through higher pitched harmonic overtones that, at times, feel like air cleansing bells among a very dense amount of notes filling the rest of the space devoted to mental concentration. It's another skill that leans Sketch the Sky toward traditional finger-style acoustic roots and reveals another side of Naidoo's talent past his consistency with simply playing a lot of notes, really fast. Those who key in to the production side of a record will find Hidden Villagesripe with intrigue as well, when the revolving appearance of metal mixed drums and heavy, rough bass tone shake things (temporarily) out of a peaceful state.
The layers of impressive nuances continue, as the semi-thematic premise that's formed around Hidden Villages is granted a quality  that's comprehensible outside of timbres reminding us of nature or the outdoors. Right from the brief, minute long opener, "The Epitome of Helplessness and the Hope of Surrender," the music contends with ambient sounds of birds chirping, wind blowing and, then later on during midway track "77% Transparency," the sounds of water bubbling and rushing by. These naturally musical sounds appear intermittently on a few other tracks as well but never in such a way that their nonaggressive entrances clash to unpleasant results with any rhythms or tones already in progress on a track. Other decisions like the fleeting appearance of jazz piano on "Discovering Narnia" inspire that same effect of unique but unobtrusive surprise.
Sketch the Sky has created an album that is in arguably cohesive, thanks to the steady style of guitar playing that goes from beginning to end. Yet, by the time one reaches the last track, "Rinne (輪廻)" (Rinne translates roughly to mean 'cycle of rebirth' in Japanese) there's also no denying these many small and meticulously thought out choices were made so a plethora of impressions could have the potential to form in listeners' ears and minds; many of them fantastical in nature and guiding listeners toward a degree of intriguing, welcoming detachment from reality, much the same way children escape into fairy tales or fables. The way every track feels heavily connected to every other one but imprints one or more distinctly memorable quirks, musical or not, that stays on the mind long after, makes Hidden Villages indeed feel like a collection of related but respective worlds (or in this case, villages in probably more fitting). What's most interesting about this last impression toward what Sketch the Sky has accomplished with Hidden Villages, is the fact that Naidoo even mentioned in the days leading up to release, that "[His] plan is to make everyone feel like kids again" and by creating such a curiosity driving, melodically colorful, textured, and unpredictable album, Hidden Villages certainly seems to accomplish that in spades.
---
Hidden Villages is available now through Bandcamp.
Stay connected with Sketch the Sky through these social media platforms: