Don't fight it: You're sure to be a "Lover" of Little May's new single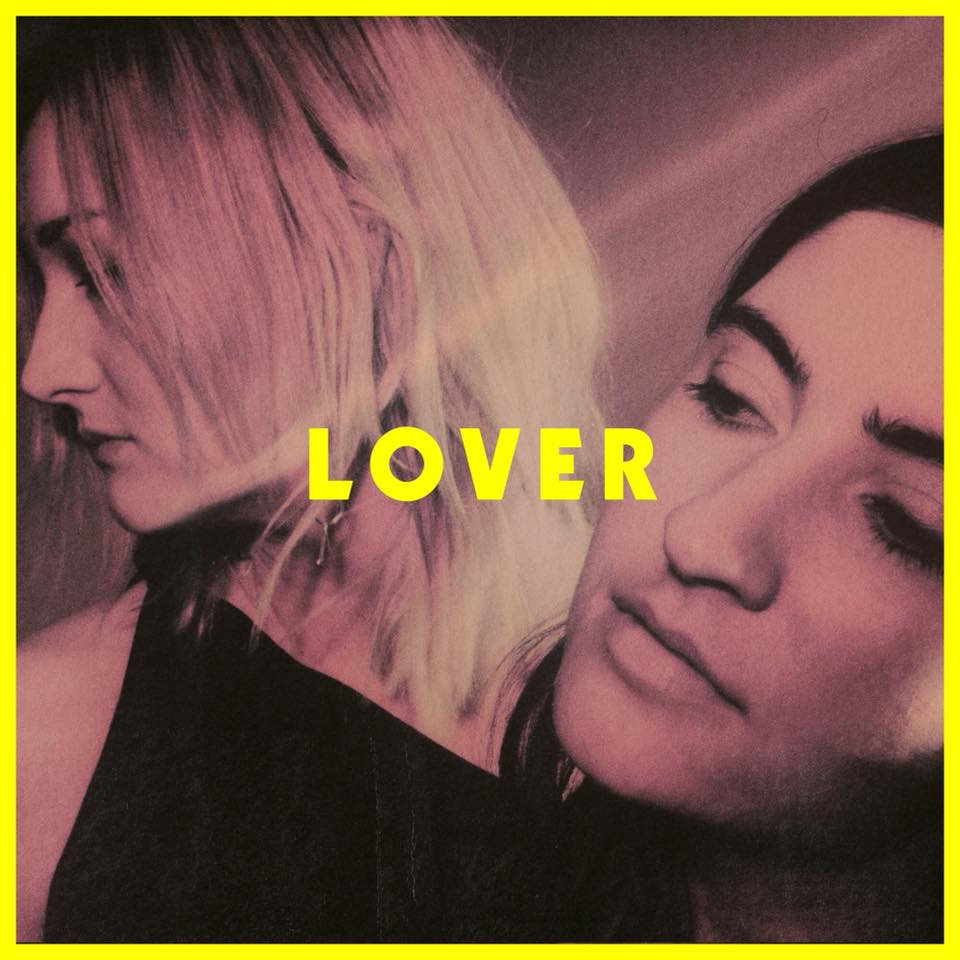 Next to that initial rush that accompanies obsessing over a debut single from a much-buzzed-about-but-not-yet-heard-anywhere-live band, there's little that brings about a replicable burst of excitement around music than when a band gone on long hiatus suddenly resurfaces and releases new music to boot. This is the juncture where Sydney, Australia gem, Little May, is standing right now with the release of the single, "Lover," and the moment feels practically like an experience of entirely new proportions.
Little May is:
Liz Drummond
Hannah Field
While it's true that Little May, who last released music with debut full length, For the Company (Dew Process, 2015), are not a band born yesterday, there's somewhat of a hard reset feeling that accompanies the arrival of "Lover." Despite the fact that Little May doesn't appear to be making any hard-lined or extreme shifts in genre preference, between the amount of time spent privately creating post-debut and the already transformative moment Little May way stamping down for itself with For the Company's decidedly more amplified and synthesized foundation over the band's previous acoustic folk EPs, "Lover" shows Little May with no sign of fatigue for change and, if anything, an increased excitement toward the idea of a more sonically aggressive presence. The good news is that even in the face of notable new choices, Drummond and Field don't look to ditch their natural affinities for tonal definition and vocal distinction.
The apparent decision to keep running toward dynamic sounds rather than away from them, is all the more impressive when considering the drop of band members by 33.3%. The amicable and supportive departure of lead guitarist, Annie Hamilton, at the tail end of 2016 left Little May with literally less vocal power but it's heartening to see that the trio-turned duo isn't retreating from the results of Aaron Dessner's (The National) more intense rock influence on the band's production and arrangement style. The structure of "Lover" thrives from its lower register powers: the wider, slightly rugged, mildly distorted lead guitar playing eighth notes to build a sense of conflicting momentum against the longer noted bass part and the defined but bursting kick drum beats creating the song's pulse while alternating rhythmic support with the piano and bass. Though the underlying piano chords provide more tonal color, their heavier handed delivery still adds to the low octave foundation and the collective instrumental force pushing the two women's performances forward.
Here's where it gets most interesting though: The melody of "Lover" is probably the biggest diversion for Little May. True, the warbled phase of a long opening synthesizer tone and a distorted guitar are far and away surprising transformations from the gossamer finger style guitars on a single like "Boardwalks," to say the least. However, even with thicker tones and more amplification, a melody that moves is a melody that moves. "Lover" instead, opts for a minimalist hook; verses venturing mostly between the interval space of just a minor second to a major fourth to make their respective points and the chorus doing the same.
You are not our lover
You are not our friend
You're just looking for someone to bail you out
And bring us down
You are not our father
We cannot pretend
You threw me out in the water
and turned around
to let me drown
– Lyrics from "Lover"
So is this something to hear and notice with dread? Not exactly. The further reduction of melodic focus in the vocals of Little May's first return release is surprising but once past the shock, the reality doesn't seem that drastic. "Lover" isn't a show of creative loss or a stagnant lull but just requires a bit more work to see where Drummond and Field assigned the focus, which turns the song to the band more so than the duo. Even though this thought might again set off internal alarms, think about it: Those who know Little May, and even those who don't, can look up past releases or performances and realize straight away that these women know how to sing well and do so with ease – no extreme instrumental backing required. That in mind, it makes plenty of sense for the band to keep up the energy on new sounds and new combinations of production elements so everyone, new and older fans both, can continue to get used to hearing new things and to let these evolving sets of sounds and stylistic experiments settle into a place of familiarity, just as Little May's earlier works did before.
Look with less of a such a fine-toothed comb and the song is still a welcome re-emergence even amidst ongoing change and adventurous artistry. The delicacy of Field's voice is innate to who she is and so that ingrained quality of poetically light character can and does endure alongside a slightly more crowded soundstage (the character of her voice even shines through some frequency filtering on the vocal just about half way through the song.) Singing as a pair, the ebb and flow between Little May's multi-layered, harmonizing chorus vocals and the sheer force of unified downbeat sustaining snare hits and claps, then topped off with a purely rock style, sustained, metallic lead guitar solo, all seal "Lover" as a bold and assertive single.
When played through, although it runs close to four minutes in length, "Lover" flies by with the kind of catch-you-off-guard brevity of a radio pop hit, showing great songwriting strength in generating mental and emotional momentum. There are traces of Little May's founding, core sound in the song (rhythmic acoustic guitar strums break through to the surface in the chorus, as well as ethereal "ooo" vocals that swirling around the central harmonizing vocal parts) but for the time being, Little May is letting its creativity try out new moods, and new ways of expressing those feelings that don't confine the duo to the limitations of acoustic dimensions. The delicate, slightly solemn musicality isn't being discarded. Right now it's taking a spin around town in a bold muscle car with some striking paint, and heading to the nearest dance party where the downbeat dictates when the night is over and everything is about what the music makes you feel as you're hearing it – not waiting to ask your opinion after the fact. "Lover" is a song that lives and affects in the moment and considering Little May are likely to face lots more change-inducing choices as they prep album two, a little more intensity and rhythmic push to keep them going with less hesitation is really kind of perfect for the moment the band is in now.
---
"Lover" is available now via Dew Process.
Find it on iTunes and Google Play.
Streaming is available on Spotify.
Stay in the loop with the new journeys of Little May through its official website and these social media outlets:
Facebook
Twitter (@LittleMayMusic)
Instagram
YouTube