Music collections everywhere will find great company in Little May's debut!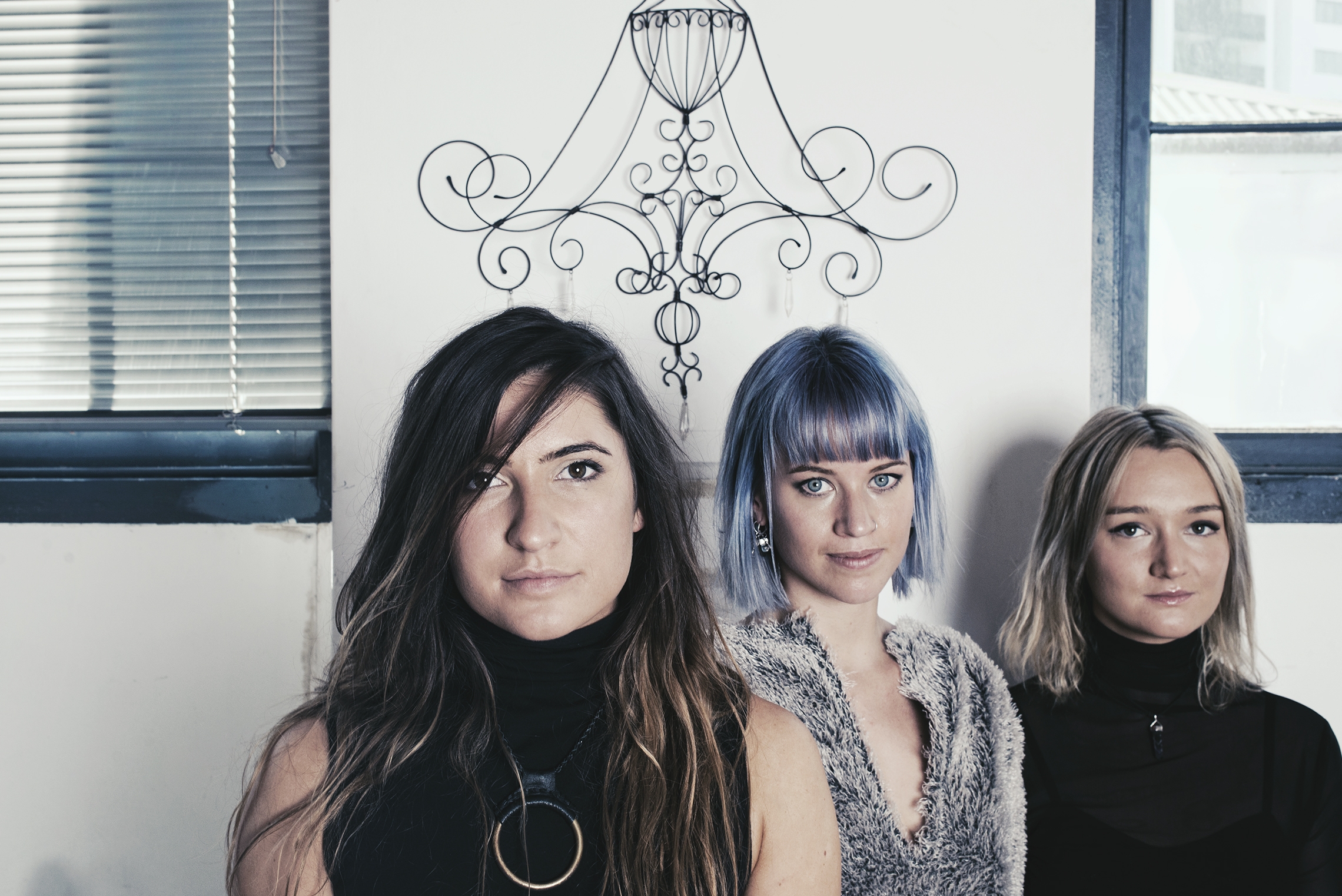 Little May. It's such a delicate sounding band name; one that prompts thoughts of lightness, springtime and sunshine.
Cue up a track like "Hide," from the Sydney based trio's self-titled EP or, "Seven Hours" from their soon-to-be-released full length debut, "For the Company" (out 9 October via Dew Process) however, and it becomes immediately obvious that Little May are anything but a band shaped solely at face value. Making music together since 2012, Hannah Field, Liz Drummond and Annie Hamilton might comprise a group that's previously been referred to as all manner of indie folk, ghost folk and folk pop but, even these tried and true descriptions don't adequately serve the band's musical aesthetic anymore.
No, over the mere three years Little May has offered their sounds and lyrics to the world, the Aussie women have experienced far too much of the world and grown both as people and musicians, to think of the music from their forthcoming album as anything less than beautifully complex and something that rightly inspires unsteady but seasoned contemplation. Here, unsteady is offered not as a negative but rather as a reflection of the pleasantly unpredicted and rapid speed with which Little May's music and personalities have become globally recognizable and praised. The backbones of gracefully picked guitar lines, echoing vocals and minor tendencies that cemented public intrigue of Little May haven't retreated with "For the Company." Instead, they have been introduced to a respectful amount of new dimension and instrumental depth (courtesy of The National's Aaron Dessner), making it easy to see the necessary mental move past a fixed perception of the band's founding style.
This grand scale on which the band stands could not be more apparent with the group currently undertaking a non-stop tour supporting "For the Company," that spans Australia, the UK, EU and several staple cities of the U.S., all the way through the beginning of next year!
Amidst a hectic schedule of travel and performance, and just a few weeks off from their return to New York City, band vocalist, Hannah Field, shared some thoughts with me about excitement surrounding the release of "For the Company," the experience of such extensive travel and where Little May fits on the international landscape of music in 2015.
---

Kira: Leading up to "For the Company," Little May has now traveled all over the world to perform, as well as having written and recorded in places quite the distance from your Australian stomping grounds –including right here in New York state. How is it balancing the contrast of being a band that has spanned the globe (more than once) while also being referred to as a 'breakout group' or 'one to watch?'
Hannah Field: We realise that we have been extremely lucky with our overseas presence and shows – we are not as naive as to think we are rock stars. Playing such a mix of shows doesn't make us need to change ourselves as such (apart from scheduling our lives!), and however people classify the band, we're just happy to play to a crowd, whether it's 2 or 2000 people.
Kira: It's been discussed before, how you three tend to gravitate toward darker emotions and wistful personal recollections when writing and how that seems to fly against the preconceived grain of what is often expected from "folk music." I'd say that I definitely agree that folk music isn't necessarily always associated with lightness –at least not where lyrics are concerned. However, your band's actual sound has definitely projected a gossamer quality; specifically where the blending of your instrumental hooks and vocal harmonies are concerned.
Aaron Dessner's production input has undoubtedly been a factor of significant influence in helping your gradually more intense sound come into being but, do you think, despite not chaining yourselves to one genre, that you'll look to retain some level of that fundamental delicacy in future music, regardless of the emotional inspiration from where it comes?
Hannah Field: To be honest, I don't think folk music is really obvious anymore. We've been dubbed as folk music but I'm not necessarily sure that's what we are. Being pigeonholed because of one track doesn't necessarily define our genre – I'm still not sure what we are! Concerning Aaron's production, he actually stripped back a lot of our songs very tastefully, and reminded us of what a Little May sound was that we all connected with, rather than being lost within a world of inessential layers.
Kira: Past benchmark performances, like Bonnaroo for example, didn't leave you all much in the way of time to process and savor the scope of what you were getting to participate in. This world tour doesn't seem to have much downtime allotted on the calendar either! That said, do you think you're a bit more prepared this time around, for the whirlwind of touring and traveling –at least enough to maybe get to enjoy the many places you have on the agenda?
Hannah Field: Last time around we experienced some of the worst that a tour can throw at you – thrown in the deep end so to speak, so yes, we're more prepared this time around. I think it's important to balance yourself with work and play on tour to keep yourself sane.
Kira: Speaking of the passage of time, it was just about this time a year ago, in another interview, you all mentioned being obsessed with The National. Next thing you know, Dessner has agreed to help make "For the Company" a reality. Just for the fun of it, what, or who, is something you've been mulling over a lot lately that's connected to your music? Perhaps in another year that one thing will become an integral part of Little May's story as well!
Hannah Field: We all bring different opinions and musical influences to the table, and right now I'm going through a massive Tom Petty & The Heartbreakers phase. So if any of them have any free time soon…
Kira: This is one of my favorite questions to ask. While I realize you don't take a guitar playing role in the group, what's pedal(s) would you say you take to the most in terms of sound character?
Hannah: …I don't play guitar within the band but, if I was to pick one pedal that I enjoy the tonal characteristics of, it would be the Smallsound Bigsound Fuck Overdrive. Brian Hamilton has really nailed that blown up amp fuzz tone with his JFET circuit, as opposed to a lot of others than just go into squarewave clipping. If you're going for that Neil Young reverb in to fuzz thing, it is the one (and also isn't affected by buffers running before it).
Kira: And as a closing query: How do you want "For the Company" to be thought of when looked back upon in the future, as Little May continues to change and grow?
Hannah Field: It represents a time and place for us, and is foremost a statement. Upon signing, I think it was expected of us to make something that was easily accessed by the public, but when we were rewriting the songs in Hudson, we wanted to create a body of work that tied together as an album rather than a collection of singles. I think it should stand the test of time and we're very proud of it.
---
Little May are jetting all over the globe but those in the NYC area can look forward to a pair of shows at Mercury Lounge and Baby's All Right later this month. Full details on their "For the Company World Tour" are below!
Pre-orders of "For the Company" are available now through iTunes and three tracks off the album can be streamed now through Spotify.
Keep up with the ever-growing endeavors of Little May through their official website and these social media platforms:
Facebook
Twitter (@LittleMayMusic)
Instagram
YouTube
SoundCloud
Little May "For the Company World Tour"
MON 5 OCTOBER
Exchange Bristol, UK
Tickets