And it feels so right to listen to pronoun's new single "wrong"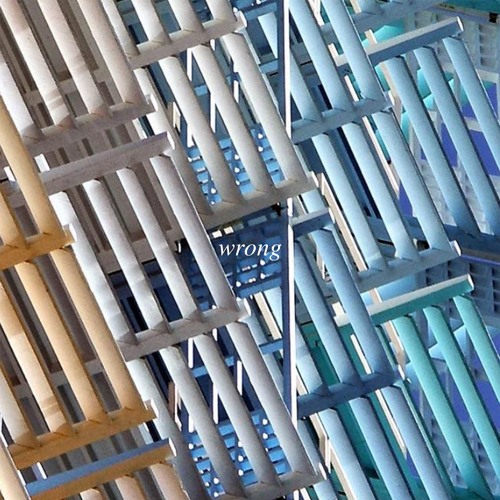 Much like her self-developed emphasis on all things "tiny," Brooklyn songwriter Alyse Vellturo, known on stage as pronoun, is releasing music that's very unassumingly sneaking up on both New York City, as well as the rest of country. Yet conversely, also sees her new art injected with the versatile character of something potentially massive, rather than something small. Following "run,"  a fervently anticipated single that began the chapter to follow there's no one new around you, (Rhyme and Reason Records, 2016), listeners were set up to brace for a sound that retained Vellturo's earlier minimalistic writing and singing style but also brought in a new coating of tonal depth to pronoun's instrumentation and smooth sonic overlap that befits radio-minded production.
The second single on a runway that's leading up to pronoun's debut of a full-length this year – possibly sometime in Q4, September to December, if this quick tweet from an impromptu Q&A holds – "wrong" serves to continue laying out the path for the evolving blend of artistic decisions currently shaping pronoun's music. Check it out below.
"wrong" rather quickly displays a connection to "run" but initially just in a broader sense; emitting pronoun's new defined production style. However, there's a key difference in not only the song's base relationship with dynamics but how "wrong" is written to collectively flow and what that musical journey looks like when experienced from start to finish. The way the song begins and is initially propelled – just by the nimble bounce of a four note, syncopated guitar rhythm that only moves across a descending minor second interval – one might assume that pronoun is merely establishing the basic motif and that as the song progresses, this first expression of the hook will gain depth, either from many more instrumental tones or from variations on this subtle theme. And indeed, in the short 12 seconds before Vellturo's vocals kick in, a distinctive laser style synthesizer tone adds a contrastingly fluid descending melodic pattern over the guitar, followed by the weight of a baseline and snappy snare beat that both march perfectly in time to "wrong's" catchy four count.
The thing is, after the particularly fast bit of instrumental layering (done quite astutely in a way that instantly begs attention be given and enthusiasm for what's to come be stoked) it becomes apparent that collectively played theme displays nearly all of "wrong's" instrumental ceiling. Save for the rhythmically focused studio piano in the abbreviated third chorus and the thickly toned lead guitar solo replacing the minimalist hook before the final chorus, the song's melodic tide remains rather constant between the verses and the instrumental hooks that separate them; pulling back and recombining at different times but not really mixing in new parts or sound effects not already heard up to that point. Vellturo being the crafty songwriter she is, doesn't serve up a song that is sonically undernourished by any means. Rather, the contrary, it's clever and impressive to still feel a sense of musical expansion and contraction from one section of a song to the next, when in reality the instrumentation is actually on somewhat of an orchestrated cruise control, giving the song's lyricism more priority.
Knowing that the song has shown 95% of its hand early on isn't a bad choice. It merely shows that once placed in a larger musical context alongside "run" and the rest of pronoun's imminent tracks, "wrong's" more collectively reserved arrangement will likely serve to push forward the total sonic layout of that finished project, as opposed to being heard when standing alone. That said, as a standalone work, pronoun excels at delivering a piece of music that is individually personal – keeping in line with Vellturo's willingness to be transparent about things far outside songwriter's block with those who hear her music – but also entirely on point for the purposes of fitting into a variety of musical and experiential contexts.
Where the melodic minimalism of "wrong" could be perceived as a deficit by some, it can be just thing for enhancing an objective of instilling an upbeat mood in an advertisement, without such use leaving pronoun's music feeling spliced apart because parts of it are made that way to begin with. And though Vellturo's particular style of singing isn't as much about being vocally dramatic, she knows exactly when and how to emphasize descriptive, memorable, and emotive phrases so that they are clean, clear, and, most importantly, likely to stick out in the mind of whomever happens to latch onto the words as they fly by. The aforementioned abbreviated third chorus is actually a prime example, as the three lines selected from the full chorus are the most declarative and emotionally colorful, in the least amount of time.
"And you can't go backwards
now I'm sitting feeling sorry
for somebody that I hate"
Add to all of this the fact that underneath pronoun's deeply personal core of inspiration is a fundamental demonstration of poised pop song form, and there are multiple layers of creative aptitude to love about "wrong" even if it's more subdued structure implies otherwise. While waiting to see what the future holds for the rest of the band's full length, what's here in the present only further shows that there is way more to pronoun than slipshod emotions put to music. The music of pronoun is deeply nuanced, carefully assembled, and brilliantly designed – all while being made to look and sound effortlessly easy.
---
"wrong" is available now through iTunes, Amazon, and streaming on Spotify.
pronoun is just about to kick off a lengthy tour with Basement, Citizen, starting with a show in Springfield, MO.
Look for the tour to stop in Amityville, Long Island on 20 May and at the Brooklyn Bazaar on 26 May.
Find the full list of tour stops with ticket links HERE.
Stay connected to pronoun through her official website and these social media platforms:
Facebook
Twitter (@musicpronoun)
Instagram
YouTube
Spotify
SoundCloud