Cowboy Diplomacy says it's good to have "No Alibi"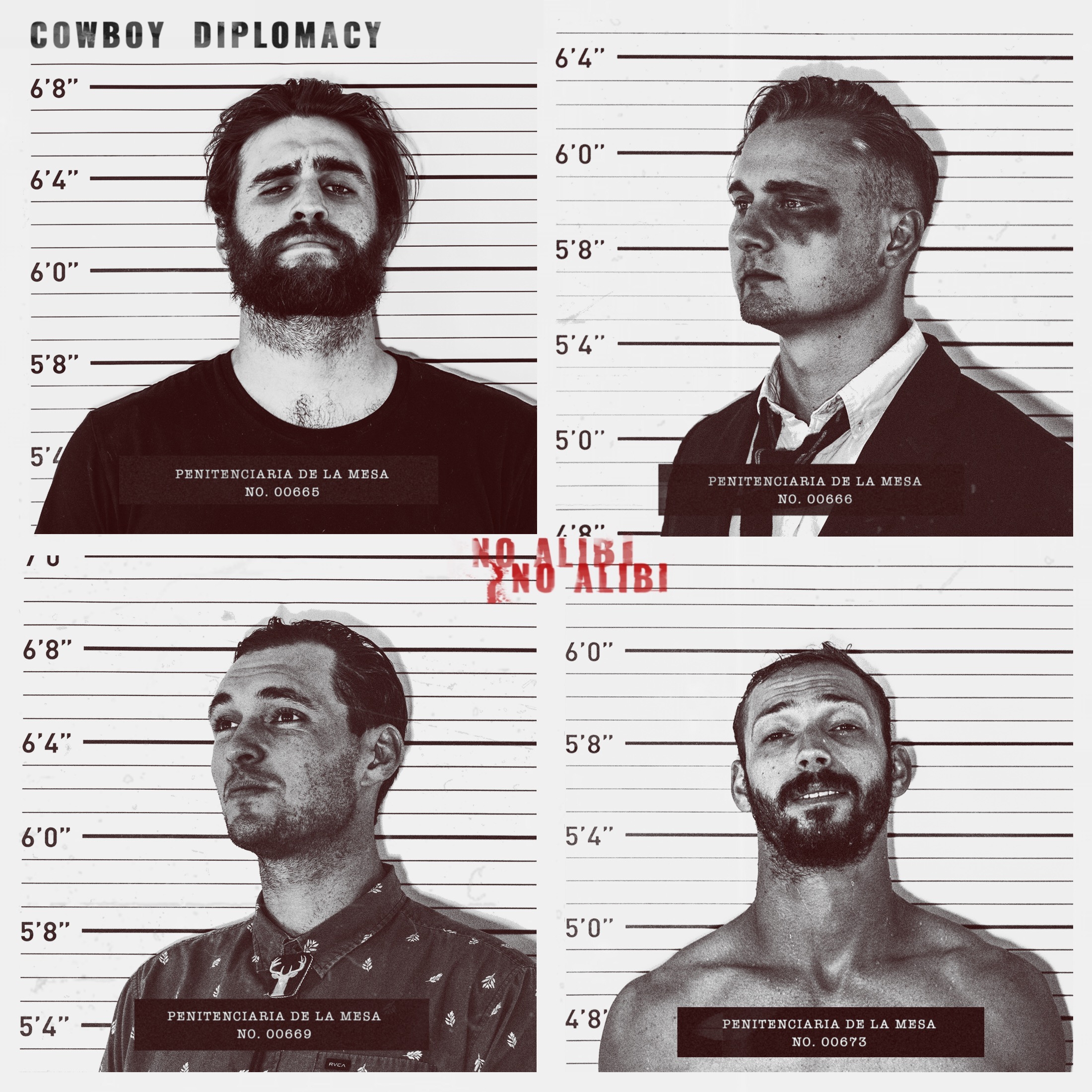 When home equates to a place that's close to the Mexican border and the typical weather for most of the year is that of dry heat and continuous sun, it's hard not to wonder how bands local to that part of the US – like Austin, Texas's Cowboy Diplomacy – don't feel an urge to write with a summer leaning aesthetic all the time. In the case of the southern rock quartet's newest track however, such a choice manages fit right in with the twilight the season and what's left to soak up of vacation time.
Combined with the mug shot-themed artwork, and lead singer Ian Cochran's signature gruff but steady vocals, "No Alibi" seems like an imminent ode to an outlaw. Such a conceptual contradiction, coupled with a band name connecting to restraint and tact, wouldn't go unnoticed, given its subtle use within Cowboy Diplomacy's previous debut single, "Follow Me." Interestingly, the four minute follow up track isn't at all what it first positions and implies itself to be. In fact, the substance of the song doesn't even find its roots on the band's Texas home turf. Instead, listeners are taken on a trip further west, to the Southern California city of La Mesa. The rest of the narrative attached to this change in song setting definitely feels more California fling than Texan tale as well; no palm trees in the mix but Cochran sings of quick burn flings and a guy with an eye for the local girls:
I've been walking around, I've been scoping the town, they call me a talent agent

The beauty I pick, the women I dip

Last call at Joe's, you wanna come with

La mesa girls are out of this world

So the question is will you cruise on by
The lyrical expanse of "No Alibi" is limited – much like the length of the relations about which Cochran sings. Yet, with the understanding that the frontman penned this tune at the carefree and time-resistant age of 16, and imagining the seemingly never-ending Saturday nights of La Mesa inspiring Cochran in the background of his teens, the singular focus of "No Alibi" can feel like a temporary escape to that mental place of living in the moment and not worrying about what the next morning brings with it. Though the lyrical journey goes by fast, the instrumental work leaves a trail twice as long and pleasant, to leisurely reflect on and enjoy. Beyond Cochran's roots rock style voice, Cowboy Diplomacy's southern rock and blues attributes are most clearly exhibited through the instrument tones, performance methods, and rhythmic form. Bent guitar tones, a zig-zagging syncopation applied to the verse melodies, and hard string plucks that match the dynamic intensity of defined kick and snare hits, give "No Alibi" much more of a concentrated and thickly toned rock style disposition than that of the tinnier, reverb-laden, synth-supported tunes commonly associated with indie rock and pop coming out of (So)Cal.
The recurring pattern of the second half to some lines in the verses finishing their statements with an abrupt start on the off-beat a four count measure (It's crazy when you meet a man – that has no remorse / Seems like such a nice guy you buy me flowers oh my – he's a cheater of course), creates a feeling of momentary suspense in the rhythm; there's time for a quick breath before hearing what comes next. Adding to that, not only does the rhythmic pattern also create a sense of sung "call and response" with that pause but lyrically, the response half then takes the initial neutral or positive scenario and unexpectedly turns things sour (Before you confess – you've fallen for hell). In essence, listeners are left with short verses that incite inner conflict: at once leaving a desire to know what is coming but after a few burns, transforming that single beat of rest into a moment of emotional apprehension. It's a small, literally silent, decision but, it leaves quite the perspective-changing impact on how one might view Cochran in the role of the song's protagonist (or antagonist perhaps?) The last key aspect, wherein the band doesn't stay explicitly within the lines of the patterns drawn for themselves – heard most notably in Cochran's minimally but continuously altered note lengths from verse to verse – coats "No Alibi" in a final layer of the laid back blues aesthetic to which Cowboy Diplomacy subscribes.
"No Alibi" is a California escapade played out on the stage of a bustling Austin bar with all the swagger and surefooted step of a southern bad boy. The subject and sentiment of locality might not specifically hitch itself to Cowboy Diplomacy's hometown but, whether it's Texas or California, this second cut from the Austin quartet will likely fit in either place or anywhere in between that knows how to stay up late, have a party, and gets people interested in one another.
---
"No Alibi" is available for streaming on Spotify.
"No Alibi" was recorded at Studio 601 in Austin, Texas.
Music was produced by Eric Harrison.
Mastering was done by Howie Weinberg. (The Wild Feathers, Wilco, Spoon)
Stay connected with Cowboy Diplomacy through its official website these social media outlets:
Facebook
Twitter (@C0wb0yDipl0macy)
Instagram
YouTube
SoundCloud
Spotify