One Nice Garage, two years, endless open mindedness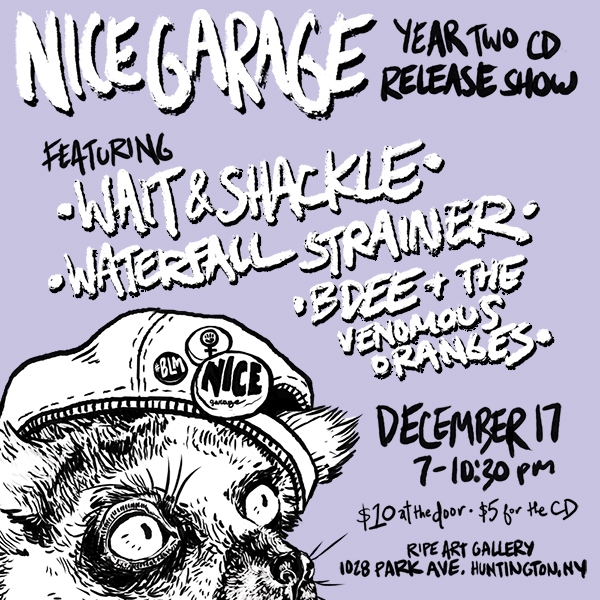 "There's no go-to place for local music around here. Just the big venues with crazy rules and insane ticket prices."
How often has this, or some variant thereof, been said among music lovers within the local communities of Any Small Town, USA? Probably too often, which is an unfortunate state of affairs, given that plenty of bands still form in garages across America every day. Seems like quite an imbalance, doesn't it? The thought of a new venue to satisfy such a void sounds like a great idea any day of the week but if it were so easy to pick a building, buy some equipment, paint a name on a sign, and open for business, everyone would do it, right? The difficult realities attached to creating and then sustaining a space are plenty. Nonetheless, every once in a blue moon, the elements for a much needed oasis line up and a new community hot spot is born.

Enter: Nice Garage.
Founded in fall of 2014, Nice Garage is presenter of local music within the Long Island, NY music scene. Putting on monthly showcases that always feature three bands and have all ages admission, Nice Garage is hosted the walls of another local establishment, the Ripe Art Gallery, in Greenlawn, NY. The concept was originally conceived by Joe Arias and Sam Neukirch – creatives of different mediums but with one shared vision. Arias is a musician, engineer, and producer, (find his other works on his Bandcamp page) while Neukirch is an immensely inventive visual artist, responsible for much of the unique artwork used to promote every showcase.
While the calendar fast approaches the end of 2016, Nice Garage is fast approaching an important date of its own: Its second anniversary. In one week, a special showcase with local bands, Wait & Shackle, Waterfall Strainer, and BDEE + The Venomous Oranges, will be hosted in celebration of Nice Garage's second successful year of shows. In honor of the auspicious achievement, Arias has put together a compilation of recordings from Nice Garage featured artists and their live recordings. A similar compilation was produced in a limited physical copy run for the first anniversary, (currently available via Bandcamp) to an extremely well received reaction from attendees and artists both so it was clear a second party needed to be had!
Amidst last minute preparations for the special night, Arias shared some of Nice Garage's past, present, and hopes for the future, along with a few classic odds and ends! Plus, read on for a full streaming preview of the new compilation, exclusively through Throw the Dice and Play Nice!
---
Kira: What are you feeling as, what started as an unassuming, small, local endeavor now approaches its second year anniversary?
 
Joe Arias: It's overwhelming in the best way possible. To start from almost nothing – knowing next to nil about the Long Island music scene – and now when I go to shows (and occasionally bring my cohorts with me) it's all hugs and handshakes! Though a lot of things about the way we've grown are calculated, in a way, the outpouring of support from all sides has been surprising and immensely encouraging.
Kira: Is the Nice Garage of now anything like how you thought it would be when you kicked off the first show two years ago?
Arias: I had no idea we would get this far. When we started the shows in my garage, the concept was really just "I don't have time to get out to the music, so why not bring the music to me?" Apart from maybe a small handful of musicians, I didn't know the scene at all. When Sam (my girlfriend of 7 years) suggested we approach Ripe about the concept, I didn't even expect them to say yes, but here we are! Two years later and we've got a sound that rivals some long-standing venues, and an archive of Long Island live music that's probably one of the largest around.
Kira: To what would you attribute Nice Garage's expanded growth in the Long Island community?
Arias: I think our growth has a lot to do with how we handle organization. I do my best to be super up-front with bands, and I'm always available to answer any of their questions. There's also an element of how my music taste influences my choices when I'm booking shows. I have a pretty broad interest in a lot of different genres, and thankfully I entered the scene at the right time. There's just SO MUCH good music happening right now, and Nice Garage is my way of getting to both hear it for myself and, put it out there for the people!
Kira: Amidst an industry landscape that can lean toward categorizing everything from bands to venues and more, what about the collaboration between the Ripe Art Gallery and Nice Garage do you believe enables the two to work together so well – especially given that others efforts to do so may have struggled or failed due to apprehension of mixed crowds/environments, etc.?
Arias: Cherie [Rexer] and Rob [Rexer] (the owners of the Ripe Art Gallery) give us complete freedom when it comes to booking, and they're pretty kind to us when it comes to a dead-show. I've booked bands that are WAY out there in terms of what's considered musical, and we don't have the same obligations of say, a bar venue or even a dedicated event stage, so I can work outside the box a bit. Believe me, there were times when I almost gave up, and it was really hard getting off the ground during the first year. Some shows would bring in 30-40 people, with others sometimes having as low as 2-3 audience members. Sam and I were moving around a lot during that time, and having the support of everyone who works on the show with me was a huge deal. It kept me from quitting when things got really rough. For all of us, Nice Garage is something we're immensely proud of, and we weren't going to quit so easily.
Kira: How do you choose the bands of each Nice Garage show? Do you have a particular idea of a sound that you keep in mind or some other influential mindset, when putting groups together?
Arias: As I said earlier, there's a LOT of good music happening right now and I want to hear and record as much of it as possible. The first few shows were mostly people I knew personally, but once I got ingrained into the community, I had a much bigger brush to paint with. I prefer to set up shows with a common genre thread, though I don't hesitate to contrast or cross genres occasionally. That sort of thing can be hit or miss, but it's all part of the process.
Kira: What are some of the things you have learned over the least two years that stick out most prominently in your mind?
Arias: To be honest, everything I know about running live shows, I learned from running Nice Garage. Booking, event management, organizational stuff, interpersonal skills, the list goes on and on. If I had to pick just one of the more important things, I'd say that it's better to be annoyingly persistent when organizing bands than it is to be passive. I don't start promoting the shows until everyone knows what's going on, the bands are confirmed, and the set times are solid. Once the event is up, I'm on top of everyone with information, right up to the day of. It's mostly about making sure they know where they need to go and what they need to do, and I think I've become pretty good at it. Shout out to everyone who puts up with my innocuous messaging at times!!
Kira: What's the craziest, most unexpected thing that's happened during or otherwise affected a Nice Garage show?
Arias: Our wildest stories are probably best not discussed in a public forum, so my answer to this one may come off as a little less than satisfactory. In August of this year (2016), we actually had to cancel a show for the first time ever. I'd gathered up all of my gear, and Sam and I were out at Lowes when Rob Rexer called me and said it was over 130° in the gallery building! They've only got a few fans to cool that place down, so after some attempts to rationalize rescheduling or not, I decided to go the safe route and cancel the evening. It was a bit of a disappointment, but these sorts of things are bound to happen once in a while.
Kira: How difficult was it to figure out what to put on the new "Year Two" compilation?
"For all of us, Nice Garage is something we're immensely proud of and, we weren't going to quit so easily." – Joe Arias
Arias: Over the course of the year I'd been sort of "pre-selecting" some of the music that would fit into the compilation. A lot of what's on there was the stuff that really wowed me, though I had to cut a few tracks from my initial listing for time and feel. I know that playlists/mixtapes are sort of an art form of themselves, so I tried to put together a coherent picture from the massive variety that we've had this past year. I think anyone listening to it could get a feel for the push-pull effect that I went for this year.
Kira: Being the "triple threat" that you are, this needs to be asked: What is your favorite microphone?
Arias: Shure SM57 hands down. I've used em on anything from vocals to drums to acoustic guitars, and, if you know how to position one just right, you can get a good sound out of any source. Heck, I could mic a whole kit with just one 57 (and I have!) if need be. I feel like that goes for most mics, but the 57 has a certain character that's interesting in unexpected contexts.
Kira: What would you say is your favorite effect to use when mixing?
Arias: I LOVE the Soundtoys Echoboy plug-in, though Goodhertz' new WOW CONTROL has got me feeling some kind of way lately. It gets into some really wild and uncharted territory with pitch modulation. Both of them do an incredible job with their DSP, [Digital Signal Processing] and I use their stuff more than anything. Side note to any engineers that use RTAS, AU, or VST, check out Cohmpost by Ohm Force. It's not my *favorite* plug-in, but it's the funniest one!
Kira: Finally, because as far as it seems on written record, it hasn't been asked yet: Why "Nice Garage?"
Arias: People want to ask me that all the time, though I almost always mention it before they get a chance! Our first two shows were in the garage at my dad's house, with Christine Holt and The Orchestra of Hugo Stiglitz playing the first, and Cloud Caverns and String Theory (John "Skip" Ballard) at our second. We had a decent enough turnout at both shows, so when push came to shove (rather it just got too cold) we decided to find a different venue. Sam and I approached Cherie at an art opening, we made our pitch, and the name stuck with us.
---
Nice Garage's Year Two anniversary show is one week from tomorrow. Full details are below.
Admission: $10.00
"Year Two" album $5.00
"Year One" + Two bundle $7.00
All ages
---
Keep connected with Nice Garage through its official website and these social media outlets: