You'll be scrambling to get in the door for the Long Island Screamo Skramz Festival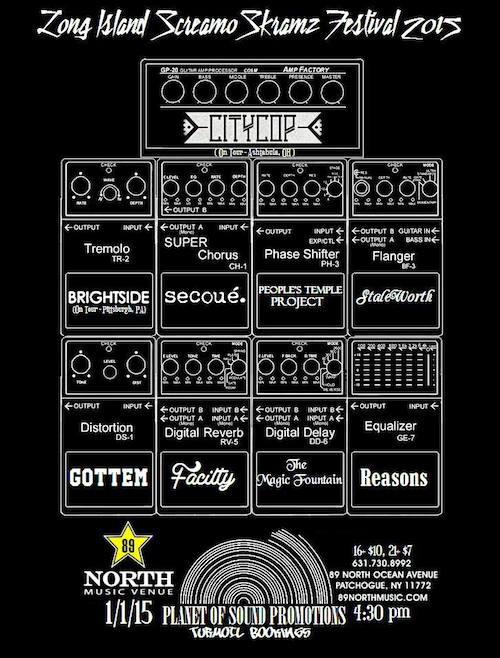 New Year's Eve being the simultaneously predictable and unpredictable evening that it is, (Yes, 2015 is coming but how one chooses to ring in those first few moments is anyone's guess!) a common denominator for most is that many hours are spent being awake past the norm of the average working adult. This is, of course, why New Year's Day is such a gift. It exists as that day that most devote to recovering lost hours of sleep and recovering lost hydration. In a word, January 1 on the calendar, no matter what year follows that date, usually translates to the immediate thought of one thing: Rest.
Bearing this objective in mind, the idea that the very next day one would opt for cranking up the activity rather than turning it down, seems like a highly unlikely turn of events, right?
Well the Long Island Screamo Skramz Festival is getting ready to destroy any shred of the typical expectation of New Year's Day decompression with a nine band lineup that is intent on delivering a full day of unabashedly intense music, capable of stirring up some downright obstreperous energy, sans any behavior deemed genuinely dangerous. Mixing it up with some out-of-state sounds, this show is bringing appeal for those visiting, and locals, alike.
Here's what's coming to the stage of Patchogue's 89 North Music Venue on the first day of 2015:
Editorial Note: Promotion of People's Temple Project is absent from this article at the request of the band. However, their material can be found on Facebook and on Bandcamp.
---
The Magic Fountain
Home base:
Long Island, NY
Players:
Tom Lizo-Lead Vocals, Guitar, Bass, Piano
Rachael Soluri-Vocals
Spencer Woodley-Guitar
Lana Migliore-Guitar
Steps up to the mic and what comes through:
Lo-Fi, fuzzy music, complete with natural ambient noise, that transports listeners to a mildly furnished basement, garage or warehouse, with cheap but reliable drinks and food. Nothing polished here but that's not meant as an indicator of negativity. Rather, this experimental band conjures and organic energy that lets their EP, "You Ever Think About Lasers?", work well as the sonic backdrop of a bustling, informal party. Conversely, it also provokes thoughts of a more steadily energetic space, where everyone in the room jumps into playing with the song, until what started out controlled and small, grows with the kind of inertia that expands a single rhythmic tap, into a voluminous, sensibly chaotic drum circle. The titular track is a brief 37 seconds of recorded conversation and a simple but fluid guitar pattern that is just odd enough of a combination to make feel like it belongs in an independent and or short film.
Track to listen to first:
"Wonderboy"
Keep up with the band:
Facebook
Bandcamp
---

Reasons
Home base:
Long Island, NY
Players:
Daniel Flori-Vocals/Guitar
Brian Devan-Bass
Tim Reilly-Drums
Steps up to the mic and what comes through:
Unlike the somewhat genre expectant, sonically rough-around-the-edges quality of The Magic Fountain, when cueing up Reasons's latest and lengthily titled EP, "i promised i'd be okay, but when october comes i won't know what to do," what rings out immediately evokes a more crisp audio. A clearly recorded, descending guitar line, an intentionally out-of-sync high hat and snare, both followed by a spoken vocal line that eliminates any doubt of whether or not this band is standing squarely in the emo space of characterization. Interestingly though, despite the repeated descending guitar suggesting sadness and hearing Flori's voice cracking like that of a person on the verge of tears, saying "There is a reason to have hope / There is a reason to wake up" evokes anything but that of tragedy or someone trapped amidst their demons. In fact, non-lyrical components are from where most of Reasons's alliance to the emo genre come Flori's desperate sounding deliveries and almost drone-like guitar and drum in their music are where listeners will find most of the band's consistency –though even these two key aspects get through for a loop with mid-song tempo changes and even an instrumental that opens with a sprightly motif in a definitively major key.
Track to listen to first:
"Tierra del Feugo"
Keep up with the band:
Facebook
Bandcamp
---

Gottem
Home base:
Long Island, NY
Players:
Max Henry Gottesman-Guitar, Vocals
Tom Lizo-Bass
PJ Occoral-Drums
Craig Warkoczeski-Guitar
Steps up to the mic and what comes through:
Gottem self describes as "surf punk for people who don't surf." As a one-liner, elevator pitch-style description, this band chose their words wisely. Their music inspires an inclination to think of surf rock, as the songs are upbeat, tonally major, acoustic guitar-centric but are also absent some of the more classic pieces of the traditional surf rock formula like heavy reverb paired with sliding, twangy notes or carefree and semi-unpredictable bass lines that are often responsible for putting the rock in surf rock. The core moods projected from release to release run a gamut that can only be noted by hearing Gottesman's vocals and not simply from reading because, on paper, one swear word to the next is connected to polar opposite emotional contexts –everything from viscerilly pissed off ("You can't fix what's not broken / Take me to a f-ing surgeon / My heart's been shattered because of you.") to cheerfully optimistic. ("Guess it's time for me to try something new / I'm getting better, I f-ing promise.") Though the band has gone through some lineup changes since the release of their eponymous debut album, Gottem's collective sound has managed to maintain stability and despite accruing experience with time, there is still plenty of DIY production flavor; (hand me the high pass filter!) not turning off initial fans nor abruptly confusing new ones.
Track to listen to first:
"Will I Am Is A Fragment Sentence" (from multi-split release, "Glazed and Confused")
Keep up with the band:
Facebook
Twitter (@GottemNY)
Tumblr
YouTube
---

Brightside
Home base:
Pittsburgh, PA
Players:
Matt Vituccio-Guitar, Vocals
Steve Luteran-Bass
Matt Williams-Guitar
Dylan Essig-Drums
Steps up to the mic and what comes through:
Brightside highlight a different side of the DIY die, which is to say that this four piece group has an exterior which might make them and their music look starkly out of place among equally passionate but more off-the-grid bands. Part of the Broken World Media distribution roster and working with the likes of critically acclaimed Mad Dragon Records (affiliated with Drexel University), the band's operations might be a bit more above ground than some of their indie peers but their lack of red tape and enthusiasm for localized events like the Screamo Skramz Fest are what bring their indie heart to the surface. The gentlemen of Brightside are quite comfortable with many tricks of the indie sound trade, offering classic qualities like guitars with a treble timbre, vocal layering, reverb, delay and a tasteful amount of distortion. Little, humanizing, Easter eggs like rhythmic drum stick taps and slightly bent, even momentarily off-key bass tones pop up in their latest 2014 release, "Now and Loud" which are like humble reminders along the otherwise wholly smooth ride this LP ultimately provides, resting somewhere at the intersection of The Killers, Snow Patrol and Foster the People.
Track to listen to first:
"Curly Hair" (a bit of the unexpected that doesn't hone in on the other aforementioned bands)
Keep up with the band:
Facebook
Bandcamp
Broken World Media shop
---

Staleworth
Homebase:
Long Island, NY
Players:
James Mann-Guitar, Vocals
Brett Baehr-Guitar
Adam Scrio-Bass, Vocals
Nick Pinzon-Drums
Steps up to the mic and what comes through:
Shouting (but not shrill) vocals, distorted, overdriven and delayed guitar tones sewn together in the form of various minor key melodic hooks, subtle drops of feedback heard during the release of longer held chords…Staleworth bring this and more to the table on their five track release, "Somewhere​.​.​. Please" and for anyone already easily attracted to bands carrying a post-hardcore, emo and punk torch, this band's music is solid enough for such people to approach with little to no fear of the unknown. Production wise, Staleworth are tight with their instrumental execution and this is tastefully accentuated a well mixed record. Frequent, unison group vocals are given an organic touch thanks to the ever so slight lack of cohesion in the rhythm department, though even if each part were perfectly in time with the others, the band's unique voices would suffice in providing natural distinction. Contrarily, a place where a lack of cohesion might be something to consider altering next record, lies in overall interconnection of parts. While the instrumental parts are recorded well and the natural vocals are recorded well, their starkly contrasting timbres (one being hardly altered and the other carrying many effects,) call to mind a visual of two well dressed people standing in the same room but never having a genuine conversation. One can say these two people were technically together but they couldn't relate to one another. This, of course, speaks mainly to an impression formed via studio recording. Suffice it to say that playing live, Staleworth's musical congruity is going to project through in an entirely different manner, as stage presence and visually emotive choreography can make every bit of a difference in shaping one's introduction to a musician or band.
Track to listen to first:
"Hometown"
Keep up with the band:
Facebook
Bandcamp
---

Facility
Home base:
Wayne, NJ
Players:
Tyler Gili
Tyler Saaya
Steps up to the mic and what comes through:
A young band with an itch to get on stage, Facility's enthusiasm for the live music space make up for their shortcoming on actual time in the formal band zone. Surrounded by peers of varying genre makeups and experience tiers, this band is at an energized but impressionable stage so it will be interesting to see how this starting sound profile of emo, punk and scramz may transform in the near future (or possibly even during their set if they make enough friends during the festival!)
Track to listen to first:
They're so new, live performance is going to be the way to go–for now.
Keep up with the band:
Come to the festival and hear what the band has to say!
---
Secoué (Pronounced SEE-koo-WEE, translates to "shaken" in French)
Home base:
Long Island / Massachusetts
Players:
Christian DiStasi-Guitar, Vocals
Full list of other alternating members here!
Steps up to the mic and what comes through:
Secoué's backstory and evolution to the band of the present, carries some quirks similar to previously interviewed punk band, Single Mothers. Starting from solo origins, band leader, Christian DiStasi, teamed up with others to form the larger group that would become Secoué. More interestingly, also like Single Mothers, this band currently has, or has had, a superfluity of players whose roles range from the legitimate sounding (guitar, bass, vocals, etc.) to the frivolously titled ("Cat petter," and "Fisticuffs" are listed on the full roster.) Despite so much player juggling, Secoué's brand of (scr)emo, punk and hardcore stays even and recognizable. Their latest material, a four track demo released just under a year ago, demonstrates this very stylistically tempered approach. Songs resonate with what could be considered a favorite/signature combination of distorted and trebly guitar, with a vocal part that sounds as if it were recorded either in a very large, empty room or, with the reverb plug-in cranked all the way up but the gain turned down. In other words, DiStasi's voice consistently sounds boomy and at a distance. This is perhaps meant to instill a feeling of isolation, which is boosted further with the slow, melodically narrow scope with which the band sticks. The result creates a cohesive demo to be sure and there is just enough variance in tempo on 25% of the project to not leave listeners becoming excessively numb –even if this is emo being talked about here.
Track to listen to first:
"Eidos"
Keep up with the band:
Facebook
Twitter (@secoueny)
Tumblr
Blogger
YouTube
Bandcamp
Big Cartel
---

CityCop
Home base:
Ashtabula, OH
Players:
Max Adams-Guitar, Vocals
Eddie Gancos-Vocals
Cody Mikesell-Drums
Todd Thompson-Bass
Steps up to the mic and what comes through:
Screamo Skramz Festival's farthest traveling music makers, CityCop are in a similar position to bill-cohorts, Brightside, in that they are no neophytes to the road, the record or the raucous and have embraced some of what comes along outside of the total DIY space. However, none of their label-like alliances have lessened the punch that accompanies the songs. Nothing sounds overly produced. In fact, when diving into the start of "Loner," CityCop's newest record (released just this past November) the composition itself creates the setup for a perfect "sonic punch" because the first 30 seconds feature a singular acoustic guitar playing some very tranquil overtones and patterns laced with perfect intervals. This all sounds very serene until the simultaneously drop in of Adams's shouting vocals, a three beat snare drum hit with subsequent full kit barrage and subtle but audible bass line. Once everything has come into play, the second style of punch listeners experience is born from the mix itself. Parts are all cleanly recorded but they also sound as though they were mixed to sound very upfront–especially Adams's shouts. (The mix makes the recording sound as though the band could be standing right there with you in the room, not "well recorded but off somewhere else.")
The acoustic guitar is also no one track gimmick as it appears with notable significance in every track and with each song, the instrument with the most innocent timbre becomes the most fierce, holding its own against sheer band volume –particularly a percussion part often found playing equally respectable rhythm patterns that could be easily put in a marching band. Probably the most intriguing piece of CityCop's puzzle is the fact that the acoustic guitar presents a classical style very much akin to both the Latin flavor and rapid but precise style of Rodrigo y Gabriela. CityCop avoid potential style staleness though, as some of the tracks have Adams offering partially sung vocals as opposed to solely shouted. The record also caps with a (gruffly) spoken word vocal and mildly stripped down instrumental arrangement that brings out a heavier shade of indie and emo rather than the more aggressive emo and post-hardcore pairing thrown forward to that point.
Track to listen to first:
"Suburban Nightmare"
Keep up with the band:
Facebook
Twitter @citycoptheband
Tumblr
Bandcamp
YouTube
Big Cartel (vinyl)
Big Cartel (CDs and band merch)
---
This event is presented by Planet of Sound Promotions.
Screamo Skramz Festival 2015
Thursday, 1 January 2015

89 North Music Venue
89 North Ocean Avenue
Patchogue, NY 11772
Doors: 4:30 PM
All Ages
16+ $10
21+ $7
No Stage Diving
No Re-Entry