High Five Spaceship find a new path in MMCCXV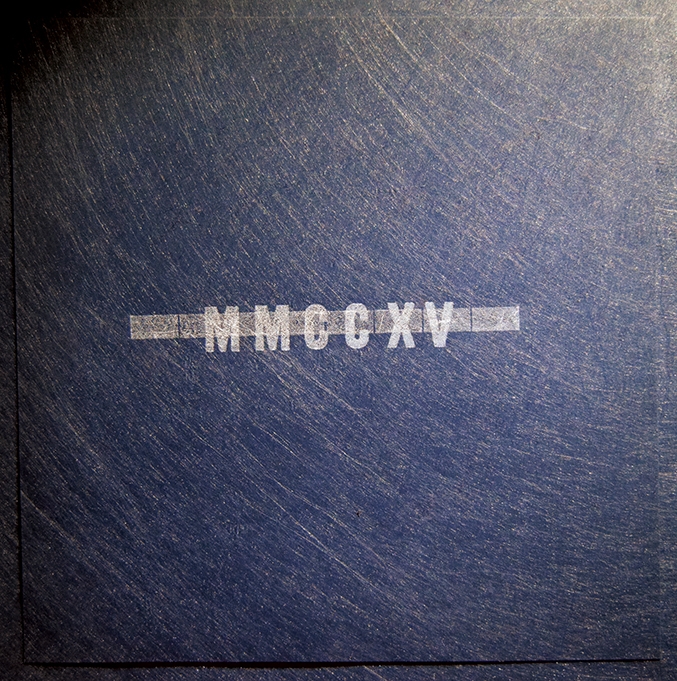 Last June, film maker and multimedia creative Christopher Bingham announced the launch of a Kickstarter campaign in support of a sophomore effort from his collaborative musical group, High Five Spaceship. Bingham shared a great deal of insight with regard to his pursuit of, and enthusiasm for, making music in a candid interview. Past that, everyone simply had to donate and then – after making quick work of the funding goal – wait. Fast forward just under nine months later and Pathfinder, re-titled as MMCCXV – 2215 for those instantly wondering about the corresponding Roman numeral – is a long way away from the intangible idea it was when 131 backers first flooded in their support for the album, which will be independently released on 25 March 2016.
A 10 track work completed with a combination of in-person and internet-connected sessions across many miles and locations, including Bingham, MMCCXV features the artistic contributions of singer-songwriter, Bryarly Bishop; Steve Bingham and the Bingham String Quartet; guitarist and High Five Spaceship co-creator, Carlos Montero (Youth Killed It); Elliot Morris, and TVMPST. Though crafted from a slightly different amalgamation of collaborators this time around, MMCCXV brings plenty of recognizable flavor to its tracks, while also displaying itself as a noticeably evolved piece of work –even if this iteration of High Five Spaceship isn't identical to the last.
Like Progress, MMCCXV still presents listeners with music deeply steeped in electronica and a cavalcade of mood changes across each track. Working from the opening perfect fourth interval to the last moments of encroaching silence 50 or so minutes later, MMCCXV plays out part avant garde poetic recitation, ("The Sea Hates a Coward") part relatable narrative set in an abstract electronic collage, ("Passage") and part jackpot of golden synchronization potential. ("Boat People, "A Second Golden Record")
---
Opening track "Passage" wastes no time ushering in an artificial feel on both instrumental and vocal fronts, though it also has the most 'organic soul' feel of everything on the album, thanks to some slick guitar work by Montero throughout. It's just a shame his bluesy bent tones get somewhat lost underneath the vacuum-like oscillating synth tone played during an otherwise open breakdown near the end. This intensity lingers but attention needs to be paid to the very last moment as, out of nowhere, an intriguing spoken exchange between Bingham and Bishop fills the air with a slight despondence ("Stay on the line okay? / As long as I can.")
A vibe of heaviness continues through "Team Dream" and pre-release, backer-accessible single, "Boat People" but, how that intensity manifests varies immensely with the character of a dramatic, string-laden film score driving the former and the unrelenting pulses of an uptempo, loop-style electronica hook piloting the latter. (The 2nd Law's "Madness" anyone?)
Already the flow of MMCCXV might seem severely, confusingly disrupted but Bishop and Bingham's dialogue peaks up again without warning, demanding continued concentration. Despite being only track four, "Tithonus" (in Greek; Aurora in Roman. Lover of Eos, Titan of the dawn), is like the main junction for all the offerings of the album as its short, interlude-like length and straightforward a capella poetry recitation closes the focused circle of styles Bingham brought together with MMCCXV: spoken word, instrumentals, darkened compositions, and a slew of electronic textures and rhythms.
This isn't to say the album lacks variety. Conversely, it's praiseworthy and pleasant to see how such a confined palate of fundamental direction is able to be uniquely demonstrated for still another six tracks. The back to back setting of TVMPST-featured rap track, "Artemis," against the quietly disturbing "One Hundred and Forty Seven," demonstrates this one-two punch pairing flawlessly, with the numerical title revealing a side of Bingham that is simultaneously dangerously unsettling but again, surprisingly intriguing ("Remember when we fucked in the park? / I told you I was broken before you / But you opened me up / I was a dull pup looking for a bitch to stitch my name into / thought for a minute it was you").
When the record approaches its descent to finality at eight minute behemoth track "Wisla", like a gripping novel teasing with allusions to an almost forgotten plot, MMCCXV rains down revisitation – lyrical and melodic. These returns come rather late in the game but perhaps this was a deliberate choice by Bingham, as immediately playing through the album a second time with full insight to better clarity, will likely be a virtually irresistible impulse thereafter.
---
When contemplated from a record production standpoint, MMCCXV intermittently projects a bright neon sign of compositional singularity. This is seen most vividly in the space between certain tracks, due to abrupt changes in musical ambiance. (Movement from "Team Dream" to "Boat People" can be especially jarring upon first listen.) The potpourri-like character of album predecessor, Progress, briefly peers in scene but MMCCXV manages to carry itself with a significant increase in cohesion. A stealthily moving, but nonetheless present, thematic undercurrent wrapped in lyrics, bookends of dialogues, touches of melodic reprisal, and, a more consistent box of musical tools, make MMCCXV a fascinating project to digest. It has a stable, self-contained path of its own that needs no pre-requisite for full listener appreciation. All the same, when experienced with the aural context of everything that came before – previous players, previous planning, Bingham's artistic mindset back in 2014 – the larger panorama of growth can't help but add a second layer, of all things, progress:
"This is the most adventurous musical project I've ever undertaken, and the most personal. I think it shows not only a huge step up technically from the last album, but is more considered and mature in the way it is composed. I'm proud of it."
---
MMCCXV is due for release on 25 March 2016.
Pre-orders are available now through Hit With Wrench.
Those in or near the UK can also purchase tickets for a special MMCCXV Launch party/Hit With Wrench pop-up shop/High Five Spaceship live performance at Michaelhouse Centre in Cambridge, England. Full information and ticket link is below.
MMCCXV Launch Party
(featuring Jack Shaw, Bryarly Bishop and Daniel Dobbs, with Carlos Montero and Christopher Bingham)
Friday, 1 April 2016
Micahelhouse Centre
St. Michaels Church
Trinity Street
Cambridge, CB2 1SU
Doors: 18:00 / Music: 19:30
£9.00
(early bird ticket only, additional packages to £30.00)
---
Keep connected with Christopher Bingham and the goings-on of High Five Spaceship through Christopher Bingham's official website, High Five Spaceship's official website, and these social media platforms:
Facebook

Twitter (@slomozovo)

YouTube
Tumblr