Polaris Rose takes songwriting to impressive heights with Ocean Blue Velvet Skies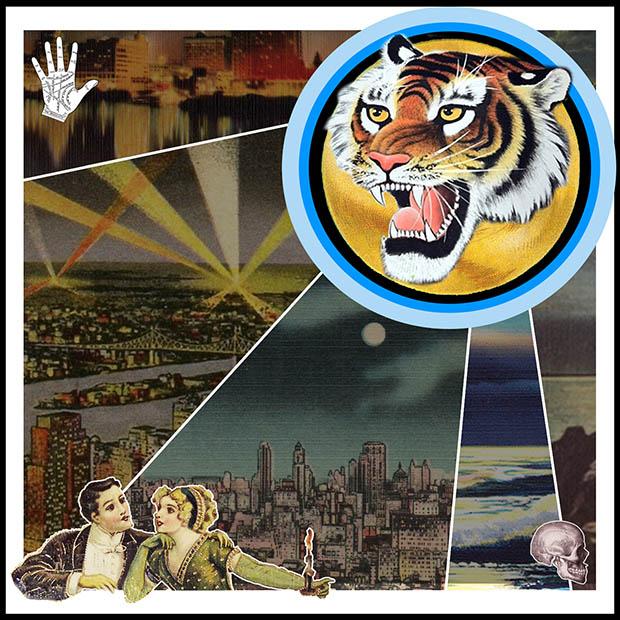 There are a myriad of songs in history that have had the lyrics of their end versions changed to connect better with a particular demographic or emotional state. Quite often these changes go in the direction of making a song more, rather than less, relatable and the relatable element usually pares down to some form of relationship metaphor. These kinds of narrative changes open up a song to the life experiences of more people and that widens the chances of a deeper connection.
Here's what's great about Los Angeles duo, Polaris Rose, though:
They don't default to this tactic.
The pair's alternative rock / power pop music is complex and unafraid. Maddie Elyse and Peter Anthony unabashedly bring less familiar rhythm patterns, chords, harmonies, defined articulation, and an eloquent vocabulary to their musical stories –making no apologies for any of it. New single, "TigerBait," showed this versatility with songwriting in spades back in January. Now, following the explosive momentum of chatter behind that track, Polaris Rose's second full length, Ocean Blue, Velvet Skies, is about to arrive and do the same eight more times over.
---
An independent release nine songs in length, Ocean Blue, Velvet Skies, comes out on 25 March 2016 and is the newest piece in the band's planned six album series, following their 2014 long-play debut, Telescopes.
Opening track, "Stars & Stripes," wastes no time throwing together the magic combination of Polaris Rose's driving guitar and crisp drum parts, with Elyse and Anthony's charmingly harmonizing vocals, save for a few moments of interesting sound effects likened to that of beeping satellites in orbit. The latter ties in nicely with the set of ongoing thematic motifs alluded to by Anthony in a previous interview. Additional components that feel "quintessentially Polaris Rose" – throwbacks to the classic and the vintage, and intertwining deeper topics of contemplation with a melodically friendly aesthetic, for example – slowly make their appearances over the course of the record in varying, crafty little ways.
Much of the first half of Ocean Blue, Velvet Skies is propelled by the kinetic energy of either a pure crescendo or through a hybrid of deliberate lyrical-melodic suspense as is the case with "Rose." (Rose you have to see… / That my love for you transcends all the movie screens / Rose you have to be… / so much more than just another… / Technicolor dream). The 'social commentary with a playful package' found in "TigerBait" gets a great partner in commentary from subsequent track, "Soda Jerk." The track taps right into the theme of earlier decades set by "TigerBait's" music video, thanks to a sampling of advertising circa 1950, setting up with the statement, "Let's see what most American women prefer," which is countered hastily by Elyse with the cynical response, "Everything about me is a lie / Everything about me is an advertisement." The song is practically like a gift in a creatively wrapped box that can be placed on the bare set of a music video shoot and torn open like a ready-to-go confetti canon anytime they want.
It's at about six tracks through to the end, that the record starts to markedly slow things down and introduce what can feel like traditional song foundations but, there's more to the latter half than this surface character. "That Lonely Road," which is the newest single to hit the web before release day, proclaims, "Your soul is like an ocean to me." Like a mirror, the song's instrumental movement feels like a parallel to this line. The guitar, bass, and percussion accent the downbeat and pull back on the rest, much like the splash down of the surf hitting the shore and then ebbing back to repeat again, nearly the same but subtly different. Interestingly however, this is the first place on the album where the melody and chord progression don't surprise, (to be fair, that might be sound familiarity bias), which makes this second single feel like the weaker link in Ocean Blue's chain. Still, at two-thirds of the way through the album, such a comment on a personally accurate compositional prediction is a splitting of hairs more than anything.
While a similar sense of melodic predictability seems to continue into "The Great Western Highway," with Anthony taking the vocal lead and the song taking on an overall lighter, almost Americana quality, "Highway" instead gains its uniqueness through clever track placement among the rest of the record. (Though it would be wrong not to highlight the small but intriguing detail of Anthony ending the track with his vocal unresolved on the supertonic.) Then, coming in with probably the most comfortable of introductory guitar hooks, there's a brief moment at the start of closing track, "AstroBoy," when people might believe there to be a 90's alt rock / early 00's pop-rock style to it (see fellow Californian band, Jack's Mannequin's Everything in Transit)  but beyond an initial bout of slightly crunchy guitar tone, the song takes on an immediate feeling of openness and lightness, thanks to an abundance of major 7th chords and wide melodic movement. Elyse and Anthony show their songwriting cunning yet again, pairing this sonic expansiveness with the  grandiosity of space, ("starlight touching down / calling you home, to the mysterious beyond") bringing the album full circle, like the end of a well written chapter on this elegant journey of heights and depths.
Ocean Blue, Velvet Skies is one of those special albums that can just keep giving play after play. Everything about the album – its musical parts, utterly captivating descriptions, production quality, delicately chosen track listing, Elyse and Anthony's careful but confident musical skills, and probably most importantly, their intangible performance chemistry – makes this record the alluring body of work that it is. Everything is somehow perfectly thought out without resulting in music that feels overworked or excessively calculated. Anthony and Elyse's personal affinities for contrasting styles of progressive rock and steady pop respectively, are brought together with elements of each (e.g. meticulous guitar solos, emphasized and singable harmony structures) trading off from song to song but never fighting for stylistic dominance. Polaris Rose as a whole defy classic pop rock convention and with each release – Ocean Blue, Velvet Skies being no exception – the duo is able to demonstrate just how far they are willing and able to run off the path of same old, same old.
Anthony and Elyse want their songs to be relatable and singable as anything. Third part harmonies can be (not so secretly) sung along with pretty much all of the tracks on Ocean Blue, Velvet Skies. Yet, the duo's interest in musical diversity won't let them do anything less than challenge music lovers to try and figure out why they can't exactly describe what it is they love about any one song on this album. If that means it takes some attentive listening and repeated plays to have revelations about the less overt connections between these nine songs, Polaris Rose make it abundantly clear that is a risk they are (commendably) very willing to take.
---
Ocean Blue, Velvet Skies is due for independent release on 25 March 2016.
The album was self-produced by Peter Anthony and Maddie Elyse.
Mixing was done by Grammy Award winner, John Spiker (Tenacious D, Beck, Filter)
Mastering was done by Eric Boulanger (One Republic, Colbie Caillat, Neil Young).
"TigerBait" and "That Lonely Road" are available for free download now via SoundCloud.
Tickets are available now for the band's album release party, happening at The Hotel Cafe in Los Angeles. Full details are below.
Polaris Rose Album Release Show
Saturday, 26 March 2016
9PM (Doors) / 10PM (Show)
Adv. tickets HERE
21+
Stay in the know with Polaris Rose through their official website and these social media platforms:
Facebook
Twitter (@PolarisRose)
Instagram
YouTube
Polaris Rose's discography is available via iTunes, Google Play, Amazon, and these streaming services: