Christopher Bingham and High Five Spaceship: Shooting to the stratosphere with "Pathfinder"!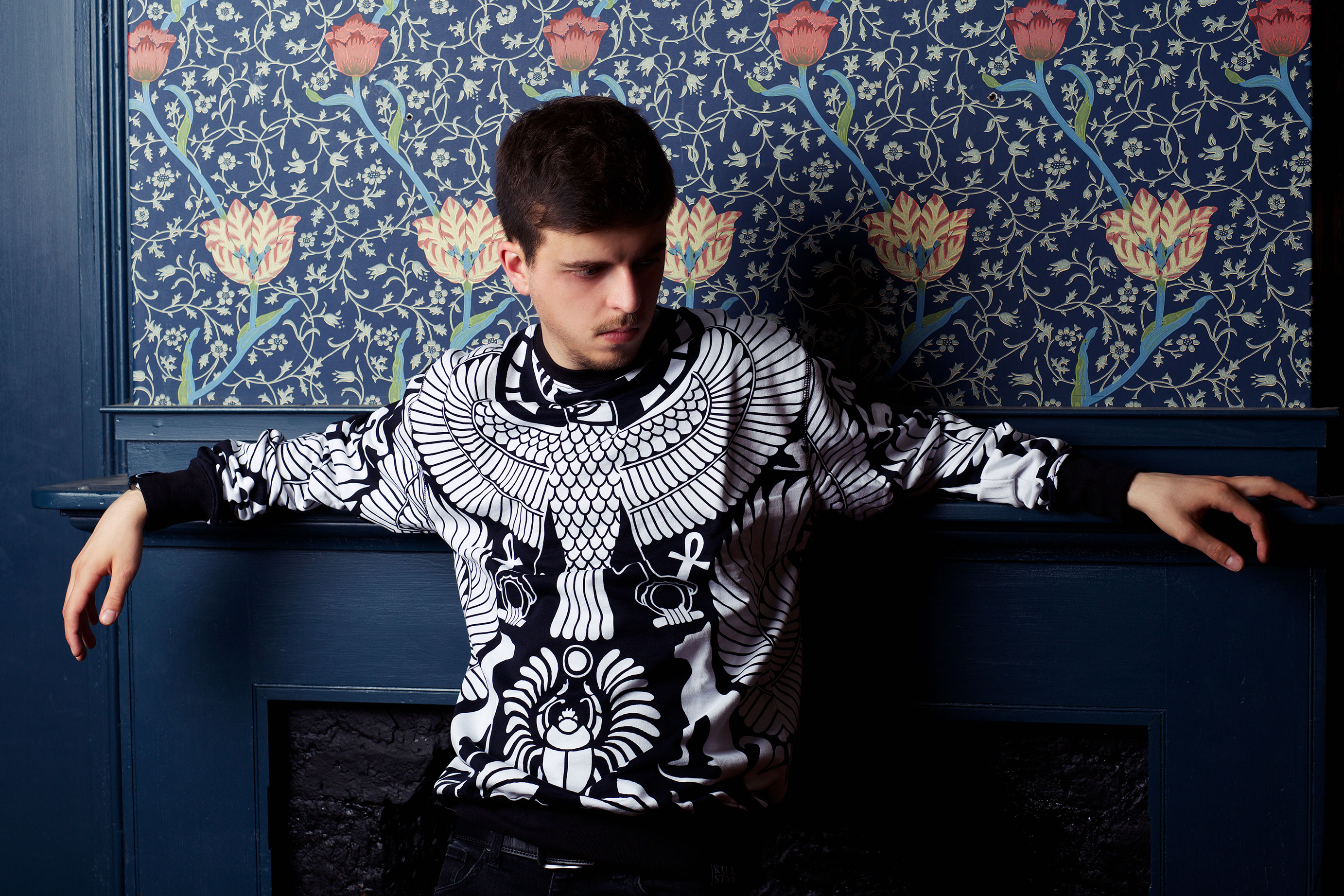 It is not uncommon for individuals to contend with the many schisms that polarize pockets of society whenever the question of music's role in one's everyday life is brought into conversation. Taking a stance wherein one claims to coexist in a number of these pockets and employ music in more than one way can come across as impossible, if not at least disingenuous.
That said, it bears reminding that creative, open and flexible musicians, and or music fans, can in fact be as such, while also thoroughly grasping and supporting the societal constructs that we as people have placed around it.
Christopher Bingham, more commonly referred to as "Bing" (not to be confused with the search engine), is one multi-faceted individual who could carry the torch of this reminder all by himself. A filmmaker, lecturer, comedian and music producer from London, England, Bing shares his artistic ideas with a spirited and globally spread legion of fans through vehicles like YouTube, Twitter, Vine and other social platforms.
One of Bing's musical pursuits, a collaborative group called High Five Spaceship, has recently been relaunched (pun absolutely intended) for a sophomore album and has brought together an array of other creative people –some of whom Bing has worked with before and others with whom a new relationship is being forged. High Five Spaceship's first foray into album making, titled, "Progress," came out in December 2014 and was received with wildly excited anticipation from fans, as was evident by the deluge of pre-orders that rushed into the project's digital funding box on Kickstarter, far past the requested goal and long before the deadline.
The success of "Progress" so undeniable, this second record, titled, "Pathfinder," (artwork pictured above) is taking the same road on Kickstarter for securing production costs and, already prior to the publishing of this feature, has yielded the same rush of positive results and ample crowd funding. The campaign for this 10 track album was launched on 21 May and in less than 24 hours the £2000 goal was already more than half reached. There is no music yet, however, the way Bing approaches this project, and explains why crowd funding is the right avenue for "Pathfinder," could easily instill enough confidence in someone to back the album; even if this was the first time High Five Spaceship or Bing had ever been mentioned.
Why is that?
Bing feels such a need to create new music that this campaign is not functioning as an "if/then" support but rather as a mere insurance of receipt and show of gratitude (via perks) for fans. "Pathfinder" was destined to be completed whether the public adequately backed it or not. The securing of funds simply makes it easier for those involved with the album to get paid for their contribution and for the costs of production to be covered –two things deemed of unwavering importance to Bing, as he is an adamant supporter of not undervaluing one's skills by doing them for free. Not doing or receiving musical things for free? *gasp* Sounds like a member of the old guard to the music business…
Alas, Bing's symbiosis of creativity for creativity's sake, attached with the determination to properly compensate skill, is like a hand reaching out across the aisle between free and fee. High Five Spaceship is an artistic endeavor that channels this symbiosis and the established high reception of "Pathfinder" goes to show that Bing's fans are on board with the balance, not to mention the intriguingly addictive experimental music Bing and his colleagues aim to make together. Currently, "Pathfinder" has garnered the contributions of guitarist, Carlos Montero, music production and animation veteran, Jonti 'Weebl' Picking, Atlanta-born folk singer, Bryarly Bishop and Nottingham based guitarist/singer-songwriter, Daniel Dobbs –with more to be announced!
(High Five Spaceship is recommended if you like: Earl Sweatshirt, Kygo, M83 and Boy Eats Drum Machine.)
Those new to the world of Bing and High Five Spaceship can get a sense of their sound here. Below is a track off "Progress" titled "Home" –one of Bing's favorite's off the first album.
In light of the many components – practical, emotional, mental and more – that are going into the making of "Pathfinder," Bing spoke with me about much of what has gone through his mind during his maturation as a musician: his personal creation process, balancing tangible and intangible values in art, and – where his personal desires for the development of "Pathfinder are concerned – a few aspirations for future endeavors with the mini musical community that is High Five Spaceship.
---
Kira: Much of your fan base knows you from the film and video productions you have made and posted to YouTube, Vine and Tumblr. That said, it's clear you are invested in anything that promotes creativity and imaginative thinking so, the expansion of your work to a group like High Five Spaceship and the making of projects like "Progress" and now "Pathfinder" are not all at surprising.
You describe on "Pathfinder's" Kickstarter page, the basics of how a track comes to be made, but, how would you say your development of music differs from the development of a segment for Slomozovo or Bingradio? Is there anything markedly unique that goes through your mind when concentrating on music as opposed to concentrating on visual work? After all, you did say you "found a 'new you' that needs to keep making music."
Christopher Bingham: The biggest difference for me is that making music is a far more private thing. Making short films is a team activity for almost all of the process, and vlogging (at least for me) is about being honest and talking about my life. When I'm producing music I spend a lot more time alone, often late into the night. I experiment, I throw stuff out, I get angry, I start again. You can't do that on set. There are lots of people around looking to you, the director, for guidance. With music I feel a lot more free to fuck up, to try again or even shut up and learn from someone else. That new 'me' I mentioned is far more private and guarded than the 'me' people see on YouTube. It's not about living life in the open and showing every step, it's about holding back and saying 'it will be ready when it's ready, and it will say everything it needs to say in one go'.
Kira: Despite knowing that you are a fervent advocate of artists being paid properly for their art, "Pathfinder" and High Five Spaceship as a collaborative group, in general, both certainly feel like labors that are done out of love –particularly given the fact that you planned to make this album regardless of how long it would take and even if it didn't reach its necessary crowd funding goal.
In light of this somewhat dual-sided mentality, what's the first thing that comes to mind when reading about the (often legal related and highly particular) disparities between "artists of passion" and "artists of profession" that coexist in the global music industry?
Bing: When I was a student I watched a keynote by film maker Ken Loach, famously a 'union man', where he railed against anyone in the film industry who worked for free. He said it took jobs out of the hands of skilled workers and damaged the industry. My response at the time was typically teenage – who was this old man telling me about my thing? He doesn't understand the internet and real creativity. Screw this guy.
Then I got older and smarter. My values now align far more with Loach's. I've tried to improve the way I work, the way I value myself and others, to be closer to how I believe the creative industries should be. It's about seeing the bigger picture. If you work for free (or less than you're worth) you create an expectation. Similarly, if you give away your music for free, your audience will expect it to be free. They will also expect other people's music to be free. If you can't sell your work, how can you ever scale up? Most popular artists, at some point, hire publicists or managers or staff of some kind to help them grow. They get that money by selling music. So the small-medium artist who doesn't want to make money from his work is self-defeating, leaving only the artists who can afford these things reaching wider audiences. I realised early on that if I truly cared about High Five Spaceship I needed to be a business man as well as an artist.
I think the disparity between 'doing it for the love' and 'doing it for the money' is bull. I'm passionate about my music, and that passion drives me to learn things about business and other areas that I wouldn't if I didn't care. And honestly I think most artists who 'do it for the love' want the exact same things for their music but, they're too naive or stubborn to learn this stuff.
Kira: Your tag line quote for the Kickstarter says, "I want this to be bigger and bolder than our first [album]. A sound that reflects the sense of wonder and adventure I feel making music" and one of the stretch goals listed for "Pathfinder" is to allow backers to pick an instrument. Going with these two themes, what would you say is the instrument that best reflects all that makes you Bing?
Bing: The banjo. I own one that I can't really play, because it's an instrument I absolutely fell in love with. When people think of banjos, they go to the silly comedy cliches – dancing farmers, duelling banjos, cartoon chase music… But the banjo is an instrument capable of so much depth and soul. That combination of metal strings, heavy wooden frame, and the dull drum skin head creates such a unique timbre. It can be a subtle, fragile and deeply sad instrument in the right hands.
"When I'm producing music I spend a lot more time alone, often late into the night. I experiment, I throw stuff out, I get angry, I start again. You can't do that on set…"
Kira: Let's talk a little more about "Pathfinder" itself. Why the name? Does it have to do with this idea of the "musical Bing" and finding your path as this different type of artist? Is the music for this album being put together with the established idea of a traditional "concept album" in mind or, will the music have more of a "whatever strikes us in the moment" kind of assembly?
Bing: Pathfinder is definitely more than a name. I want it to be, quite literally, about finding your path. A lot has changed in my own life since the first album, and I want to talk about it. I feel I've left a lot of things behind me in the last year and I'm entering a completely new chapter in my life. I want Pathfinder to be about that change, about finding new footing and the equal pain and excitement of it. The journey from old to new in all its vibrance (or at least as much as I can capture with sound).
It will also be very, very different from Progress, which was just a collage of sounds we worked on in different ways. Although there are some themes throughout, it is definitely very fragmented. I want the new album to be the opposite- a flowing piece that feels whole. I am approaching it loosely as a concept album, although I'm not sure how it will change as we start recording. In a small way, I want Pathfinder to be a nod to the 70s-80s prog I grew up listening to with my parents. I'm taking particular inspiration from Fragile, an early album by Yes, which is still one of my favourites.
Kira: If you reach the £5000 stretch goal, what's the specific cathedral or "equivalent ostentatious venue" you really want the chance in which to record?
Bing: I'm not religious at all, but I've spent a lot of time in churches over the years. Huge churches and cathedrals, particularly the stone gothic classics we see all over England, do something magical to sound and they all have a slightly different footprint. I grew up in Norfolk, so the chance to record just for a few hours in somewhere like Ely Cathedral would be incredible – but I will have to do some research. Big cathedrals bring in tourists as well as praying types, and they might not want me and Carlos busting out mad solos for any price.
---
Kira: How is it working with the rest of the collaborators of High Five Spaceship? Do each of you come together for this project with unique reasons for doing so or is it a coming together of people with the same feelings and motivations?
Bing: Everyone has different motivations and ways of working, which is the point. As the producer and main composer/writer, my job is finding where they fit. I think the main reason people work with me is because they love making music (and because I ask them to). I'm flexible, and their involvement is as great or small as they want. Over the course of the first album I found people whose creative method gelled perfectly with mine and some no so much. One of the reasons Carlos plays on so many tracks on Progress, and will be heavily involved in Pathfinder, is because we work like clockwork. I also learn SO much as a producer by working with different collaborators. Everyone has a different approach to songwriting, for instance, and I'm in the rare position of being able to sample from every style. The way Jack Shaw composes is almost the polar opposite to the way Daniel Dobbs composes. Sometimes I feel like a sponge, absorbing their different attitudes toward music and feeding them into my own.
Kira: Should backers and fans entertain the possibility of a music video accompanying some part of "Pathfinder" –perhaps something animated in nature, given the enlisted help of Jonti 'Weebl' Picking, who is being referred to as the "animation kingpin?"
Bing: Jonti's passion has always been music. I can't speak for him, but I think a lot of his animation only exists because he loves making the music behind it. I want his ears more than his hands or eyes, because he's an incredible electro producer.
I definitely want to make a music video or two for Pathfinder, possibly animated. I have no solid plans yet, but I would really love to get friends and fellow film makers whose work I admire to make videos for tracks. I love seeing how other people interpret music and build stories around it.
"I think the disparity between 'doing it for the love' and 'doing it for the money' is bull. I'm passionate about my music, and that passion drives me to learn things about business and other areas that I wouldn't if I didn't care."
Kira: Creativity is occasionally annoying in that it comes and goes; sometimes at the most inconvenient moments. How do you deal with writer's block while composing? Any unusual methods or rituals on which you rely to get inspiration going?

Bing: Nothing too unusual, I'm afraid. When I'm at a loss there are plenty of options – I listen to old favourites, or artists who are completely new to me and outside my comfort zone, I stop entirely and go outside or do other things. Sometimes you just need to get away from a project for a while and come back to it with fresh eyes and ears. Sometimes I can leave a track so long that when I come back I don't recognise it. That's such a great feeling, sometimes, because I can listen to it like a stranger would. It's completely new to me and most of the time it's pretty good. I enjoy it like a listener, and I can imagine new ways to take it.
Quite a few tracks on Progress came together like that. Home and Nomad were the first tracks I worked on, and they were some of the last to be finished. They spent months sitting there, not being worked on, until I listened again and knew what they needed.
Kira: When did you find out and what was the first thing that came into your head/the first reaction you had when you saw that "Pathfinder hit its crowd funding goal in such a rapid time frame after launch? Did you think it would happen that quickly?
Bing: I had no doubt that it would happen, but that fast? 21 hours is amazing. Honestly, I was in the thick of promoting it and exhibiting at MCM Expo when it happened and I didn't have time to react. But later, when I thought about it I realised how cool it was. I had hoped to hit the goal in a couple of days or a week.
There's still a LOT to do though. The Kickstarter is only the first piece of the puzzle, and amounts to only around 100 pre-orders so far – which isn't very many. To make Pathfinder as successful as Progress, and hopefully moreso, we all have to keep promoting it and working on sustaining that momentum for months. The first album set a scary benchmark, and living up to that is going to be difficult.
Kira: Here's an idea! Pathfinder: Performed Live! Given all the unorthodox instruments and energetic performance chemistry that came from the making of "Progress," I'm sure "Pathfinder's" music is liable to make for a solid show. How does this sound? Would you do it?
Bing: I would absolutely love to perform High Five Spaceship material live, but it's a difficult proposition. HFS is primarily a production outfit. Most of us don't play together at the same time, some collaborators haven't even met each other. So much of what you hear is sequenced digitally using a keyboard, or sampled. It takes hours or days to whittle it down to what I want. I'm also not a strong instrumentalist – I play the drum kit and sing somewhat, but I would be so nervous to get out on a stage for the first time in maybe a decade.
That's not to say it can't be done, and something I really want to explore this year is figuring out how to take HFS live, but it's going to be long process of trial and error (much like the music). I wouldn't be satisfied to just press play on a laptop and have performers play along – it needs to be more involved. I think live performances should be an evolution of the recorded material that turns them into something different.
---

There are 12 days left in the Kickstarter campaign for "Pathfinder," which ends on 20 June. Following the closing of the campaign, standard pre-orders can be placed at Bing's boutique online store and music publishing site, HitWithWrench.com.
Back "Pathfinder" HERE.
Backers can consider their funding a "pre-order with a perk" and look forward to the album's completion either in late 2015 or early in 2016.
Stay in the loop on all things Christopher Bingham, "Pathfinder" and High Five Spaceship, through Bing's official website, High Five Spaceship's official website and these social media platforms:
Facebook
Twitter (@slomozovo)
YouTube
Tumblr