Better start to make more time for Table Scraps!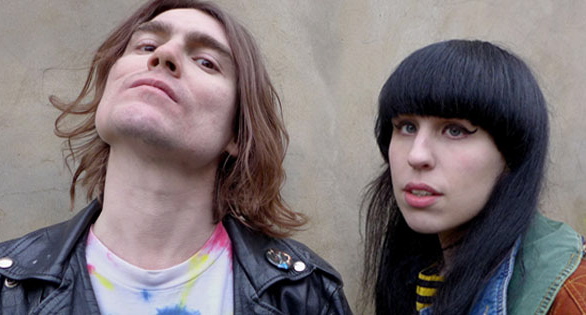 When table scraps are brought up in everyday discussion, it's usually in reference to the remnants of a meal, usually those found on diners' plates and in serving dishes. These are not to be confused with leftovers, which tend to amount to enough food for future meals. Rather, the scraps after a meal are the odds and ends of something that was once logical and orderly –looking at them is a reminder of that good meal but in a much more scrounged up and ad-hoc form.
In many ways, this is how Table Scraps, the band, can be described as well. However, despite their fuzz-fueled and unevenly assembled garage rock sound undeniably keeping company with the visual idea of odds and ends, this duo's music is no mere reminder of good music come and gone. Instead, it comes to the table as an improvised, but enjoyably unforgettable, course all its own. The band's show posters and merch aristork are artistically loud, their amps are even louder and everything about what is seen and heard in the presence of Table Scraps' music epitomizes the unkempt setting of garage rock at its most literal and paradoxically, at its finest.
Filling rooms with audacious music and jams since early 2013, Table Scraps hail from the town of Birmingham, England. Poppy Twist (stand up drums and vocals) and Scott Vincent Abbott (singing and guitar abuse), two unexpected neighbors-turned-bandmates, have been pounding the pavement of punk rock non-stop; playing where and when they can and meeting new bands and fans every step of the way. This energy is cultivating Table Scraps a reputation as a cool new band of buzz all around the UK. The duo's fiery perseverance and passion for being a band has brought them to their newest milestone: a 12-track, full length debut record, set for release this Friday, 5 June.
Titled "More Time for Strangers," this album is the culmination of many shows and pushing through any and all limitations to get a good record out to the public. Thus far, Table Scraps has released a cassette EP, and three singles –the latest of which, "Bad Feeling," is the second from the full length and the video for which can be seen here:
(Readers may remember the band's early single, "Bug," was included on this "Stand out music of 2014" list published back on New Year's Eve.)
"Strangers" will be the band's biggest release yet and Poppy and Scott are making sure not to let the occasion float by with a whimper. Leading up to the release, the band has made their upcoming work available – alongside digital and CD versions – in a bright, eye-catching blue and black splatter vinyl print, along with several limited edition items that run the gamut of classic merch favorites: band shirt, tote bag, band badge and signed records –each self-made item flaunting a contorted image and the band's name in a signature jagged font.
The official release of "Strangers" is less than a week away (and the first round of those merch pre-orders already out in the post!) but Poppy and Scott found some time amidst their busy schedules to chat about musical objectives of the present and future, the simultaneously intangible and very tangible value of band merch, the music scene in Birmingham and, well, what would this chat be without a few name sake "odds and ends" thrown in the mix?
---

Kira: Give us a sense of your home turf. How much of a scene for your particular brand of sound would you say there currently is in Birmingham and how would you describe a typical Saturday night in the neighborhood, to someone looking for a good show?

Table Scraps: Birmingham and the Black Country definitely has a taste for heavy and has done for time – think Black Sabbath. There are venues everywhere – good and not so good – but you can do worse than to find out what smaller gigs are taking place in the Sunflower Lounge's sweaty basement or at the Hare & Hounds and go from there. People are friendly and unpretentious here, which helps.

Kira: Are you looking to parallel the sound of your songs with the aesthetic of your current series of album art and show posters – fuzzy, distorted, often clashing in color and evoking a kind of feeling of heavy stimulation – running with a cohesive theme of sorts, with all things rough, gritty and in your face?

Table Scraps: Yes!

Kira: For those who have, most unfortunately, not seen Table Scraps perform live yet, would you say there's a defined "switching on and off" of your high energy personas between hitting that first downbeat/chord and then chatting it up with new fans, or, does the energy come from a natural build up and descent during and after shows? Or maybe, is it just unpredictable craziness at anytime? (Take this kitchen photo post, after your recent show in Nottingham, for example!)

Table Scraps: On stage it's purely a cathartic release, we just get totally into it and what happens, happens. Off stage, it pays not to be an asshole and enjoy the fact we're privileged to be in a band and to have the outlet. Being dumb is fun.

Kira: You both have certainly taken up any and all opportunities you can to get out there and play gigs, which is exciting, as that's often what it takes to get to that next level. During this time, Table Scraps has found its name on posters alongside several different bands –almost too many to count! As a (hopefully very temporary!) hypothetical, how does this kind of constant change and variety feel for you, against the idea of eventually doing a long, ongoing tour and sticking it out with the same supporting acts(s) for an extended period of time? Would you want to try to retain some of your current ongoing variety by perhaps, having a spontaneous extra opener from around wherever you happen to be playing that night?

Table Scraps: That's an interesting question. Straightforward national tours can be a killer but really we are just catching whatever will allow us to play to as many people for as long as possible. Hypotheticals are just that – we don't know until we're there. But yes, it'd be great to have a hand in support slots and not just let all the work go to some third-party.

Kira: In lieu of the two of you deciding to form Hell's Teeth Records on your own, for independently controlled release and promotion purposes, what made you decide to undertake a single 12-track album, rather than perhaps a couple of EPs, given the brief but intense face nature of Table Scraps' songs?

Table Scraps: We write constantly, and record everything ourselves, so it was important to get the album out and get working on the next. Bands get stale when they try to drag out the touring of an album. An LP is more concrete, it's a good snapshot of where we are. EPs and singles can fall by the wayside.

Kira: "More Time for Strangers." Is that title meant to connect at all to music fans perhaps making more time for "strangers," meaning newer bands like yourselves? Are you being intentionally self-referential?

Table Scraps: It's a lyric taken from 'Bad Feeling', "I've got more time for strangers than my friends", it's written from a completely nihilistic, pessimistic, rock-bottom place. Luckily a non-autobiographical place, most of the time!

Kira: You indicated in the past, that physical merchandise and physical copies of albums are a big factor of personal importance and something you believe carries lots of emotional value for fans. What's the most poignant of your own band and merch related experience that gave physical music the emotional value it has for you?

Table Scraps: We are both collectors of stuff – our houses are loaded with kitsch tat, bad taste decor and thousands of tapes, CDs and LPs. 
Poppy: Being a kid of the 90s, it was a bit of a collecting era. You started the horrible addiction with Pokémon cards and Beanie Babies and matured from there. At the moment I have a taste for coloured vinyl releases and satin fan scarves that were produced for acts in the 70s and 80s, but it's always changing. I suppose it gives life additional purpose to amass stuff, although I'd be damned to try and understand why. 

Kira: It being the beginning of festival season, what US-based festival would you most love to have the chance to play in the future and with whom?

Table Scraps: Austin Psychfest next year, let's hope the line-up is as good as this year!

Kira: Wrapping things up on a few light notes, the present tagline for Table Scraps is, "3 drums, 1 guitar, 3 amps, Fuzz and spilt drinks.Their equipment fits into a car. They are available for parties."
What kind of equipment do you like to use? What kind of equipment do you wish you could use? Was there a particular "incident of spilt drinks" that inspired that to be included in your tagline? And, most importantly, when you eventually come out to the States, will you play my next party? 😉

Scott: Usually [we like to use] beaten up unfashionable solid state gear, I really want a Peavey Bandit amp with the pointy 80s logo. We try to avoid the vintage valve gear fetish and try to get the best out of what we've got. I guess bigger and bigger amps would be good.
Poppy: Ha, that just made me erase that from our bio as it sucks, but yeah we usually play standing in an inch of beer [and sure,] we would love to come and play your next party and ruin your carpet!
---
"More Time for Strangers" drops via Hell's Teeth Records on 5 June 2015.
Pre-order packages are still available via Table Scraps's bandcamp page.
(For those in the US, the listed GBP currency will convert to USD at checkout.)
Keep up with the tales of Table Scraps through these social media platforms:
Facebook
Twitter (@TableScrapsBand)
YouTube
SoundCloud
Bandcamp