Said & Done: Stephen Babcock's southern spin on the possibilities of love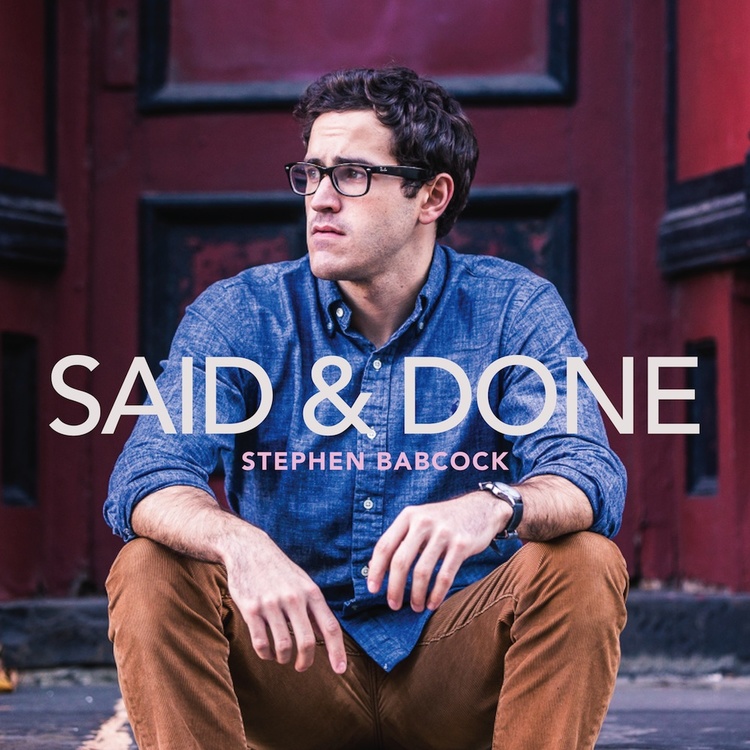 A native New Yorker but namesake city transplant, Stephen Babcock describes himself in brief, as a "Northern boy [with a] southern heart." Though an introduction with such few words, it's a catchphrase that encapsulates Babcock's emotional spirit and musical attributes extremely well. No novice to the game of songwriting, Babcock is standing at the end of a path that leads to his second long-play record, Said & Done, due for release in just under one week, on 27 February 2016.
Amidst present day albums that typically boast 10 to 12 tracks a piece, upon first glance, Said & Done's eight track length might prompt suspicions of a classic sophomore slump following Babcock's debut LP, Dreams, Schemes, & Childhood Memories (independent, 2011) –as if Babcock ran out of things to say. Such a knee-jerk reaction is just that however, as, from the very first moments, it's clear listeners are being given definite quality over quantity –a mindset that heavily floods the record on several levels beyond track list length.
Babcock's newest album visits the tried and true topics of love and heartache and even does so utilizing a band arrangement of entirely familiar instrumental ingredients of guitars, bass, drums and keys, with his instrument being the ubiquitous acoustic guitar. Much like a good love story though, beyond the basic players, there's plenty of room for unexpected variation and this is where Said & Done shines. Babcock's particular vocal isn't especially southern in character – calling much more to the likes of Jason Mraz. or Matt Nathanson –  however, when pairing Babcock's singer-songwriter foundation with swirls of blues and gospel stylization from things like tastefully bent guitar notes ("Lines of a Love Song") and carefree organ parts, aspects that stand alone as commonplace, start to stand together as distinct and immediately more appealing.
The roots quality to Said & Done doesn't throw itself at listeners straight away but, right from vibrant and refreshing opening track, "Someday," allusions to the American south do peer through the lyrics (From the Mason-Dixon line I've seen it all before / But you wan't be here this time around).
The Americana vibe steadily grows as the album progresses, hitting a hight point in midway track, "Tightrope," by way of a minor-oriented, pulsing guitar hook, and light percussion that makes the song feel as though it's coming out of a downtrodden western. The melody mirrors the uneasiness of the title with a leading tone fueled, four note motif and intermittent tambourine shakes bring to mind the jingling of metal spurs on cowboy boots. There's a sway in stability between the major tonality of the chorus and minor tonality of the verses, which is met by Babcock's own inner uncertainty, all topped with a slight Johnny Cash reference, like icing on the song's cake (Georgia please, don't you see what you've done to me? / The tightrope swings and oh, this time now, I won't walk your line).
The steady thump of a kick drum and chugging of Babcock's guitar in the hook of "Worth" offer listeners a song with an assertive backbone that also makes for an interesting match against its pseudo kiss-off, love/hate theme ("Though you hate my guts I would love to kiss you too / If only you could be just part of my past"). These kinds of melodic vs. lyrical alignments are one of the most pleasant ways that Babcock creates variation where there wouldn't otherwise be any.
A break from the southern mentality comes with penultimate track, "Cape Cod", the introduction of which starts from a quiet and sonically filtered place,  building with a crescendo before settling into a mildly darker melody. The idea of Massachusetts' Cape Cod being associated with a slice of mystery and a long overdue rendezvous ("Maybe I will / meet you back, meet you in Cape Cod") gives Said & Done yet another layer of musical diversity, all while Babcock keeps working with the same four instrument parts – five if you count acoustic and electric guitars separately – not adding in a slew of auxiliary textures. The wrap up in "Wedding Ring" ushers the album's bluesy, gospel flavor back in, and, while a decent enough track unto itself, absent deeper context it seems like a confusing ending, as it provides neither a (happy) conclusion to the song's narrative nor a resolution in the melody to cap the record off.
Said & Done, as a complete work, is very much a hybrid of sorts but, Babcock isn't looking to don half the cowboy hat of the southern singer-songwriter mold. Rather, he's put forth how he sees his New York born story, through a place and style where he's grown to find intangible joy. Doing so without fixating on existing expectations of the roots genre has allowed this southern-hearted boy to create music of sincere homage over patronizing superficiality.
---
Said & Done is due for independent release on 27 February 2016.
Pre-orders are available now through Bandcamp.
Said & Done was recorded at Hausman Studios in Brooklyn, NY.
Vocals were recorded at Rose Studios in Brooklyn, NY.
Rockwood Music Hall will be the host of Stephen Babcock's release party that night. Full details are below.
Keep up with Stephen Babcock through his official website and these social media platforms:
Facebook
Twitter (@StephenBMusic)
Instagram
YouTube
Bandcamp
SoundCloud