The Rumjacks welcome the dawn of a new era with "Light in My Shadow"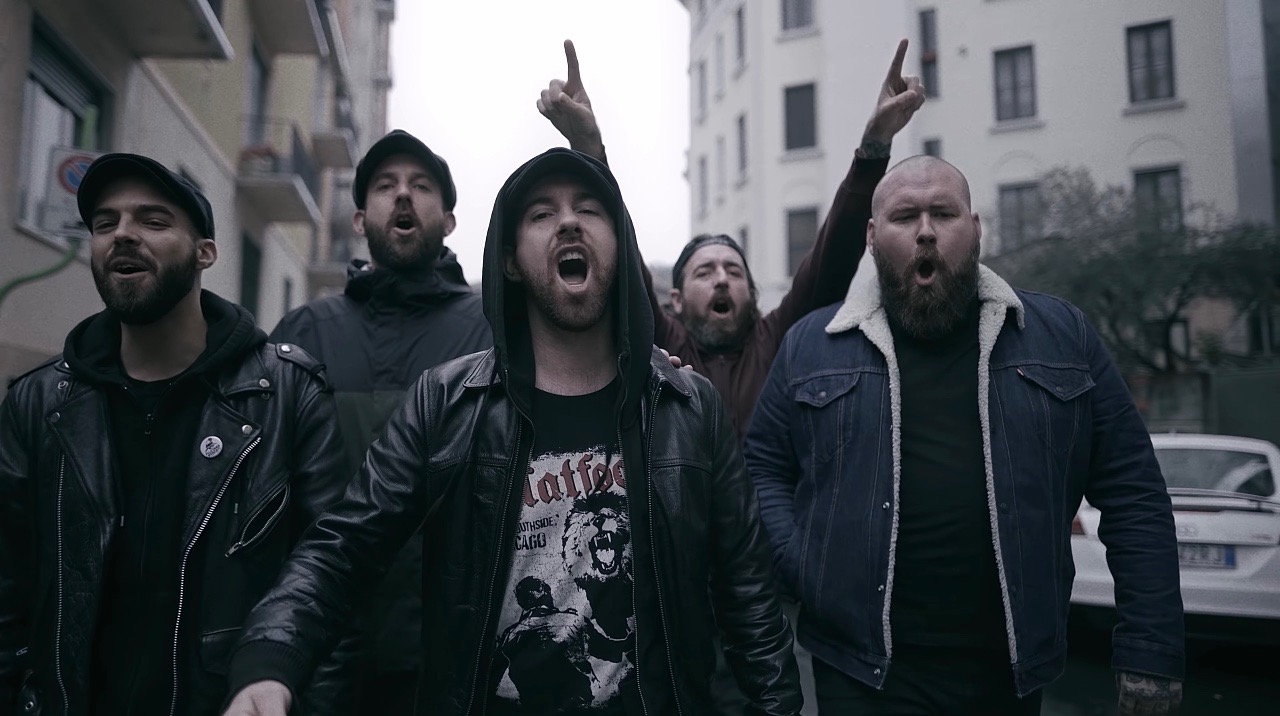 Sometimes, a song that presents very little in the way of lyrical lines, chords, or instruments can in fact lead to a sonically heavy, deliberately thought-provoking, widely interpretable piece of work. Other times, a song built from a frenetic arrangement of instrumental sounds, a front-loaded fever-pitch of emotion, and a messy narrative, can lead the way to an effortless listening experience. "Light in My Shadow," the latest single from Sydney, Australia Celtic punk band, The Rumjacks, offers the world just that: a lively musical experience that doesn't demand anything from listeners beyond a desire to turn up the volume, dance with abandon, and get oneself into or enhance an already a good mood.
The Rumjacks are:
Mike Rivkees (Vocals)
Gabe Whitbourne (Guitar)
Johnny McKelvey (Bass)
Adam Kenny (Bouzouki, Mandolin)
Pietro Della Sala (Drums)
Though "Light in a Shadow" is just one part of Hestia, the Australian band's fifth full length outing (the last was 2018's Saint's Preserve Us,) both the single and the record as a whole, mark a major turning point and a clear new beginning for The Rumjacks with the introduction of vocalist Mike Rivkees. This kind of change, which has an immediate affect both functionally and creatively on a band, presents a difficult crossroads for any act with a single lead singer, as even with the most cohesive and creatively balanced bands, the front vocalist inevitably takes on the most primary public association with the group. The potential for a dip in a fanbase or worse, outright schisms over the "before" and "after" of a band's overall historical context, looms large. In this way, it can be refreshing and liberating for those with no previous exposure to The Rumjacks, to dive into the band's take on rowdy, rough-and-tumble, Celtic punk anthems like "Light in the Shadow." The lack of marginal context lets the band, the song, and Rivkees stand on their own and all three are better for it.
"Light In the Shadow" is dynamically loud and the music doesn't take its time arriving at that sonic quality with any kind of steady build up. The whole band is up and running, all together, from the first note of the opening hook and the energy never waivers in a downward direction from there. The verses' do release the slightest bit of sheer volume from the direct highlighting of Rivkees as the principal teller of the tale woven into the song. However, a shift in volume doesn't equate to a loss of energy, as Rivkees again, from the first of his sung notes, demonstrates his commitment to bringing forth every possible ounce of genuine intensity.  Rivkees voice sits well atop the unrelenting cavalcade of sound generated by the rest of The Rumjacks. There's an inherent gruffness in his vocal timbre but the main register in which he shout-sings isn't so low that listeners lose enunciation of the lyrics.
Running around with a lump in my throat and a stagger in my stride
Just another time that I couldn't sink my pride
And I've got lock jaw from biting my tongue 3600 miles from home
20-20-24 hours to go
– Lyrics from "Light in My Shadow"
Sure, The Rumjacks demographic likely isn't standing with their attention focused solely on the lyrics and Rivkees every word but it's certainly not a bad thing to retain discernible verses for those times when listening while not surrounded by 50 other loud, moshing, and just possibly inebriated fans. Rivkees' natural vocal timbre being mildly higher but full-bodied as it is, can hold its own in cutting against the piercing, multi-layered tone of Adam Kenny's bagpipes, which drive the melodic hook in the chorus, as well as the verse in the back third of the song. That said, it's not a perfect set of contrasting sounds. Pitting almost any other instrument or voice against bagpipes is a dynamic battle of utterly lopsided proportions and thought Rivkees keeps up, the bagpipes do edge him out when both are active near the end of the song. A slight reduction in gain on the latter at the mixing stage might have worked a bit better in Rivkees favor if the idea is not to alter his vocal in any way and preserve its organic jaggedness.
Though ceaseless energy is a main staple of The Rumjacks' sound and performance style here, the lyrics do in fact tell a story – complete with a beginning, middle, and an end. The narrative isn't too complicated but there's a definite element of protagonist resolution and thus, if one is inclined to focus on a words during a go-round, a satisfying ending awaits. Still, even without looking too closely, knowing that "Light in My Shadow" is centered around the idea of the oscillation of long-term friendships makes it a song that anyone who shares a valued and storied history with someone else can easily relate to. After all, long-term friendships – the kind that may or may not have one or two halves with their own "pounding in my head" hangover story – are almost never without a few emotional speed bumps over time. It's this inevitable imperfection and the resolving thereof that "Light In My Shadow" hones in on – ultimately celebrating the idea that a bit of reflection and open honesty can often smooth over the worst of edges that have formed around a relationship. It's a song for the ride-or-die relationships out there.
°Light In My Shadow° doesn't push for any kind of virtuosity in its main melody and the verses are keep to a minimal few whole steps overall – perhaps stretching a major third in total. This would be a weak point anywhere else but the liveliness and uptempo pace exactly off-set where the constricted melody settles. Listening from this vantage point, similar to other takes on punk – like that of the Ramones or early Green Day (an amusing coincidence given that Rivkees references '20 20 24 hours to go' in the lyrics) – the melody and chord progression of "Light in My Shadow" behaves in function closer to that of a twelve bar blues. The chords and repetitious musical phrases are not the driving creative force but that not being the intent, the song doesn't suffer for it.
All in all, "Light in My Shadow" is a wild banger steered by a positive, albeit slow to arrive, sentiment. Those looking for easy to grab musical fire without wanting to get dragged down emotionally, can jump right into the forever friendship frenzy of The Rumjacks' latest cut and start working up the stamina for the hopefully soon to return experience of live shows.
---
Hestia is available now.
Find it on iTunes and streaming on Spotify.
Stay up-to-date with all things Rumjacks through their official website and these social media platforms:
Facebook
Twitter (@TheRumJacks)
Instagram
YouTube
Spotify