Get "Two Bottles In" and you'll think 'This is good, thanks!'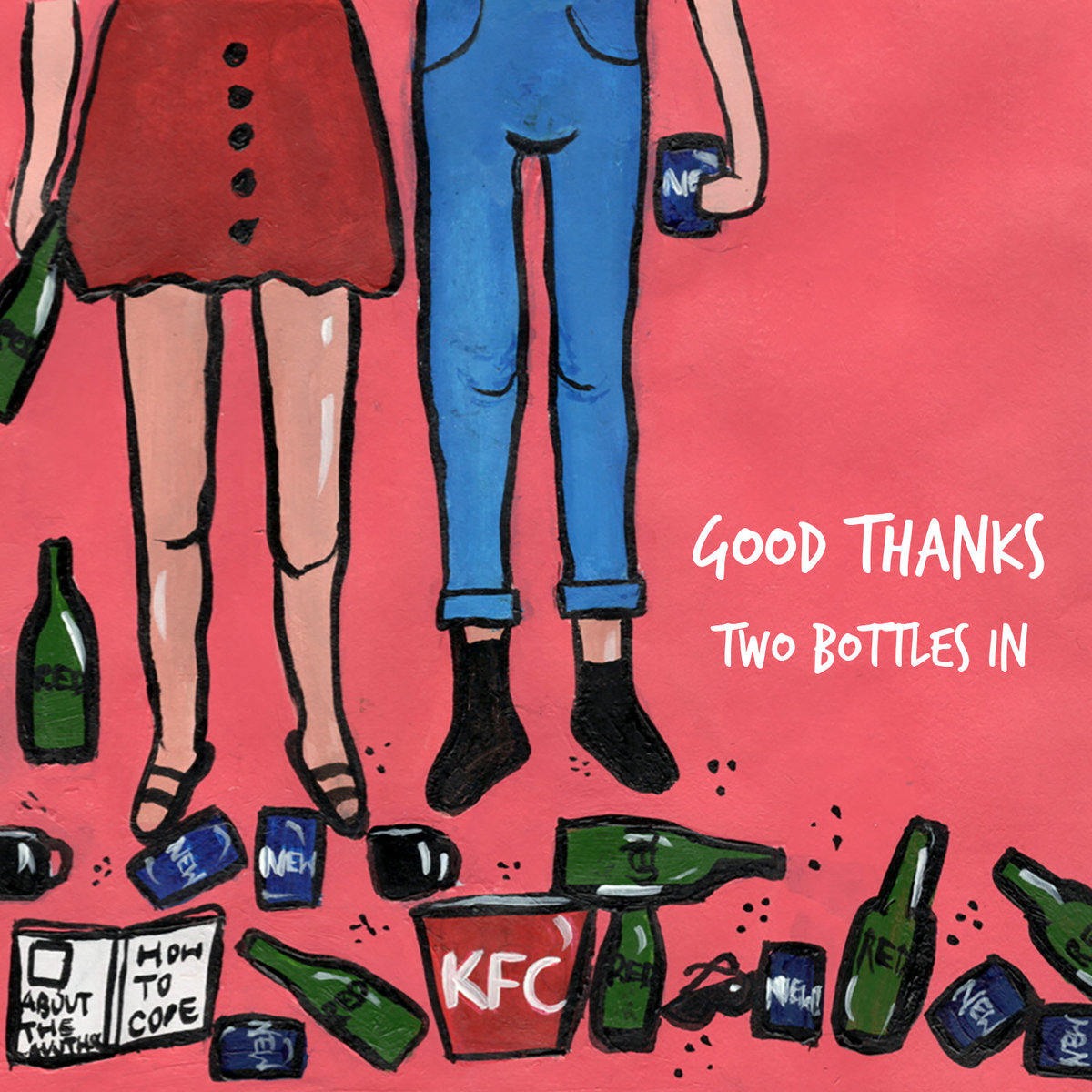 You can take the singer out of folk but you can't take the folk out of the singer.
This somewhat futile-sounding declaration isn't meant to be a deterrent or a terse two-dimensional digestion of the four track debut EP from Newcastle, Australia quartet, good thanks. Rather, there's a bit of revelatory hindsight offered here. Though good thanks is a punk-charged, indie rock group, the songs on its debut project elicit the spirits of pop and singer-songwriter style folk as well, which becomes far less unexpected and likely to draw reticence once the band's origins come to light.
good thanks is:
Sam Gray (Guitar)
Sarah McIlveen (Vocals, Guitar)
Brad Walsh (Bass)
Brodie Christie (Drums)
Members of good thanks bring together seasoned musicians from two pre-existent and stylistically divergent acts – one the solo effort of lead vocalist Sarah McIllveen (stage name: Sarah Christine) and the other, punk band, Underachiever; both local to the Newcastle area. During her time as a solo musician, McIllveen cultivated and shared music that's very much of the folk variety and part of her drive to start a new chapter that integrates Underachiever's more dynamically and instrumentally intense punk character was derived from an interest in expanding outside of the calmer and more narrative-fueled composer's box McIllveen had built around herself up to then. The result of Two Bottles In (Independent, 2018), is a short but artistically substantial EP that stealthily offers a variety of emotional presentations and demonstrates performative flexibility, while clearly maintaining good thanks's new sound and avoiding the pitfalls of sonic ambivalence born from combining previous artistic predilections.
Right from the stark and clean lead guitar opening of, "When the Weekend Ends," an upbeat five note hook and instantly magnetic I-V-iv-IV major chord progression exude the spunky foundations of a solid pop punk single. This is only reinforced by the quickly added introduction of chugging and thick toned rhythm guitar, as well as a syncopated drum pattern that repeatedly emphasizes the downbeat – pushing the song along melodically, while the titular lyrics of the refrain conversely infer not wanting time to move forward and dreading the return to the work week. (Oh what'll we do when the weekend ends?) Yet, listen a little more closely and what might initially sound like a simple narrative about behavior (in this case drinking) without abandon – a theme common to punk rock – is actually written in such a way that any well composed rock or mainstream modern country song could encapsulate the scenario without either the lyrics or the music feeling ostensibly mismatched with one another.
Why do we have to drink ourselves under the table
just so we are able to
share our hearts and share our minds
share our bodies and share our time
We both know we're more than friends
What'll we do when the weekend ends?
Move on to the true lead single of Two Bottles In, titled, "How Do You Feel Now?" and the upfront punk punch comes back around by way of a mildly loose but thick bass guitar intro that keeps the EP's elements of tonal heaviness going. Once again, the instrumental and compositional exterior differ from the lyrical interior but, do so now in a way that evokes a no-nonsense independence streak reminiscent of something out of Pink or Kelly Clarkson's hit song archives (think "U + Ur Hand" and "Since U Been Gone" respectively.)

I'm telling you don't waste your time
coming back around
I won't be there waiting baby
when the lights out go
How do you feel now?
The vocals retain clarity in enunciation as before, giving the song a similar pop-rock over punk leaning quality. However, production choices do leave McIllveen's voice with a touch of bite and a slightly jagged edge on the ends of words. As the seconds on the EP pass by, good thanks manages a very careful balancing act of stylistic inclinations, not terribly different from the delicate levels needed to be kept by a mixing engineer to prevent clipping or loss of tones due to frequency filtering.
Turning a corner on "Head Games," this is where Two Bottles In feels its most tied to McIllveen's sensitive and folkier roots. The song is definitively the most musically and dynamically reserved of the four tracks: slower in tempo and more minimal in melodic movement, for example. If, on top of these qualities, the electrified instruments could be swapped out for acoustic counterparts, the vocals kept more dry, and the deeper, longer resonating tones of the bass line replaced with crisply plucked banjo or mandolin, "Head Games" could easily work well as a somber indie folk or neo-bluegrass on-again, off-again ballad. The way listeners receive it here, with the punctuation of snare drum and the splash of cymbals, the track keeps its somber intentions but the sheer weight of good thanks's more standard rock band arrangement shifts the style of the sadness from that of potentially wistful and disappointed, to upset but unwaveringly empowered to stay a single person.
When the EP finally reaches its conclusion with "Something More" (which is actually the track the band chose as the featured song for its Bandcamp page and thus likely to be someone's first introduction and not an album closer), things seem to come to an amusing full circle – both in a musical and narrative sense. Bringing the band back to a quicker tempo, the finale track starts off with a loaded blast of all instruments playing the opening hook; a move one would expect to kick in during the move from pre-chorus to chorus. This shows the band not wanting to waste time with a lengthy build up for the last song and instead they are using the whole song itself as the marker of the EP's musical climax. Considering that the point of forming good thanks was to initiate a change of expansion, it's clever and quite apropos that the EP finish on note of more energy and sound rather than a quieter descent to an ending. Furthermore, despite only being a four song project, this relationship-centic closer serves as a kind of emotional bookend to the implications of the opener, which is more about a couple in continuous denial of any non-platonic feelings. Though containing the title phrase in its later verses (And this would have been better sitting at a table made for two / But I'm two bottles in and I can only seem to think about you,) "Something More" takes the narrative from a place of denial to a place of not only acknowledgement but pursuit over distancing oneself.
Though a short rollercoaster ride of emotions, Two Bottles In is shrewd in its succinctly packaged stories and, its overall presentation shows evolution not only for the individuals in the songs but for the band as well. The EP starts with tinges of indecision and a slight lapse in confidence for what good thanks is out to do. Then by the end, the music has shed the idea of "another genre dressed in punk clothing" and listeners are given a decisive narrative with a decisively edgier sound. Having so little to work with, there's so much subtlety with things like track placement and lyrical content that makes this small debut feel much more complex in listening design. After all, leaving fans on a musical apex, with a refrain of, "I think it's time I tell you that I probably want something more," echoing in their ears (before seamlessly transitioning back around to track one to boot?) That's just all around smart.
---
Two Bottles In is available now.
Find it on Bandcamp and stream it on Spotify.
Stay connected with good thanks thorough its triple j unearthed page and these social media platforms:
Facebook
Twitter (@goodthanksband)
Bandcamp
Spotify