Evil Sweet's new EP is more than just "4 the Singles" out there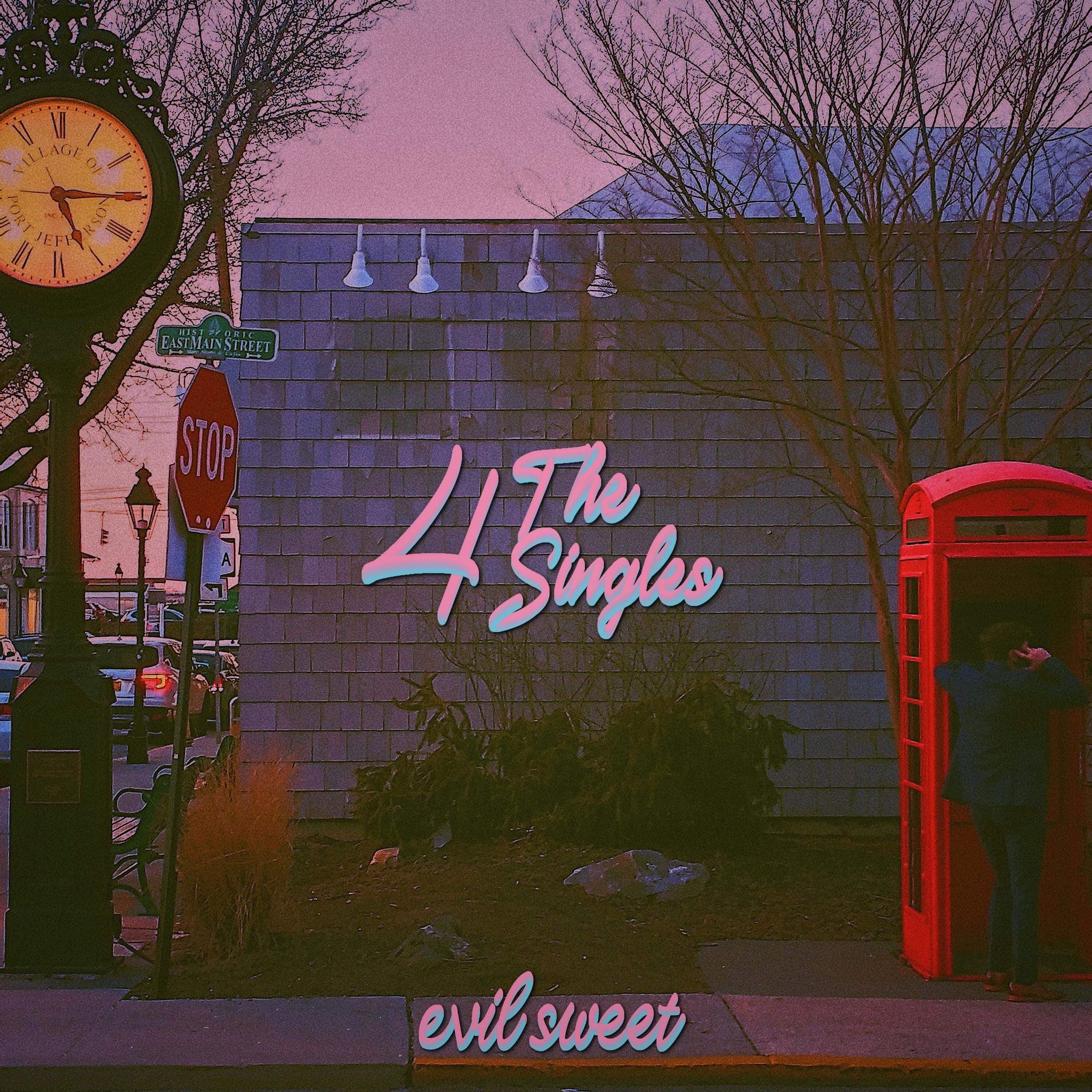 Not all that different from the way life is now playfully referred to under the dual pandemic related contexts of either "the present" or "the before times," Long Island, NY multi-genre duo, Evil Sweet, exists within a context of emotional duality as well.
Evil Sweet is:
Scotty O'Brien-Curcie (Lead Vocals)
Zachary Castro (Gutiar, Rap Vocals)
Guest Drums by Joey Small
Guest Bass by Chris Parrett
Bearing some prior familiarity around the Long Island music scene thanks to Evil Sweet's previous identity as The Upside, O'Brien-Curcie and Castro's sense of two-sidedness isn't derived from their band transformation, as much as it's forged from the contrasting emotional demeanors that their band began donning for its name in 2019. Now two years later, Evil Sweet has put forth a new release, a four track EP titled 4 the Singles, that follows Evil Sweet's debut EP, The Weather Up There (independent, 2019).
Taken in from a vantage point of complete freshness to the duo's work as a musical unit, 4 the Singles offers a nice little package of clever concept and wordplay. Built on narratives of desperate longing, infatuated fixation, and apologetic post-breakup guilt, this record arrives on the situationally-fitting occasion of Valentine's Day which, without fail, carries a torch for every stage of coupled or single life. O'Brien-Curcie's vocals lean strongly into each of these emotional perspectives, presenting a vast scope of difference even between the energetic opening track "All Up in My Mind" (which kicks off the whole EP with a cheeky little sample befitting of a song about a crush) and despondent ballad "Hold Me."
The decision to leave a notable amount of negative space around the lead vocals not just on the emotionally vulnerable latter but throughout the four songs, gives the EP an extra sense of emotional commitment to projecting the music's passions – whether they come from an uplifting or crestfallen place. Texturally, Castro's rapping contributions on the third track give the song an additional dimension of sonic flavor, cutting through and complementing the longer, legato main vocals with a deeper, fuller spoken timbre and easy to grasp rhythmic candor. Despite the partially downtrodden demeanor of the EP's tracks, the tonality of the record as a whole keeps to a light and bouncy timbre, with clean-toned guitar, glittery cymbal rolls, and an easy-going jaunt as the peak tempo for any syncopated hooks. The latter two qualities are exemplified most strongly during the back half of "I'm So Sorry," where the combined timbre, tempo, and compositional flow of the melody gives the song a distinctly Sublime-style flavor.
Meanwhile, from the standpoint of execution, Evil Sweet might benefit from the input of a vocal engineer and-or coach on their next release. Though passion and a touch of raw vulnerability applied in songs with these kind of emotional narratives make sense, there's a fine line between vulnerable singing and working on one's consistency singing different note intervals. Additionally, given how Castro and O'Brien-Curcie are a balanced duo of a band, it's unfortunate that the leveling on the backing instrumentation, particularly Castro's guitar and Chris Parrett's bass, end up somewhat lost in the mix, during varying parts of the four tracks.
All the same, in what is a rather short run time, 4 the Singles brings a sincere assortment of moods, grooves, and performance styles to a record that is otherwise written with a very friendly, empathetic, and approachable light pop-rock musical framework.
Evil Sweet will be celebrating the release of 4 the Singles with a show at The Country Corner in Setauket, NY.
Details below:
4 the Singles Release Show
Monday, 15 February 2021
Show starts: 6:00PM
Free admission
Face-Coverings Required
50% Venue Capacity
---
4 the Singles will be available February 14, 2021.
Find it on Bandcamp, iTunes, and Spotify.
Keep connected with Evil Sweet through these social media platforms:
Facebook
Instagram
Bandcamp
Spotify
Editors note: A previous version of this article listed "4 the Singles" as Evil Sweet's sophomore release and referred to "Hold Me" as the second track on the record. It is the third release and "Hold Me" is the third of the EP's four tracks.