Aaron Taos and his marvelous tribute "For Marv"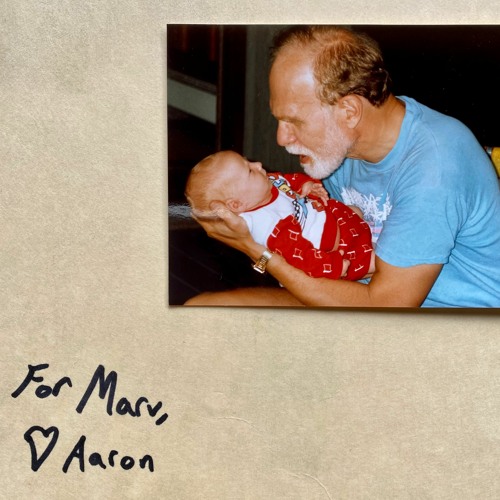 There is really no way, nor is there necessarily a reason, to approach a release like Aaron Taos's new EP, For Marv, through a traditional music review or critique lens. All the same, that doesn't mean the release goes without a reason for highlight and contemplative consideration. Very expressly written as a project of love, emotional catharsis, and even directly as a form of grief work, For Marv is first and foremost a passion project for the Los Angeles indie pop musician. It's creation was spurred forth following the death of Taos' father, at the end of January.
"[This EP] has been the way I've been coping with the situation." Taos said.
A true EP in practical form, For Marv runs a brief 9:49 over four tracks. However, over this fleeting amount of music, the sentiment of quality over quantity couldn't be more fittingly applied. The project being so short is a shame, not because there's any joy to be had in knowing Taos created the record from a painful place but, because the performances he offers over the course of each piece are so delicately beautiful. For a singer who is typically heard over a spunky, somewhat synth-textured take on indie pop, the core of Taos' sonic personality is still here on For Marv in different ways. The first two songs, "Loving Someone" and "When You're Gone," for example, don't shy away from having multi-faceted arrangements and including some melodically playful tones via the reverb-laden, mildly brassy, wah-like synth tones sprinkled throughout the former, and the layered, bright and lightly-driven tone on the electric guitar featured in the latter.
Though For Marv proceeds with a sensitive mindset, Taos doesn't deprive his listeners, or more importantly himself, from giving these songs some of the instrumental and sonic comforts of happier creative times, if perhaps just in a more subdued role, quietly mirroring the subdued emotional place Taos himself is working through. Taos' singing also reflects this execution. Despite the fact that the songs are entirely open and direct about the tragic and heartbreaking subject matter in their lyrics (I'm gonna cry when you're gone I'm gonna miss all those years / but even though you've moved on / you're still with me right here…Looking in my father's eyes / pale blue as autumn skies / he whispers as he starts to cry / I'm sorry I'll miss half your life) his vocal delivery never falls within into a place of precariously fractured performance indicative of a person on the verge of lost composure. It's one of For Marv's most admirable qualities, though any amount of raw vulnerability and audible expression would be just as welcome and applauded.
The uncomplicated, almost child-like innocence of the rhyme scheme in For Marv's lyrics is another lovely choice on the EP. Seemingly written with Taos' emotional needs at the forefront over any focus on linguistic intricacy, this not only aligns quaintly with how Taos lovingly reveres the way his father shaped his formative younger years but, it also almost seems to give his younger self something of a voice and a role in how these songs can bid Marv some love and grace in his passing, despite Taos having long moved into adulthood.
For Marv is a true piece of art from the heart. It's not on any musical mission except to hold and express the feelings of Taos himself, and in that regard, no one can know every facet of what that means. However, knowing the loss of a loved one – especially a parent – can leave some profoundly large voids that need tending to in the time that follows, it's at least nice to see Taos finding what works best for himself to start caring for those painful spaces and as a bonus, choosing to share that process with the rest of the world.
Perhaps someone out there will see the sheer openness of For Marv and feel strengthened to start their own necessary journey of grief work. And in that way, Aaron Taos may bring comfort to many more beyond himself.
"Death is difficult, but it is an important part of life.  Although this is a release for my
father, I hope others will connect with the emotion and experience of these songs. 
Music is a reflection of life, and loss is something we all go through. Please listen to
these with an open heart." – Aaron Taos
---
For Marv is available now.
Find it on iTunes, and streaming on Spotify.
Keep connected with Aaron Taos through his official website and these social media outlets:
Facebook
Twitter (@AARONTAOS)
Instagram
YouTube
SoundCloud
Spotify