The Nearness of You: Emotive reality wrapped in the sweetest metaphors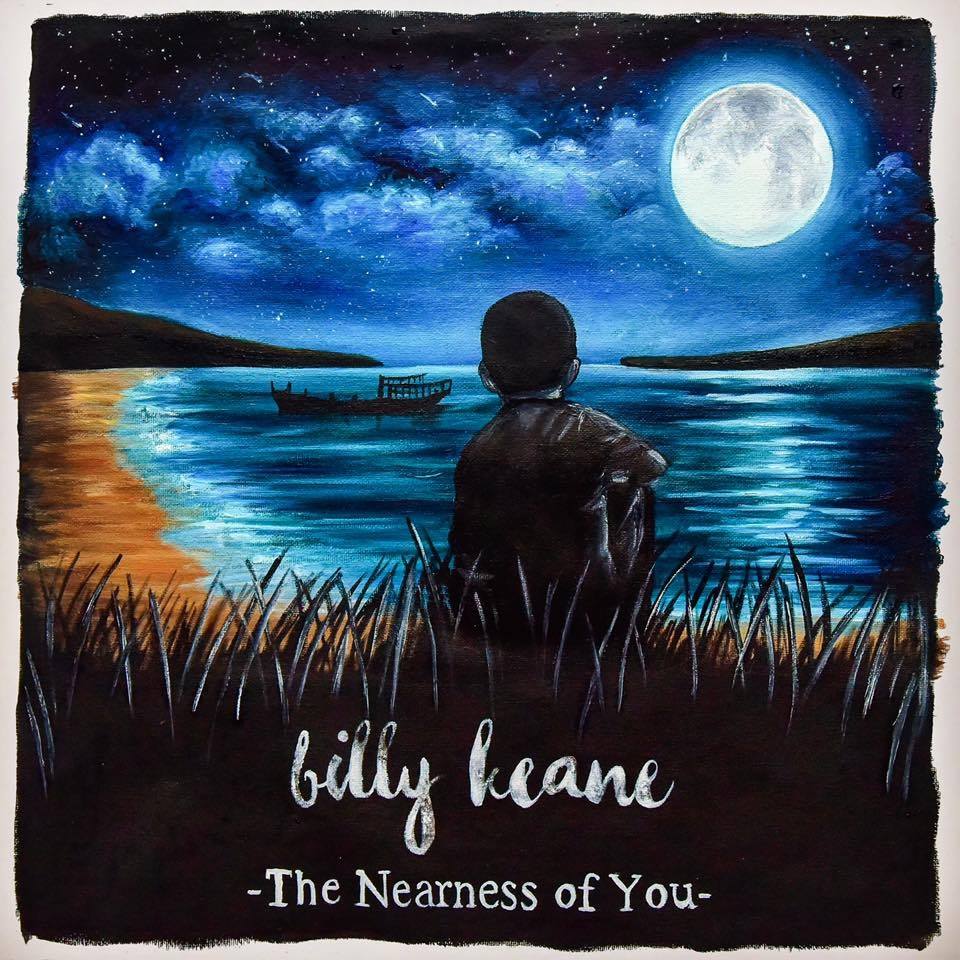 While some of the rising songs of summer are focused entirely on channeling and cranking up the energy of crowded parties and festival jams, others are the sheer embodiment of an ideal sunny day: light in tone, gentle but pleasant on the ear, and intent on encouraging those who hear them, to savor the moments they spend listening, rather than letting the music be quickly relegated to a position as a sonic backdrop. The latter designation echoes with a resounding fervor for London, England-based singer-songwriter Billy Keane, through his debut EP, The Nearness of You (independent, 2017) and the four song record could not possibly contrast more with London's stereotypical profile as a constantly grey and rainy metropolis.
An Irishman residing in London, Keane's relationship with music feels like that of a classic and beloved, old-fashioned tale: A young man first inspired by his father's love of playing guitar and bass, Keane found an organic enthusiasm for music from the likes of Damien Rice, John Mayer, and Ray LaMontagne and these artists bolstered Keane's excitement enough to prompt a spontaneous decision to enroll within the BIMM (The British and Irish Modern Music Institute). There the budding artist devoted time solely to practicing, studying and ultimately figuring out what kind of creative spirit lie within himself.
In combining a bit of impromptu decision-making, steady introspection, and external guidance, what became of Keane's growing collection of musical ideas was the beautiful little introductory EP that is The Nearness of You. While the conciseness of this release is undeniable – with its less than 17 minute total play time – and though that seems to contrast heavily with the image of Keane's plethora of song filled notebooks, what the result can translate to show however, is that the time spent reflecting and studying truly did help Keane discern who he wanted to be and how he wanted to sound when introducing himself properly to the music world. After all, one can't fit mountains of material onto a single record.
Everything about this release – from the first glance at its strikingly colorful artwork (a painting by Keane's childhood friend, Marian Sugrue, of a beach the two used to visit as children), to the crisp resonance of bells intertwined with guitar in the hook of opening track "Stargazer," and even the flow of Keane's lightly accented voice in every song – is all at once easy-going, familiar, new, singular, comfortable, thoughtful, and natural. The tracks are built primarily on the timeless foundation of a precisely tuned acoustic guitar, a narrative-fueled set of lyrics, and touches of bass and drums in moderate, unobtrusive roles. A mandolin showcasing smooth tremolo and the subtlety of a backing plucked strings part give this fundamental arrangement added instrumental flourish and tonal poise,
Though the main "ingredients" to this EP might be familiar a million times over, just as countless unique recipes start with some combination of olive oil, garlic, onion, salt, and pepper – only to diverge thereafter and result in completely individualized outcomes – The Nearness of You never gets so close to its adjacent musical neighbors that it's overcast by any of their shadows. Moments of distinction emerge via the welcoming glaze of bent and slurred blue notes in the bridge of "No One" (I'm coming up blind / Speaking my mind was never for me / Just give it time / Just give it time and you'll see); as well as the application of heavier reverb on both the lead and "ooo" vocals, and even a bit of extra amplification and bite on the acoustic guitar in the closing title track. These elements all break Keane away from becoming thought of as just "a guy with major chords, a guitar, and some poetry." It's also worth noting the close interval, occasionally chromatic, backing harmonies sung by Sharon Sexton – another close friend of Keane's – adds a dash of melodic deviation that the neatness of this EP could and does use well.
All the same, while on these notes of general characterization, the analogous neighbors to Keane's style are in no way difficult to sense. Right from the start, the aforementioned melodic bells and guitar, the instantly singable and 3/4 timed hook, and the love of contrasting wordplay and figurative lyrics (Cause you can get lonely / though your heart's floating free / Like an ornament hanging / from an old Christmas tree), Michael David Rosenberg – better known as Passenger – comes to mind. This is especially true, given the character of Rosenberg's breakout single, "Let Her Go." Still, somehow, despite sharing many artistic qualities and a similar level of linguistic innocence, in most of the EP's material, Keane's stripes of imagery-laden symbolism and similes toward human connection, manage to coexist as cliché but charming.
How Keane accomplishes this unforced intertwining between his choices of notes and lyrics, is the one aspect of The Nearness of You that feels most difficult to articulate and its process hardest to identify. Certain songs of the past have managed to cut through the masses and become major hits by way of a shoestring arrangement and earnest lyrics that reflect young love (The Plain While T's' "Hey There Delilah" is a prime example) but the after reflection is just that: a song that makes one think of a specific vein of love, between a specific kind of couple – in that case, the typical early 20-something with his younger girlfriend, and the singular connection between those two people. Keane's earnestness doesn't ring with quite as much specificity as "Delilah" but with that said, his second adjacent neighbor of Ed Sheeran gains relevancy, given how The Nearness of You shines as a simple but beautiful piece of work, propelled almost entirely by the graceful tone and effortlessness of Keane's vocal delivery – much the way Sheeran projected his artistry during his time in the "+" era.
Nevertheless, these threads of connection are viewed best loosely and from afar, as Keane avoids landing squarely on top of the songwriting style or poetic dimensions of either Rosenberg or Sheeran. Instead, Keane sits neatly among them and others, as an artist with whom they could stylistically share a stage but with the up-and-comer standing out on his own colors of songwriter sincerity.
The Nearness of You is exceedingly pleasant in its musical design. The lyrical metaphors might be tried and true but that doesn't make hearing them any less endearing. Keane's actual voice, which isn't a style to be emulated, is approachable, soft, and clear; just as is his enunciation. (This is perhaps another factor that contributes to a feeling of innocence through the EP. Many singers are unconcerned about the loss of consonants at the end of words or about the clarity of their pronunciation, in favor of a smoother flow of speech and-or inclusion of slang for a more colloquial delivery.) The well-balanced and level mixing / production work done for the record reflects a good ear on the part of Keane's friend Sean Ahern, who helped co-produce the EP through the studios in The University of Westminster in London. Ultimately, Billy Keane has created a debut that – to apply a simile here – is like starlight in a bottle. Its sentiments strike a balance between something that projects a young, idealistic sweetness, and a sense of deliberate emotional consideration that comes from someone genuinely thinking of another, rather than trying to fit some mold, whether musical or emotional, of the moment.
---
The Nearness of You is available now from iTunes and available for streaming on Spotify.
Keep up with what's to come for Billy Keane through his official website and these social media outlets:
Facebook
Twitter (@BillyKeaneMusic)
Instagram
YouTube
SoundCloud