Recommending Some New Perspective for New Year's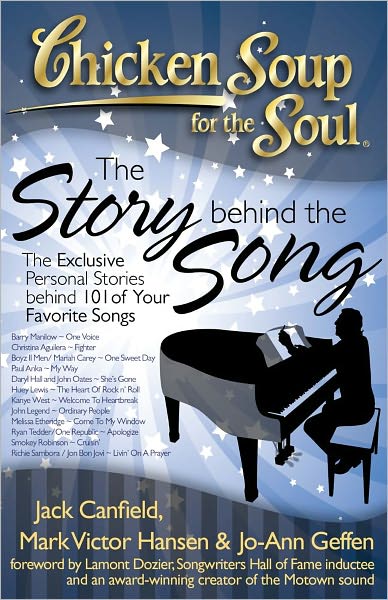 Happy New Year's Eve/Day to everyone out there, from the many countries of the world who have been followers of this site! 2013 is rolling in and to finish off this year, I would like to do something a little atypical: Recommend a book.
Many a music blogger, writer and site keeper decide to contemplate and create "year end lists" for their followers, as a way of sharing a snapshot of the year in music. The popular tracks, the unpopular tracks, the accidentally popular tracks, the unexpected artist comebacks…you name it and someone has picked the topic to list or count down to number one.
I did a similar gesture for the end of 2011 but, this time around, I would like to share a few thoughts on this book, which is part of a beloved series, that recently came into my possession and served as a different experience from the expected "Top 100" or Ryan Seacrest hosted programming.
The "Chicken Soup" Series has been around since 1993 and the content premise is that of short stories meant to inspire, teach, comfort or motivate; all collected in one place. Now in 2012, the brand has created books intended for countless sub-communities; compiling accounts that relate to (age) groups and personalities of almost any kind imaginable or active today. The particular title I mention here is a collection of the classic "101 stories" but, they are personal explanations from songwriters and performers themselves, about some of their most memorable and iconic songs existent in pop culture.
As quoted from the book synopsis,
"Recounts the exclusive, personal stories behind 101 of your favorite songs, from artists including Barry Manilow, Christina Aguilera, Mariah Carey, Paul Anka, Hall & Oates, Huey Lewis, Kanye West, John Legend, Melissa Etheridge, Smokey Robinson, Heart, Queen, Bon Jovi and dozens of others. Features a foreword by Lamont Dozier, a Songwriters Hall of Fame inductee and architect of the Motown sound. "
Now, there have been television documentaries, movies, interviews and other forms of communicative media that dig just beneath the surface for musicians and getting background on the meaning of lyrics or getting the lowdown on an artist's crazy love life is not a concept born yesterday. All the same, each time one finds a new source with new people willing to share pieces of themselves and their personal lives in an uninhibited context, the realizations that can result from reading these words can bring positive shock every time, even if you've been a diehard fan for years of an artist's career.
The combination and wide assortment of artists included in this book make for an appealing browsing experience. Older and younger listeners can certainly find at least a few artists they most likely know and for the rest? Personality without a tabloid stalker can really open up views on an artist that creates new curiosity, even if you're still not in love with their music afterward.
The other day I read West's explanation behind one of his hits, "Welcome to Heartbreak" from the 2008 album "808s and Heartbreak," To give a little context…I remember some of my friends being very excited about this album coming out in 2008 -Not necessarily because they were hardcore fans but because they recognized the uniqueness of West's approach to writing/recording for the album and so on. I didn't theh, nor much more now, have a very defined opinion of West as a public musician or otherwise, as most of his publicly recognizable (and mocked) stunts are far to discussed and rehashed by the media for my tastes.
I'm not the biggest champion of the rap genre (meaning, I don't have an abundance of it in my album collection) but I do acknowledge and appreciate the level of complexity and difficulty that is involved in forming a good rap hook and full set of lyrics. If I were to try and sum things up about West,
I'd say I have stayed away mostly because I didn't feel vested or interested in what his material was about and all I had going on in the background was what the media disclosed. This, although small and mostly ignored by me, did have at least some influence on me not wishing to care about West's music or his public appearances. In other words, a slant to the more negative, if anything.
West's exposure of personal vulnerability about shortcomings in his life and disclosure on things most important to him, connected to the lyrics in "Welcome to Heartbreak" and the kicker for me was that the things he addressed and other people in his life West talked about, reminded me that Kanye West is a real person and that he had to start out as a kind, being taught and how to grow up, just like any other human being who is brought into the world. Such a line of thinking sounds obvious and juvenile but it can be easy to see most of a person's "pre-celebrity life" get covered in an obscure fog, as though it never happened.
Not to say that when any specific celebrity acts out and does things that are disrespectful and/or dangerous, that they shouldn't fully expect be tossed into the tabloid shark tank. However, removing the fog around a person's early identity helps to bring light and whole perspective to an individual, that will then have them seen by the world not as just a human shell with "crazy PR and high life theatrics" for their insides. Everyone goes to sleep at night and everyone has those private moments in their own heads about real problems with real emotions. I don't want to spoil the story for any of you. Just want to put it out there that maybe in 2013, we music journalists, music reviewers, music PR people, music managers and music lovers most of all…that we perhaps look outside to box for the reasons why we choose to highlight those that we do in the coming year. Despite music coming from personal feelings, artists are made of more than their musical content and more than the pieces of their life under the public lens. I highly recommend this book to kick off January 2013. It's a treat of insight and great fuel for breathing new life into how we all observe each other as inhabitants of music world.
Be with those you care about and be safe in your celebrations!