Michelle Nadia and Her "Firefly" – Reigniting the Flames of Classic Singer-Songwriters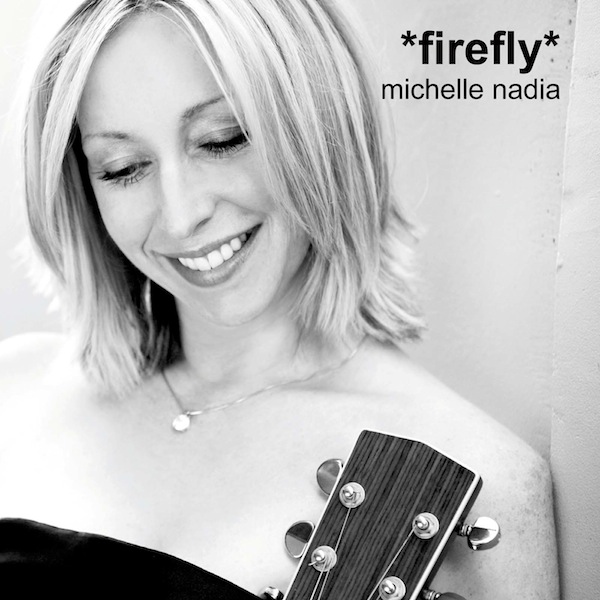 These days, when it comes to artists defining the phrases "fresh" and "reinvigorating," the overwhelming majority of music trying to be such, is often heard panning to audiences with as many genre nods as their studio mixing board will allow them to fit on a record -or even further- on a single track. (See Taylor Swift's single, "Red.") Either that or artists are equating vigor with plain volume. While both these strategies have their respective places in music, because of the way listening trends have unfolded in the past few years –at least in terms of popular American tastes– musicians who confidently nestle themselves into a style without fear of pigeon-hole syndrome are rarer than maybe they should be now.
Thankfully I said rare, rather than non-existent. One such individual, steadfast in her musicianship and style, is
Michelle Nadia
–a folk-pop singer-songwriter from New Zealand, currently based in the UK. She's now looking to engage American music lovers.
"Firefly" is Michelle Nadia's debut record release and she has been steadily sharing her songs with the masses via several radio/television appearances and artist features online and in print. Her live performances have included an endorsed month long tour of the popular UK coffee shop chain, "Caffe Nero."
Nadia strums against what's become typical in much of American popular music nowadays, giving off a very, "less is more" impression. Clearly aligning her sound and songwriting with the likes of
Carly Simon
,
Joni Mitchell
and
Carole King;
three iconic singer-songwriters inspiring generations with introspection in their compositions, Nadia's work harkens back to elemental simplicity with what makes her influencers so solid in their element: tight musicianship, a signature voice, memorable melodies and a dash of vulnerability exposed through message-layered lyrics. 
Read on for an overview of her album and honest answers to a few questions straight from Michelle herself.
Right away, Nadia's pinpoint articulation cuts through the introduction on track one, ("Dance") as its own precision instrument, making the focal point of her words impossible to dismiss. The initial 'country with a touch of blues' vibe during the first 10 seconds is a bit surprising but lets listeners know Nadia has plenty of spunk to offer and that despite her stance in folk styling, Firefly won't be a color-by-numbers listening experience.
Starting from the beginning, all the way through to the end of the record, "refined" and "fine tuned" are two thoughts that easily come to mind –both for Nadia's individual vocal aesthetic and her engineer. The instruments used are allowed to complement each other naturally, often with barely more than a tasteful amount of reverb to give the illusion of Nadia singing openly in a large room. It is quite elegant the way small details like finger slides on guitars, kick drum releases and snare brush sweeps are kept in the mix. Recent times see bits of character like these looked upon as exposed imperfections and thusly removed.
"Falling Off the Radar" is one song that demonstrates a balanced amount of human performance with a combination of the above details and a brief, more drastic change to Nadia's voice that provides an old fashioned radio-type quality. Throw in the well featured harmonica solo here, as well as in mid-album track, "New York Morning" and Bob Dylan seems to occasionally stop in for a visit.
Again though, there's no hint of Nadia shying away from being true to her own artistry, even with such nods. Firefly's title track plays the "catchy card" well. The hook is as bouncy and light as the firefly in the song and Nadia's voice is front and center, building gradually into neatly packed complexity. (From guitar, to adding vocal, to adding bongos, a maraca and…do I hear a marimba?)
By the time the album reaches its last few tracks, (
"Four Leaf Clover," "Lost in You"
and
"Circling,"
) things do start to wind down in terms of either instrumentation blends or speed. However, even these, and other more delicate tracks like
"Whisper
," fill the 'space' by conjuring imagery that connects listeners either with Nadia's given scenario or whatever correlating memories reside in listeners' own minds. Possibilities are endless but could effortlessly unearth musings of self-discovery, recollected intimate passions or that developing new relationship.
Michelle Nadia certainly has an established point of view as an artist and the worldliness of her CV aside, she could draw instant appeal from various American crowds, as her music can be appreciated for a plethora of reasons in a number of settings. Although she toured and was well-received in Caffe Nero, I personally believe Nadia's music can side step any thought of a parallel tour in NYC's Starbucks, aiming for individual lounges with more personality instead.
Kira: One of the first things I can tell you that intrigued me about you is the variety in your tagline as an artist: Native New Zealander who is based in the UK, with quite a few major American folk influences. I can understand that if I read it but I'm curious to know how you achieved this global trail. What was your exposure to music like growing up? Why did you choose to move to the UK?
Michelle: Growing up I was intrigued by artists such as Neil Young, Joni Mitchell, Fleetwood Mac, Led Zeppelin and Crosby Stills and Nash. They made me want to play guitar and sing. I chose to come to the UK because it has a vibrant music scene and I love the place.
Kira: As I wrote in your review, you seem very at home when you and the audience can keep an intimate connection. You are even candid and approachable through email and social media; whereas a lot of artists aren't, beyond when they first start out. Do you have any desire to change that dynamic or do you have a ceiling set for yourself as an artist to prevent too much detachment from your fans?
Michelle: I just try as best as I can to be kind.
Kira:Seeing as how you would like to bring your music to U.S. shores, your song, "New York Morning" screams 'great transitional single!,' It's got an addictive refrain and when I hear the line, "let the world sleep tight" I'm thinking about how New York is contrarily, "The City That Never Sleeps." However, I see the rest of the lyrics refer to support of a significant other. Have you ever been to New York? What's the inspiration for this track?
Michelle: Yes I have been to New York. I lived there for three months. I wrote that song in an apartment in Spanish Harlem on my second to last day there. I was sad because New York is a wonderful place and I didn't want to 
*********************

If you want to hear more by Michelle or reach out to her, she's active on following outlets in addition to her official website: