Rainbow Heartache: Megawave's musically colorful debut album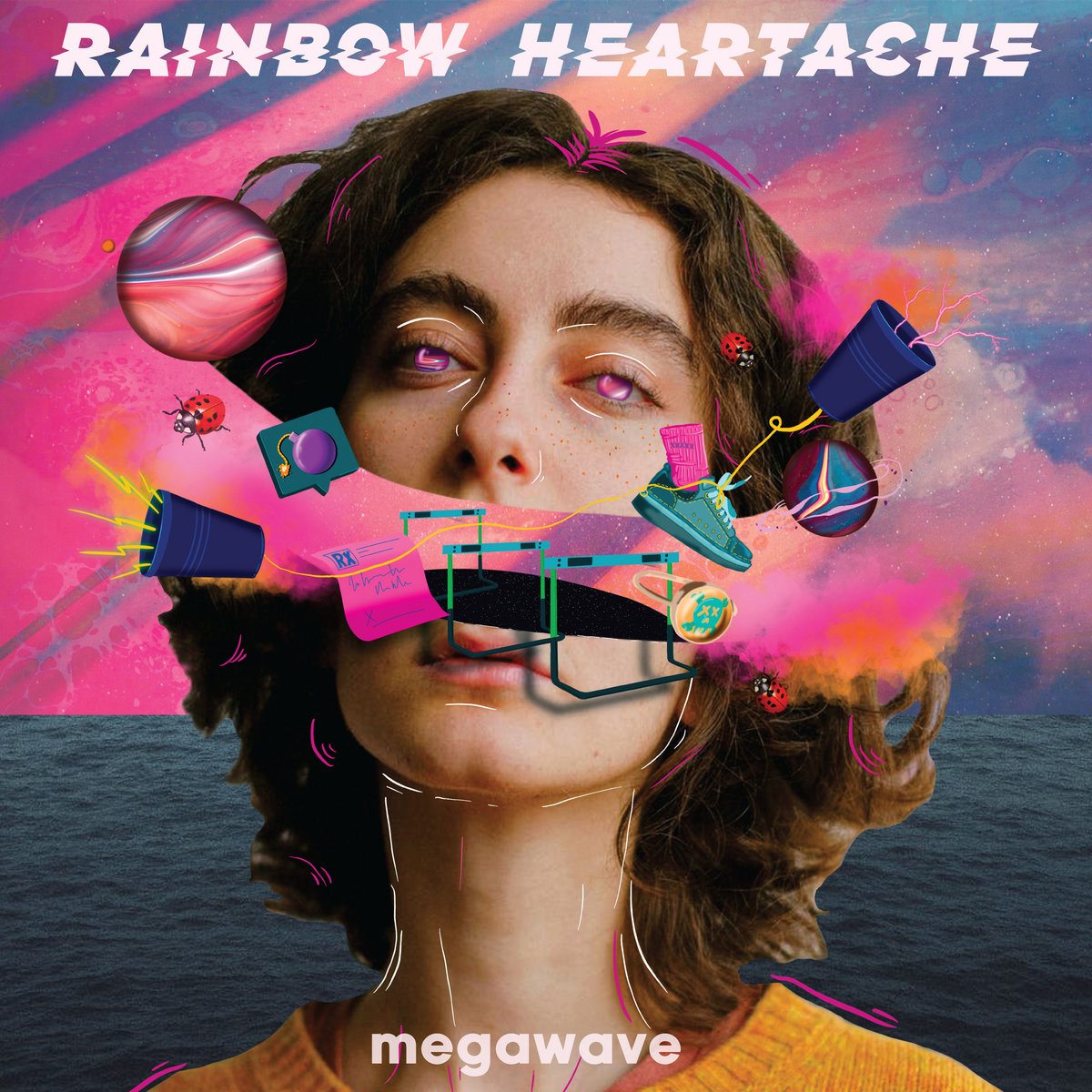 Every band is different, as are the stories of their respective journeys. All the same, there are some groups for whom it's easier to see an imminent moment of evolution afoot along the way. Furthermore, there are even some for whom the impetus of that growth-inspiring change seems to stand out and make it very clear that especially good things are about to fall into place. In the case of Long Island, NY alternative power-pop band Megawave, it's virtually impossible to deny the band's debut album, Rainbow Heartache (independent, 2021) is the symbol for one such clicking point.
Megawave is:
Michelle Turk (Vocals, Keys)
Michael DiGiulio (Guitar, Bass, Synthesizer)
Michael McCarthy (Drums)
Active since 2014 – (previously under the moniker Megaweapon) with several releases and a large, devoted following – it's not entirely surprising to see Megawave on the precipice of a notable transformation and advancement, particularly with a milestone like the band's debut full-length. Still, the moment is quite noteworthy, as the trio found the perfect time to solidify their identity, sound, and artistic aesthetic, in spite of having an established fanbase. Rainbow Heartache being the newest and most significant marker in Megawave's catalog to-date, there's no better time to be able to make this kind of multi-layered creative pivot; the record is simultaneously a memorable checkpoint and a fresh start. Megawave having announced its name change back in spring 2019 alongside the release of one new single titled "Retrograde," one could say that Rainbow Heartache is now the fully realized representation of that re-brand. And, like a slow build up to a major plot point in a story, the arrival of the official payoff feels entirely natural and very easy to embrace – something vocalist, songwriter and keys player, Michelle Turk knows and appreciates.
With the first full length, it feels more like we are in line with our new identity [as Megawave] because we are putting out new music that was written and arranged by us," says Turk.

"With "Retrograde," we got to give people a little taste of the sound but the song is a collaboration with our friend Chase Winters (who also collaborated on [the single] "I Won't Die").  Now, "Retrograde" is a part of Rainbow Heartache and it feels like listeners have the full context of who we are as musicians and people."
While the fundamental musical bones of Rainbow Heartache, as well as Turk's self-assured attitude and style as a songwriter aren't that dramatically different than Megawave's previous work, everything else about this release aims, and succeeds, at projecting a sense of change. Recorded at Westfall Recording Studio, the album involves collaboration not just for featured guest or background vocals but also for co-writing and arranging. That said, the degree to which Megawave integrated external input for these songs and their compositional development, indeed reflects growth and widened creative horizons but is limited enough to where the album doesn't appear fractured or mosaic-like in its collective character. There isn't an impulse to say "You can hear where and how so-and-so shaped this track." There's an applaudable exercise of restraint that keeps all the music centered around Megawave's known style and seamlessly unified in its presentation.
The album opener, "Mood Poisoning," is an excellent demonstration of this seamless collaborative quality, as it sees Megawave up its inclusion of non-standard rock band components, like the song's introductory 8-bit, chiptune, style motif, as well as a featured guest vocalist in Laurieanne Creus, who also co-wrote the song with Turk. For those familiar with Turk's style of songwriting and lyricism – speaking opening about her lived challenges in life, her frustrations with the world, and-or questioning the status quo of society – "Mood Poisoning's" blunt but cathartic admission of disgruntlement concerning day-to-day jobs in the U.S., society's failings, and others' shortcomings of personal character fit right in with what listeners have come to know and expect from Megawave in the past. The lyricism is an especially strong aspect of both this song and the album overall; it's uncompromisingly straightforward but conceptually clever as well.
I've got mood poisoning
I'm not coming into work
I've got a fever
I've got fever
I've got mood poisoning
I'm not coming into work
I've got to run
I've got a fever of 100 and done
– Lyrics from "Mood Poisoning"
Still, outside of her guest verse in the song itself, it's not exactly clear where else Creus's involvement starts and stops with the co-write and that works well to Megawave's benefit. The finished song feels intrinsically like something the band would stand behind but there's an intangible but detectable difference in the final piece. Compare that with another standout single, "Sozin's Comet," which has neither a guest vocalist, nor involvement of a secondary composer or arranger. Not only does the song's opening hook from Mike Diguilio's guitar – with it's thin, piercing tone and arpeggiating style melody – give off a nice touch of math rock style tonality but this song is just as, if not more, clever with its messaging as "Mood Poisoning." Here, not just one section, but the whole track, manages to deliver a true-to-life message within the conceptual packaging of the narrative written for Nickelodeon hit show, "Avatar: The Last Airbender." The way Megawave structures the song's narrative and conceptual intentions are done in such a way so as to not necessarily require much lyrical deviation in order to either make its points about real life or retain a clear and distinct reference to Michael DiMartino and Bryan Konietzko's imaginary world and its in-universe conflict. The song manages to do both at once. Megawave recognizing and drawing a creative line between these two camps of thought, real and fictional, and writing a song with almost interchangeable perspective is another demonstration of the band's established sophistication and and creativity as co-writing group.
We believe justice delivers peace
We're not disabled by our grief
With one thousand voices we've spoke
To revive balance and hope
We've passed down everything we've known
Thousands of lifetimes of our growth
We know justice delivers peace
It's time to choose who you can be
– Lyrics from "Sozin's Comet"
Meanwhile, songs like "Projector" help to balance out Rainbow Heartache's heavy dose of evolved creativity and execution. The track begins with a rather bare, almost noodle-y hook of just acoustic guitar, giving a bit of a nod to Megawave's fiercely independent, up-from-the-bottom roots and showing listeners the release isn't all about abandoning the feel of more homemade music entirely but not so much as to manufacture a lo-fi aesthetic and thus, create a token "DIY-moment." It's a brief but appreciated reminder that Megawave doesn't feel the need to dress up or flex out every second of sound with more, just because they can. Beyond all of these technical and logistical changes though, what really brings this chapter of Megawave's story together, is the band's single intention that's driven the making of Rainbow Heartache forward and determined every aspect of its trajectory."We wanted to show our growth and accountability to continue growing as a band and as people through each part of this release," Turk says.
As a complete piece of work, Rainbow Heartache retains the energetic spark that Megawave has championed since its beginnings. Yet, every creative aspect of its formation: the artwork, the sound quality, the band's blending of other stylistic attributes, the decisiveness of the songs' messages, and the record's overall presence, reveals true growth for Megawave. The band has taken its creative heart and simply elevated it to the next level. What that means for the future is yet to be exactly determined but the idea that a band can maintain the parts of itself that people love, while incorporating a plethora of new ideas and new approaching to music making, is just about the best case scenario any established band could ask for.
Put a pin in the 2022 calendar now: Megawave's album release party is set for February 25, 2022.
Full details below:
Rainbow Heartache Album Release Show
Friday, 25 February 2022
$12.00 Advance
$15.00 Day of Show
16+
Tickets: HERE
---
Rainbow Heartache is available now.
Find it on Bandcamp, iTunes, and streaming on Spotify.
Stay connected to Megawave through their official website and these social media outlets:
Facebook
Twitter (@megawaveband)
Instagram
YouTube
Bandcamp
Spotify
SoundCloud