Megaweapon's new EP busts right out from "Behind Glass Walls"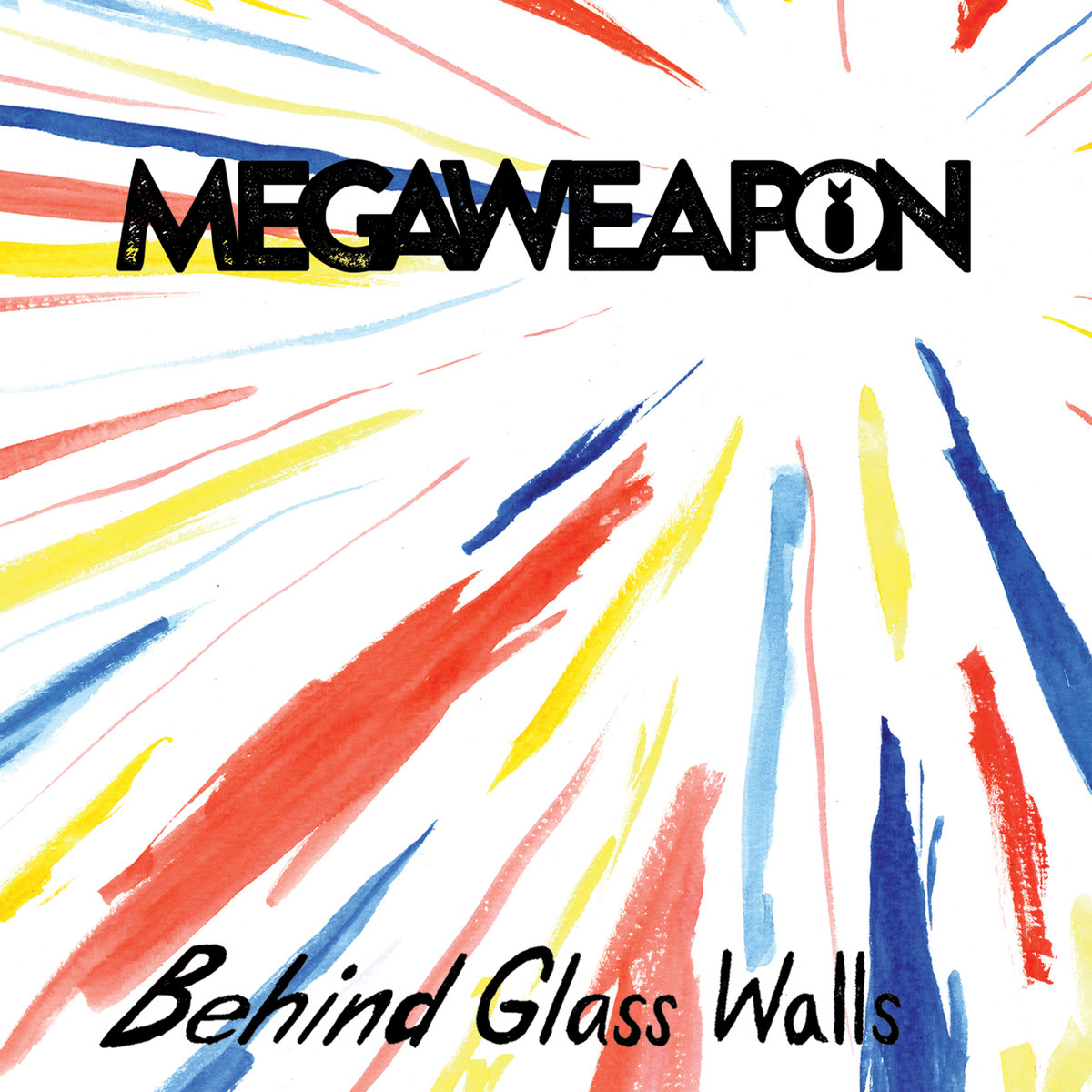 Everyday, average glass is one fragile material. Hit it too hard and it cracks or shatters. Graze it with something a little too pointy or jagged and it gets a scratch. Bring up discussion of music that runs in the vein of punk and fragile is likely the last word liable to come up in conversation.
That is, until you meet Long Island, NY pop punk quartet, Megaweapon and throw on their newest EP, Behind Glass Walls (independent 2017), out today exclusively through Bandcamp, (available everywhere 10 February 2017).
Now, with a band name like Megaweapon, one might expect a group that kicks things into overdrive and never looks back or, a band with a lead singer whose voice will cut right through listeners' ears with an unrelenting intensity – either scenario prompting thoughts of the excessive, boundary-less side of punk music that, for some, can be intimidating or overbearing. Yet, here, among other places, is where Megaweapon's perception of shock value diverts from expectation. Surprise with this group lies not in a ceiling-less approach to sound and delivery but rather, with the way the band thoughtfully connects an emotionally unapologetic manner of performance with compositional scoring and instrumental textures that lend themselves to more structured and diverse melodic and harmonic movement – both individual and polyphonic.
A six track extended play, Behind Glass Walls sees Megaweapon stepping up their game. Some new material and some entirely reinvigorated from previous release, The Shakes and Other Ghost Stories (independent, 2015), this EP hits plenty more than the typical three or four chord repertoire of fast and repetitive pop punk. Though that's not to say Megaweapon doesn't do fast.
Lead single and opening track, "Eyelids," lights the starter fuse with all parts sans vocals hitting the ground running from the very first moment. Then when the alternating voices of lead singer Michelle Turk and guitarist, Andrew Stieglitz do kick in, their lyrical offerings present an immediate contrast, which ironically steers away from the idea of intensity and meshes with the idea of being stuck behind a glass wall (Shut the hell up / It's all too loud / This incessant noise won't stop…When everyone tries to speak at once / my voice begins to drown). It can be broken but it's a wall nonetheless.
Additional subtleties of note come through the chromatically tilted melody. There are moments on individual guitar parts, as well as moments created from intervals formed between intertwining parts (both instrumental and vocal), where the song plays a game of push and pull between major, minor and harmonic minor. Megaweapon establish diverse tonality early on, determined not to impress a "set-it-and-forget-it" mindset.
Variety and contrast continue to unfold through Behind Glass Walls, as the band pulls back in the title track, from a fast pulse, to a brightly toned lead guitar that orbits around an ostinato made up of major 2nds and perfect 5ths. Here and on tracks like "The United Shakes of America," Turk shifts the band from one of "shout it all out" proportions to showcasing more directly singable melodies that unveil an inclination to sing along, after just a verse or two, no matter if the sentiment is linguistically abrasive (You're a fucking loser /And everyone knows) or declaratively self-empowering (Like the flower during winter / I won't die). Turk and Stieglitz's harmonies flow and twirl around one another with intermittent independence across the six tracks and this movement, bolstered by occasional group vocals ("United Shakes of America"), make it all too easy to want to improvise additional harmony lines that can meld above or below what the band gives.
The back and forth focus on qualities that feel comfortably pop punk and those that feel more unique to the spirit of Megaweapon individually, persist all the way to the ending notes of the "I don't give a shit," sing-spoken snarky closer, "Strictly 80s Joel." Inclusion of elements like prominent organ and jaunty synthesizer (Turk's signature in live settings in her full size keytar), and a what feels like a more impassioned guitar solo by Stieglitz – like he was given license to go at it a bit more freely and perhaps improvise – in "Legally We're Not Allowed to Talk About It," work as another nice reminder that Megaweapon doesn't shy away from going outside the pop punk playbook. Carefree and loose might be descriptors of pop punk but there's just a little essence of classic rock n' roll in the midway track that breaks up the EP well.
Turk is consistent throughout Behind Glass Walls with her own natural propensity for, and injection of, stage character into her spoken vocals interludes. Still, added production decisions like the filtering and reverb in selective areas on the EP (for example, in "Strictly 80s Joel's" second verse (All of my headaches! All of the blabbering that I can't take / I'm not close to perfect but at least I'm not a fake),) provide an extra angle of dimension that ought to get an ear or two perked up with intrigue, if the EP's sassy and frank lyrics haven't done so already.
The combination of new music and re-imagining of fan-familiar tunes, along with the astute balancing of attitude and musical approachability, are the foundational building blocks of Megaweapon's power of appeal. There are slices of things that are liable to catch the ear of many different people for many different reasons – musical, stylistic, or not – but the band manages to huddle everything together in a seamless way that doesn't leave Behind Glass Walls feeling like a hack-and-sew hybrid of things wholly meant to pan. The EP's vocals seem a bit plainly mixed against the punchy definition of McCarthy's kit or tight pluck of Unkrich's bass and could have perhaps used a bit more teeth via delay or at least something like slightly off-set vocal doubling. However, on the whole, Behind Glass Walls is an addictively upbeat outing that will fit right in, whether you're dancing at a party, pissed off at your ex, or are in need of an emotive anthem for your next Snapchat lip sync battle.
---
Behind Glass Walls is available now exclusively via Bandcamp (For every purchase on 3 February, Bandcamp will donate their share of profits to the ACLU.).
The album will be available everywhere on 10 February 2017.
Megaweapon will be celebrating the release with a performance as part of Long Island's "Galentine's Day Fest," on 12 February 2017. Full show details are below.
Galentine's Day Fest!
Presented by Planet of Visions Promotions and Ethos Live
A celebration of women in music and art on Long Island!

Sunday, 12 February 2017
O'Briens Bar & Grill
3720 RT-112
Coram, New York 11727
Doors: 2PM
Cover: $10.00
16+
---
Keep up with Megaweapon through their official website and these social media outlets:
Facebook
Twitter (@megaweaponband)
Instagram
YouTube
Bandcamp
Spotify
SoundCloud