Itai Kriss and Telavana celebrate the celestial with "Supermoon"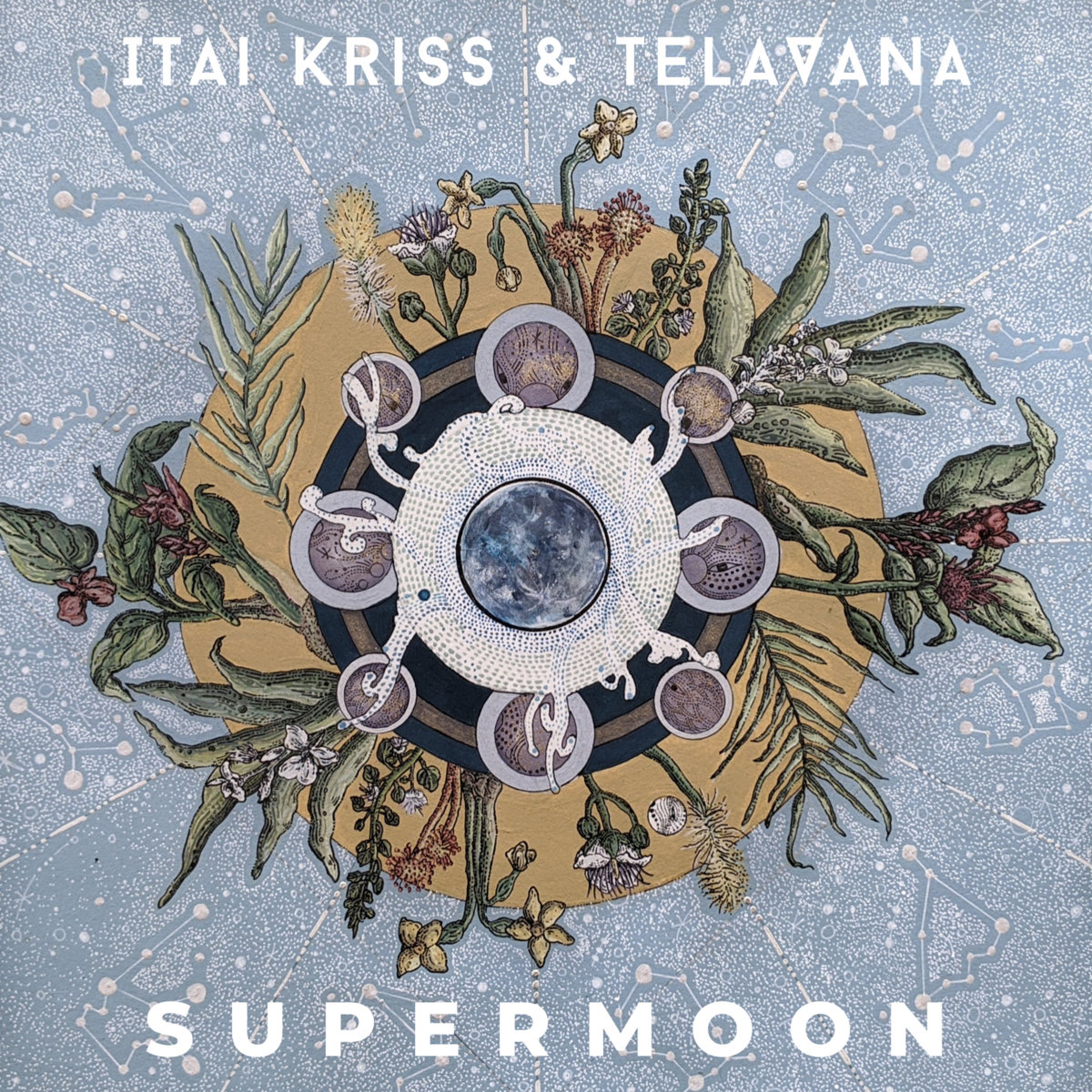 The term "world music" is both comfortably recognizable and culturally reductive to everything that supposedly falls into the category. When it comes to the music of Supermoon, the new album from flutist Itai Kriss and his band Telavana, the album's assorted arrangements, melodic variation, and sophisticated rhythmic structures do make it easy to lean into the idea of musical globetrotting. However, this isn't a project chasing a worldly aesthetic for show or trend. The group's global reach – connecting its members and guest artists to New York City, Puerto Rico, Cuba, Venezuela, Israel, and more – brings a literal coalescence of multiculturalism to Supermoon, which isn't based solely around the sonic aesthetic or compositional approaches of the album's 13 tracks.
Telavana is:
Wayne Tucker (Flugelhorn)
César Orozco (Piano, Rhodes)
Tamir Shmerling (Bass)
Dan Aran (Drums)
Marcos López (Percussion)
Guest features by:
Keisel Jiménez (Percussion, track 3)
Malaya Sol (Backing vocals, track 3)
J. Hoard (Vocals, track 7)
Shai Maestro (Keyboards, Synthesizers, tracks 1-8, 10-12)
Where the album does want to bring listeners' imaginations and budding curiosities, is into the wide expanse of the universe and the inner spaces of what the signs of the zodiac can come to convey, as well as considering humanity's place in the grand scheme of existence. The sheer vastness of such questions seems like it would preclude either a severely dense and possibly overwhelming record meant to try and touch on the concept of grandiosity or, a record of incredibly minimalist proportions meant to contextualize the smallness of humanity and of the earth in relation to the rest of the universe.
Yet, Kriss, Telavana, and the talented guest artists on Supermoon manage to cultivate a collection of songs that enthusiastically tap into the layered but friendly and approachable spirit of jazz fusion that exists beautifully between those two compositional extremes. Kriss's embrace of international musicality and adeptness in the jazz, jazz fusion, and Latin jazz spaces, which has grown and solidified over his years living and performing around New York City's many niche scenes since coming to the U.S. from Israel, is reflected with a shining confidence on Supermoon. 
The very first minute of opening track "The Cusp" sets up the idea that the music sitting on the edge of something, which is then bolstered by Kriss's opening flute motif. Playing a melodic idea around a harmonic minor tonality and then doubling against himself with a harmony line that seems to clash somewhat jaggedly and evoke a sense of dissonance, right away there's a sense of tension but the threshold of discomfort is kept low thanks to the light and flowery timbre of the flute. From there, the music bursts open with a full band rush that is at once dense, clean, bright, polished, and poised. This overall quality of sonic elegance remains throughout Supermoon and gives the album its edge of listener approachability, while the instrumental complexity keeps all the melodies from settling too much and falling a step into the background, a state that polished modern jazz / jazz fusion can sometimes fall victim to.
Variation and spontaneity is the running theme on Supermoon, as the whole album can be united under the umbrella of sonically diverse fusion. Still, each demonstration and configuration of how Kriss and Telavana will present their musicianship in each track, changes drastically. Past the neat and bright fusion of "The Cusp," "Taurus" dives head first into a Latin jazz, almost salsa-styled piece, complete with a vibrant and energetic vocal performance by Keisel Jimenez, which should immediately pique the interest those who enjoy the score from In the Heights, with its upbeat tempo and lively, moving percussive foundation, which projects so many separate beats – large and small – in a joyfully bustling manner.
"Crustacean Vacation" a track running almost seven minutes in length, offers its own version of melodic complexity but does so within a very playful rhythmic flow. The low octave single note hook of the piano, followed by the 10-note pair-driven phrase played by upper octave piano and then flute respectively, gives the impression of a complicated meter thanks to the off-beat placement of each. It's a whimsical introduction that seems to project the character of a crab, lobster, or other scurrying crustacean, in a way that evokes the personifying vibes of Disney's Fantasia of Fantasia 2000. The subsequent flourish of piercing flugelhorn, beat-driving piano chords, the shaking of maracas, and Kriss's nimble but feathery flute delivery, manages to take instruments that one has already heard several times up to that point, and set them in a distinctly party-oriented light.
"Sagittarius" is another track that flirts with off-beat propulsion, the likes of project an even stronger pull thanks to the interplay between one steady five-note motif of flute and flugelhorn and the five note motif of the piano, which differs in both melodic progression and timing. The latter doesn't exactly align with the former, and then neither does the quieter framing of the hand percussion that follows phrases. This again offers a subtle play on the perception toward the flow of the piece, while the time signature itself remains a consistent 6/8 throughout. It's an indirect but very appreciable way of nodding to Supermoon's core focus on humanity's perception of the cosmos, and both  tangible and intangible aspects thereof. The music reflect its own display of tangible (instrumentation) and intangible (meter versus actual rhythm) in each composition and it's nice how Kriss and Telavana found a way to hone in on that idea without taking the music itself to a compositionally amorphous or tonally ambient kind of place.
Sueprmoon is melodically and instrumentally colorful, its layering of perceptions between nations of this world and states of understanding and awareness around the worlds beyond here, make this a very entertaining and thoughtful project. It's a record loaded with replay value for a variety of reasons that touch on internal connection and external enjoyment and despite it's relatively shiny and polished production style, there's no concern of becoming disconnected from the music. Supermoon effortlessly holds listener engagement and keeps one's attention gravitating around the record, going from the beginning all the way to the end.
---
Supermoon is available now.
Find it on Bandcamp, iTunes, and streaming on Spotify
Stay connected with Itai Kriss through his official website and these social media platforms:
Facebook
Twitter
Instagram
YouTube
Bandcamp
SoundCloud