A "Downpour" of bold brass is unleashed on Aberdeen's debut album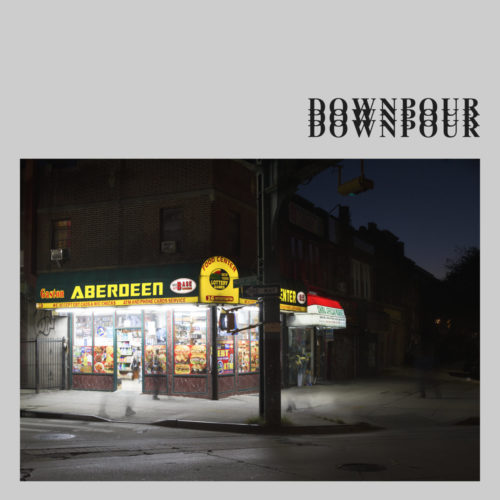 Big band music and big band brass music: if one were to take either of those arrangement styles and then ask someone to name a city they would expect to pair either with, the "Big" metropolis that would come to mind first would probably be the "Big Easy" over the "Big Apple." Yet, one such band of brass-loaded proportions recently made their splash in Manhattan and what's further, the group isn't from Scotland, even if Aberdeen's  locale-of-a-name suggests otherwise. No, Aberdeen is an eight piece brass-fueled band based in right in the borough of Brooklyn. (Try saying that five times fast!). Led by a core trio of Brian Plautz, Alex Conroy, and Shubh Saran, even though Aberdeen has been kicking it around New York City since 2016, the band hardly sounds like one that's worn itself down while working toward the arrival of debut full length, Downpour (independent, 2019).
Released just last week and celebrated on Rockwood Music Hall's famed Stage 2, the music on Downpourfeels fresh – and that's not just from the enormity of the sound that this large group is able to conjure up together in the studio.While Downpour's total runtime is only 36 minutes and change, considering the girth of Aberdeen's lineup and the complexity of its arrangements, the nine track effort is nothing to brush off or take lightly. Simultaneously, despite half of the album's songs being under four or three minutes, Downpour isn't solely about creating interest by way of instrumental density and dynamic level. The songs all feel thoughtfully complete and are intricate enough to allow one's mind to get pleasantly lost in the multi-layered melodies, thus feeling very satisfied once a track is over, even if the song was only a pop song's status quo of three minutes long.
The idea of a band presenting listeners with a "wall of sound" is nary a novel concept but how the wall of one big band comes across over another, is a separate story altogether. The aspect of Downpour's general sonic character that intangibly seems to make it fit with the idea of big band brass being in New York, is likely due to the less raw quality of its collective performance. Aberdeen is not only made up of a lot of moving parts but those parts together, are given serious attention, as far as where their polish and smooth blends are concerned. The grandiosity at hand is more in line with the crisp fusion of Herbie Hancock or Snarky Puppy, over brass-oriented groups that allow more organic breathing space, like Preservation Hall Jazz Band, Hot 8 Brass Band, or Rebirth Jazz Band.
Where the latter style of big sound feels more spontaneous and improvisational – much like the spirit of New Orleans busking and live shows – although New York is no slouch in the unexpected busking department, Downpour's long tone decays, clean edged metallic guitar tones, and balanced sonic sheen over the mixes as a whole, don't exude that same kind of performative energy. This by no means is to say that Aberdeen is applying a heavily influenced hand of Hancock or Snarky Puppy either. Actually, the modernist shaping of Downpour's production, along with the prominent inclusion of electric guitar on tracks like "Toward the Sky," "Still," and the title track, seems like a sonic match for the kind of scores recorded for Broadway musicals in the early 2000s (e.g. Wicked, Spring Awakening, Next to Normal), when rock orchestras and brighter, more pop-stylized, production were the new priority in the control room. This association is also perhaps another reason why the combination of brass, rock band trimmings, and the smoother musical aesthetic just "feel like it fits in New York." On the other hand, with two years under its belt before Downpour's release, it's not as though Aberdeen don't know how to bring out the best of its collective musicianship in a more organic way. This mildly crazy but perfectly executed Apartment Sessions performance demonstrates as much (and with far more than the usual eight person group):
Beyond overall impressions of the album however, the more nuanced aspects of Downpour should be recognized as well. Elements of songs, from individual hooks, to the decisions surrounding dynamic ebb and flow, to the occasionally head-turning application of very specific mixing tools, makes the album into a cavernous but colorful treasure trove worthy of (and likely to inspire much) aural exploration.
Just from the opening of first track, "It Was Here," the contrast between such a minimalist motif of only two notes one half step apart and the immediate launch of far more than two instruments playing and shaping that motif together, takes an innocent looking melody and transforms it into a kaleidoscopic moment, right from measure one! The power of something as simple as a moving bass line to change a chord progression can create such satisfaction from so little. In under a minute's time through "Unspoken," the song's dynamic tide takes center stage as the reserved low octave guitar line and accompanying stick hits shrink down to nearly silence before a brief cymbal roll brings loud horns and full band crashing back in at a forceful and direct level. The drastic shift in volume however, isn't due to mere diminished participation but is a product of frequency filtering to an utmost extreme. It accomplishes the same result of less sound but delivers it in a wholly untraditional way. And of course, though Downpour is written to be shrewdly catchy amidst so many ingredients, intermittent toggling of rhythm to more jazz friendly odd time signatures (e.g. the middle passage on the title track that shifts to 5/4) must be highlighted. There's a versatility to Downpour. It has moments that sound right for any present day alternative rock band's next single, moments fit for the dramatic reveal in a film climax, moments ideal for meditation – the list goes on.
Taking a moment to recall that this album is only 36 minutes long, all these artistic facets, along with a slew of others, only further underscore the impressiveness of what Aberdeen is able to create without resorting to the bloat of 16-20 tracks and a 70+ minute run time. Sharing a takeaway characteristic of many great jazz fusion albums, describing every micro component of the richness Aberdeen plays would indeed lead to a bloated exploration. Conversely, trying to summarize the that same decadence with a single set of vibrant adjectives wouldn't do it justice either. Thus, the best compromise here, is the concentrated exhibition of a few fascinating moments – musical, mechanical, and individual – with a backdrop of confident assurance that Downpouras a whole, will provide a positive listening experience that is impossible to digest in just one take and will be well worth every re-visitation thereafter.
---
Downpour is available now.
Get it through iTunes. Stream through Bandcamp and Spotify.
Stay in the loop with Aberdeen through its official website and these social media outlets:
Facebook
Twitter (@AberdeenTheBand)
Instagram
YouTube
Bandcamp
Spotify