Fort Gorgeous takes an emotion-laden journey to the "Bottom of the Sea"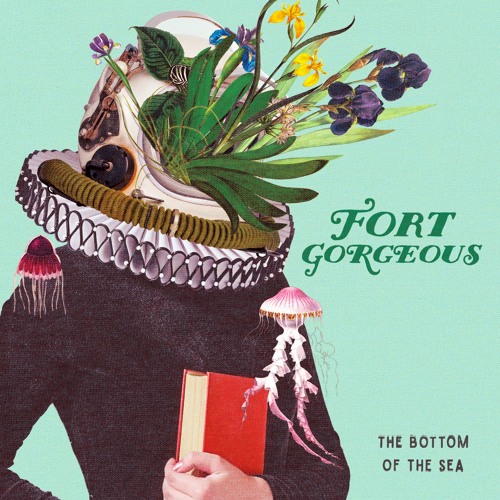 January means we're back at the top of a year but The Bottom of the Sea (independent, 2018), the debut record from Fort Gorgeous, is actually a bit of a throwback to mid-2018. Nevertheless, since this beautiful stronghold of Brooklyn – who goes by Billy Libby off-stage – is taking on a new project, it's only fitting the dawn of a new year should take on a new EP from a newly moniker-ed New Yorker.
Libby's music as Fort Gorgeous is self-described as existing somewhere at the juncture between indie rock, folk, and pop. This succinct categorization works but Fort Gorgeous practically explodes with the kind of loosely blended quirkiness that would translate to smearing all the hard lines organizing the three aforementioned styles. Blending is something music showcases all the time but the degree to, and method in which the blend comes through, leaves a lengthy trail of room for variation. The Bottom of the Sea isn't one of those works that touches on multiple styles but does so in a squarely definable manner. The songs don't bust out a triplet here, a mandolin there, or a dousing of vocal reverb right at the splash down on the chorus. Not unlike the hard to describe visual cornucopia of things brought together in the EP's cover art, the songs don't mix musical directions together by way of box checking of list mapping.
The collective quality that seems to emanate from The Bottom of the Sea is one of a sheer fancifulness or fantasticalness. The five tracks exude an assortment of tempos and different levels of intensity delivered by way of dynamics, impact of the downbeat, and rhythm of the hooks. However, throughout each, whether the song is more melodically and lyrically reserved like "Chickadee," or more rhythmically emphatic like lead single, "Round and Round," the songs are utterly interlaced with unique instrumental parts and unique instrument sounds that take Fort Gorgeous's fundamentally vulnerable style of musical narrative and put it behind a surreal – or at the very least – reverie tinted lens. Much of the surreal spectrum The Bottom of the Sea finds itself on throughout the listening journey, comes courtesy of Libby's inclusion and creative application of synthesizer tones, distorted guitars, and acoustic percussion. The way this pairing of artificial and organic sound comes together only further instill the concept of imagination, as there's an element of the music keeping one ear connected to reality and other elements played with and shaped freely, to provide a backdrop going beyond plain imagery. The music of bands like Hotel of the Laughing Tree and spin-off side project, Cloud Caverns, both who gravitate to a similar affinity for real experience draped in boundary-less metaphors, comes to mind.
Middle track, "Wishing Well," is a great example of less-overt application of this creative duality, which still achieves a mentally gripping end result. Starting with a less extravagant barrage of sounds at the opening and going with the familiar introduction of a gentle, arpeggiating, finger style acoustic guitar over equally soft-edged synthesizer tones (meant to mesh with and not overtake the guitar), the song establishes more of a grounded mood than even its immediate predecessor, "Watch the Paint Dry." (The latter opens with Fort Gorgeous's vocals doused in delay, reverb, and placed in an expansive digital setting alongside hard edged, saw tooth-like synth tones popular for electro-pop hooks.) But in the case of "Wishing Well," despite a slightly more minimal approach to inspiring imagery, a quick moment of reflection reveals a perfect arrangement: Plug-ins and amplified effects ever so slightly blurring the lines where notes begin and end, leaving tones able to hang in the ear for just a few extra moments, is apt of a song referencing a cavernous space, thoughts of rippling water, and the ethereal nature of wishing.
At the bottom of the sea
there's nothing else
there's nothing else
It's just a deep wishing well
And I was waiting on luck
Cause time won't help
If it was all etched in stone
There's nothing else
There's nothing else
– Lyrics from "Wishing Well"
Still, Fort Gorgeous brings the best of both worlds, as nothing within The Bottom of the Sea strikes so much of an experimental chord that narratives lose direction or melodies lack memorably appealing form. The dynamic contrast between the deep-toned kick drum and more delicate but notable stick hits at the beginning of "Round and Round" cycle underneath the more legato and seamless melody on Libby's vocals, providing am easy to follow through line that's enhanced by other consistent instrumental nuance like a prominent shaker and a briskly paced, jangling tambourine. Not to mention, this opening song gets quite a nice sliver of rock style punch to amp up the music and give it that aurally addictive factor. Sturdy songwriting skeletons like this give Fort Gorgeous's foray into dream-like sound some musical stability via individual sonic anchors and through the more conventional route of overall song shape. In"Chickadee's" gradual but continual aggregation of sound from the start to finish, or, how "Wishing Well" grabs attention with the drop in of a full drum kit and thicker synth tones at the pivotal first chorus – each song showcases differing structural methods Libby explored to keep the songs' momentum unwavering.
Despite overflowing with creative ambition, The Bottom of the Sea comes across as a rather modest debut from Fort Gorgeous – in a commendable way. The songwriting and arranging is given ample thought and attention but the EP never presents an air of artistic inaccessibility. Ultimately, the balance between the imagined and the musically fundamentally appreciated is carefully rationed and, what Fort Gorgeous leaves listeners with is a set of sentiments that provide a temporary sense of wonder that, like a children's fable or fairytale, can be easily embraced and enjoyed.
---
Fort Gorgeous is on the road now, at the beginning of a triple-billed tour with Tommy Siegel (of Narc Twain and Jukebox the Ghost), and Jesse Dylan & the Scaredy Cats. The tour stops in New York City tonight! Full show details below:
Friday, January 11, 2019
Alphaville
140 Wilson Avenue
New York, NY 11237
7PM
$12.00 / 21+
Tickets available HERE
Bottom of the Sea is available now.
Find it on iTunes, cdababy, and streaming on Spotify.
Follow along with Fort Gorgeous through these social media platforms:
Facebook
Twitter (@billylibbymusic)
Instagram
Spotify
SoundCloud