Hotel of the Laughing Tree shine light on new sounds with "New World Sundown"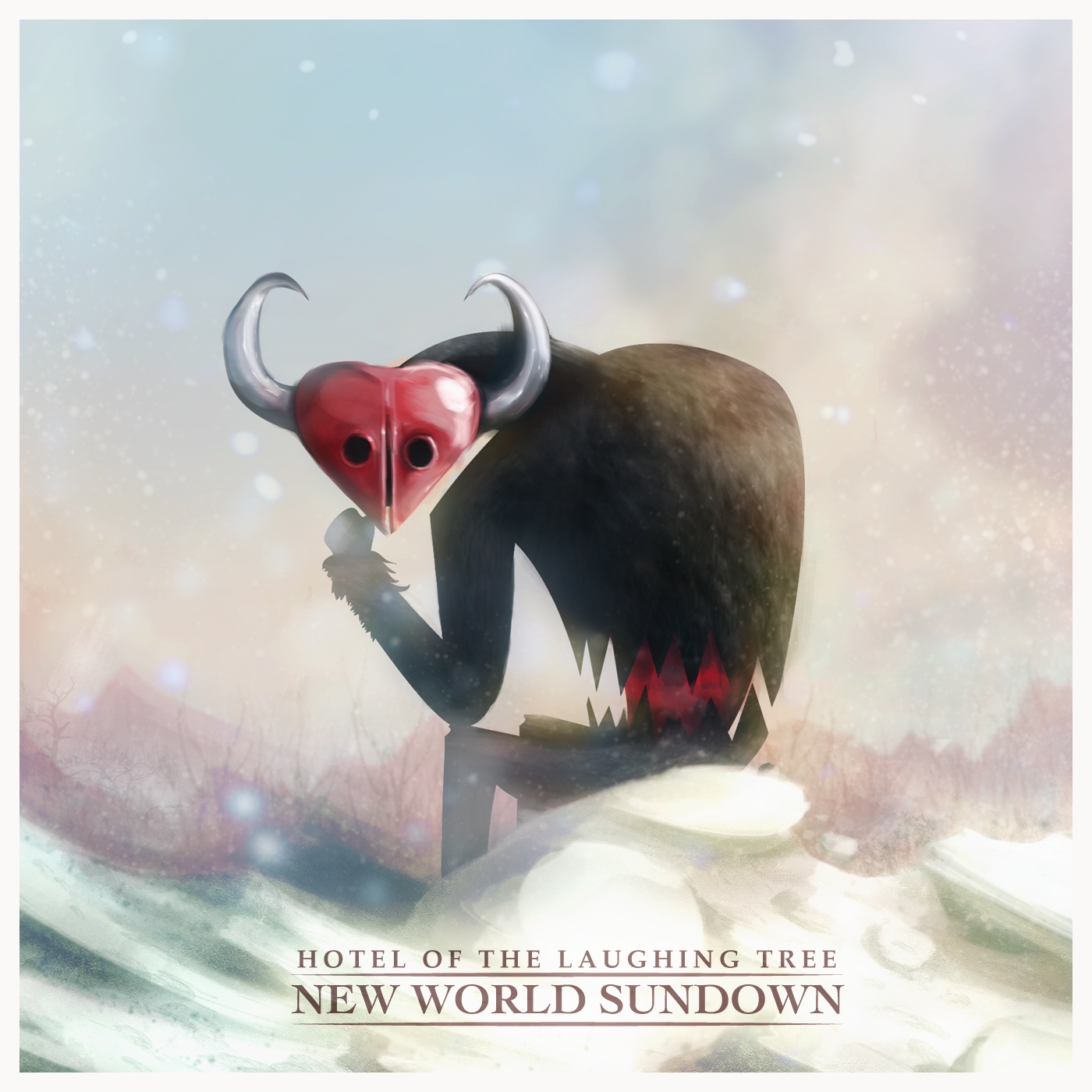 There are certain instances, when significant changes to something happily routine and possessing stacked expectations, like a well established band, can transcend and glide gracefully past said shift –whether the alteration on hand is a round of musical arrangement chairs or, a flat out, hard slam of the lineup reset button. Bands such as these retain a fan driven roar, always enthused in the background between and after releases because, for them, the draw revolves around a stylistic frame and performance aura that does not wane, come hell or high water. These are bands that provide their fans a consistent experience –either in live delivery or through an accompanying emotional benchmark signature to the group's sound.
Indie rock quintet, Hotel of the Laughing Tree, hailing from Long Island, NY, has moved comfortably into this particular space of professional musician existence, following a series of decisions amidst the group's last few releases from 2011 to 2014, that included both a return to independent record production and, the aforementioned changes of a band's lineup.
Hotel of the Laughing Tree is:
(Parts listed are in accordance with the forthcoming release)
AJ Estrada – Vocals, Guitar, Keys, Tenor Saxophone
Brandon Peterson – Guitar, Vocals, Clarinet, Percussion
Jonathon Streker – Keys, Vocals
Fred Ardis – Drums, Percussion
Dan Ardis – Bass, Vocals
---
Knowing this set of transitions has taken place, one could almost say the imminent release of full length album, "New World Sundown," is like a second sophomore release of sorts, following 2014's "Mammoth Skin Part 2," which was an EP-turned-LP project, dropped piecemeal. That said, the sophomore label does not necessarily have to be disparaged by default. When executed and delivered confidently, the second in a group's record arsenal can be a prominent and lasting point of praise as opposed to a lackluster letdown.
"Sundown" sets itself squarely in the category of the former, with or without release related superstitions. An 11 track album, supplying plenty of sumptuously dressed curios, in the form of whimsical titles and a piece of cover art (designed by Estrada) that brings to mind a child friendly touch of Maurice Sendak's "Where the Wild Things Are", an unsettling drop of Pan's Labyrinth and a not-so-far mental hop toward "Majora's Mask" of the Zelda video game series – all before ever hitting play – Hotel are making it abundantly clear no corners were cut and that this record was astutely assembled from the inside out, especially given the insight from band member and co-producer, Brandon Peterson:
"Generally on older albums, [lead vocalist], AJ [Estrada], would bring a mostly fleshed out song to us and [the rest of us in the band] would fine tune it. This time around, AJ came with just a few fleshed out songs and then a bunch of acoustic ideas. Everyone in the band brought their own ideas to the table and the ones that we felt were good enough became final album songs."
Now, reflecting on the music itself, start opening track "Brussels" and a quasi-arpeggiated pair of minor, four note motifs sneak in on guitar. Rhythmic synthesizer lines and some other, noticeable but not overbearing, electronic parts make themselves known. Yet, not much more than 30 seconds past and the heart of Hotel's steady and dependable rock foundation swoops in amidst the electronically sprinkled framework; almost as a reassurance to existing fans, "This is going to be a ride of a different route but, don't worry, we're not driving you out to the middle of nowhere."
Estrada's recognizable voice, with an almost equally recognizable use of stylized filtering and splash of vocal fuzz is present right out of the gate. Again though, while many components are comfortably familiar, it is as if Hotel are approaching a previously visited subject matter, just from a brand new angle. The band's core attractive quality as an indie/alternative rock group tends to be their application of uncommon arrangements and placement of instruments atypical to "the rock band outfit" therein, often turning to said uncommon instrumental ingredients as the cruces of memorable melodic hooks.
This time around, "Sundown's" unconventional factor is not cast as straightforwardly by way of instrumentation and its prominent placement in the mix but instead, through choices happening at the composition stage; like use of bent tones, recurring group vocals and, to give a specific example, a tritone interval in the aforementioned eight note hook, that is just shy of a descending pentatonic minor blues scale. Having that in one's ear, mildly overdriven blues rock is not too far-fetched a characterization – even more so if one considers the rise in bands with "that grittier (garage) blues sound" that has caught the public's ear in the last couple of years. (a la Rival Sons, The Black Keys and Cage the Elephant, to name a few)
Still, despite channeling what could be called the "comeback genre of the moment," Hotel have not lazily slapped that sticker on top of their work. The level of performance and production polish showcased in Hotel's 2011 record, "Terror & Everything After" is well retained, which is even more impressive, given this record's DIY status –it being done almost entirely from within the band's new, self-constructed studio in Wantagh, NY.
It becomes clear Hotel's compositional choices are for more than just a one or two-track genre emulation, with chromatic sequences recurring, ("Crook in the Gold" opens with a second, slowly descending one), inclusion of saxophone and organ parts, and, lively syncopated patterns for both the rhythm and leading melody parts. (Blues loves them dotted notes!)
---
Thematically, or at the very least lyrically, there are a fair number of references to things like ghosts, spirit(uality) and loss (Aging Archimedes, for one example, describes, "A girl I've forgotten with my soul attached / to the ghost of my former self…Don't you know / it's impossible to feel it when it's gone.") which, on the one hand, makes "Sundown" initially seem like it would be a depressed record but, it could also pair with the tonal blues elements and prominent horn parts to call up the spooky side of Louisiana's French Quarter. Additionally, things like hand clap support parts and major key acoustic guitar intros ("Pyramid Song (The 3rd and 27th)") put Hotel back in that playful space for which they are also well-loved. The group balance the compositionally more crooked well, with more clean-cut cheer, as is evident with "Duo" –a track that is practically begging for a play on words with doo-wop, undeniable in the song's foundation. (Interestingly enough given my above comments about the French Quarter, there's a line in this song, saying "Bring me back to New Orleans.")
The second half of "Sundown" continues a dance of simultaneously offering self-contained concepts, where the feel of individual tracks fit like a glove with the lyrics and or title of their respective songs, while also throwing in dashes of elements already visited, that provide record length cohesion. ("Hurricane Music" accomplishes the former nicely, given its back story of composition involving Hurricane Sandy and the destruction of Hotel's previous studio in 2012. Gentle, almost reverent sounding ooo's accompanying Estrada's slightly belted, raw vocal, evoke a touch of gospel reverence.) This is not to say that there aren't reflections of pure sporadic inspiration anywhere on "Sundown." Track nine, "Temple Arms" – and its rather cacophonous intro in particular – can well attest to that. Furthermore, this song presenting an almost erroneous factor is actually a good thing since, up to this point, Hotel's steadiness and the repeated use of the filtered, vacuum tube style vocal starts to feel like a mask of excess; almost too consistent, as well as potentially taking away from being able to truly hear Estrada for who he is vocally, despite the end result being well made.
As "Sundown" winds down, the above mentioned risk of aural wear recedes, as Hotel seem like they are reigning things in with penultimate track "Stray;" taking the tempo and the complexity down a degree and drawing attention to a very Ben Folds-esque piano motif conceived by keys player, Jonathon Streker. Ultimately however, the band chooses not to travel this road of predictability either, even if they have been pushing their hardest through a whole album and it would indeed make sense to steadily tie up the end. Listeners might believe the bottom of the album's incline can be seen and comfortably approached but, prematurely hitting cruise control on one's ears leaves the perfect opening to surprise with a tight turn via all-inclusive finishing track, "A River in the Woods," that is anything but a standardized song. Instead, they part from listeners with a burst of energy that, as opposed to feeling like an explosive and reckless end of a second wind, is assertive but mindful and crafted with controlled thought –much like a car capable of racing at 160mph, driven by a calm and collected driver no one fears will suddenly careen off the road.
Hotel's listeners, new and seasoned, need not come to the stereo with reservations when cueing up "Sundown," as this album has been prepared for any and all to arrive with intrigue and remain solidly satisfied through the entirety of their sonic stay.
You can listen to "Howlin' Lessons" below and look forward to more songs leading up to the release date.
Tracklist
1. Brussels
2. Crook in the Gold
3. Aging Archimedes
4. The Generals Girl
5. Pyramid Song (The 3rd and 27th)
6. Duo
7. Howlin' Lessons
8. Hurricane Music
9. Temple Arms
10. Stray
11. In a River in the Woods
---
"New World Sundown" comes out 1 February 2015 via all major digital retailers, will be available for streaming on Spotify and will also be available for digital purchase from the band's official Bandcamp page. A limited run of physical copies is projected for the near future.
Hotel of the Laughing Tree will be celebrating release of the album with a show scheduled for Friday, 6 February at Long Island's Brickhouse Brewery and is hosted by Live Source Long Island.
Supporting bands include:
Sojourner  
The Republic of Wolves
67 West Main Street
Patchogue, NY 11772
Admission is +21.
Cover for the show will be $5.00.
Doors: 10PM
Keep up with all things Hotel of the Laughing Tree, and specifically the upcoming record, through these outlets:
NewWorldSundown.net
Facebook
Twitter
Bandcamp
AJ Estrada's artwork can be found at AppleJuiceMagic.com
New World Sundown was completed between April and December 2014, partially recorded at VuDu Studio in Port Jefferson, NY and was mastered by Dan Bouza.