Find your latest keepsake in Souveneer's "Dream Journal"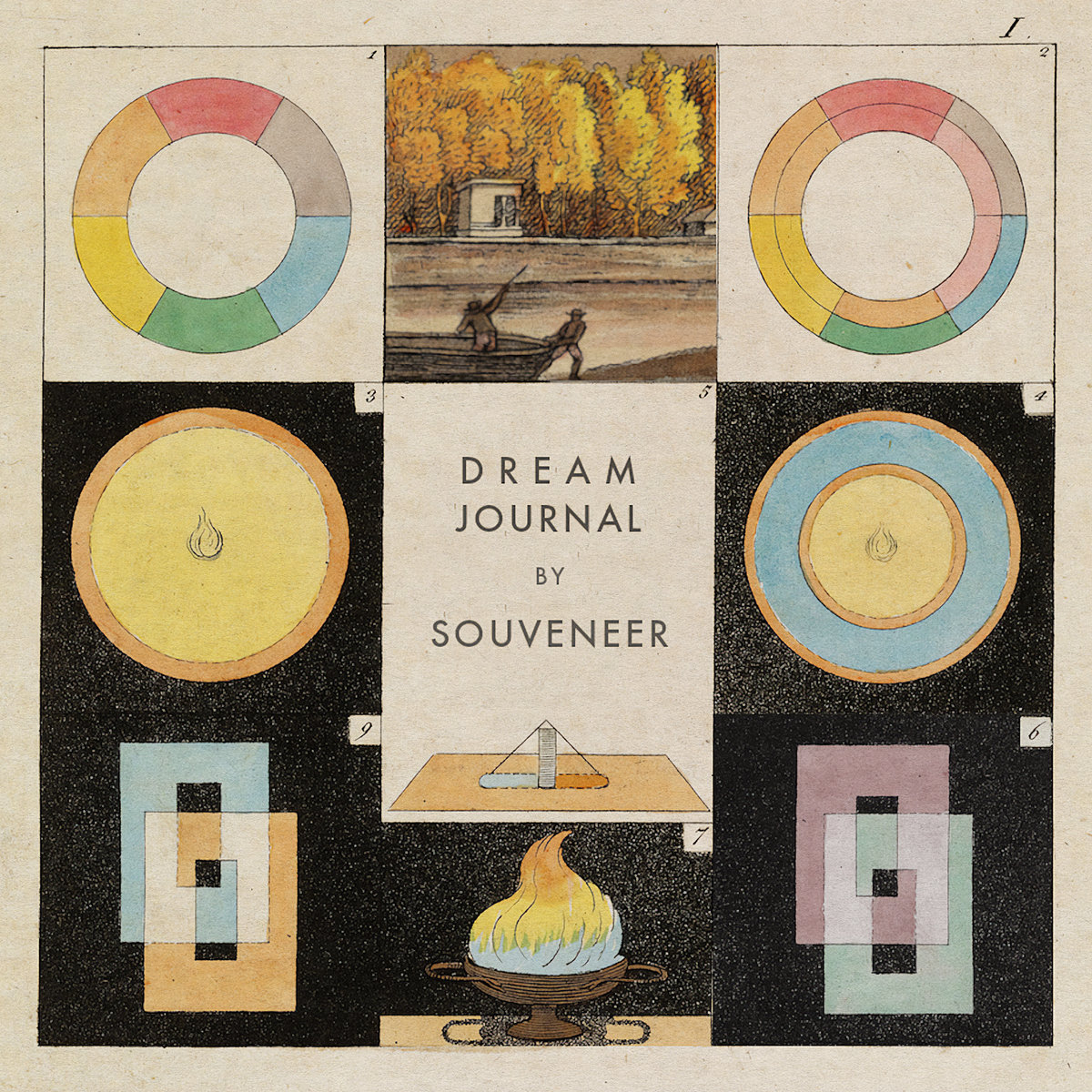 The reasoning for someone in an established band to pursue a solo record can stem from a wide range of places and personal motivations: interest in self-promotion, divergence in lyrical messaging from one's original band, interest in new styles of musical composition, a need to keep things creatively fresh, or perhaps all of the above. In the case of singer-songwriter Mason Maggio and Dream Journal, his latest release under the solo moniker Souveneer, the new album is no ego-fueled endeavor. All the same, as the front person of Long Island, NY band Republic of Wolves, Souveneer does provide Maggio a wide landing pad for differentiation from his alternative post-rock group counterparts.
While not Maggio's first release as Souveneer – and not even a full length record at that – Dream Journal still manages to position itself as a perfect point of entry for anyone not familiar with his previous solo work as Souveneer. The EP's sound and style across its seven tracks are not only cohesive in an "old-school, full record listening experience" kind of way but, its contents, both sonic and lyrical, reflect a notable turning point for Maggio himself toward writing songs in whatever way and with whatever messages that felt most honest and open with himself, without being "too self-critical to create things freely on [his] own," as Maggio said he had previously. Thus, no matter what, Dream Journal sets itself apart from the rest of Souveneer's five year spanning discography that began with Merit Badge Season in 2016.
Though Maggio doesn't go into explicit detail about what brought about this fundamental change in mentality, it's easy to connect the idea of creative and personal liberty with the music of Dream Journal. The immediate and prominent use of reverb on the guitar and Maggio's vocals that open "Real Life" set the EP off on an ethereal and aurally spacious note. They make a fitting pair of qualities for a record that references dreams, while also feeling simultaneously ironic in their application to a song titled "Real Life." Nevertheless, The song's calm tempo and grandiose sound stage add to the idea of limitless contemplation on Maggio's part, as the lyrics reveal the inner rumination and feelings of someone in the midst of quiet questioning and personal evaluation.
I feel like a figure skater waiting for summertime
a non-believer on the lookout for cloud signs
lost in the dictionary entry for real life
I really hope there's another kind
– Lyrics from "Real Life"
The use of contrasting imagery in Souveneer's similes seems basic at first. However, give each line just a bit more consideration after their initial impact and the imagery really starts to prompt reflection on the state of what one would be feeling if those were the ideas used to articulate someone's accompanying emotions. For each listener, it prompts the question: "If this were me, what does this set of opposing ideas translate to in terms of my emotional process?" And in a way, one could say this reactionary question is the lynchpin that carries through all of Dream Journal's songs. It's a connective enough query to come up again and again whenever vivid symbolism or unusual metaphors make their way into a track's verses, serving as another element of cohesion alongside the music's billowing and airy aesthetic. Despite being early in the EP, it's not hard to envision the style of Dream Journal meshing extremely well on a bill or playlist with the likes of Side Saddle (circa "Young Professional EP") or Brandon Peterson's more solo-oriented records (see "Collective Memory"), from Cloud Caverns discography.
The fact that Maggio has chosen to stick with this style so decisively is a testament to his commitment to write and record what moves him most at this time and from the standpoint of honoring one's inner artist, it's a choice worth celebrating many times over. Meanwhile, from a logistical standpoint, Dream Journal is not the kind of record intent on providing a dose of sonic contrast to match that of the lyrics' concepts. This isn't a bad thing; the choice simply sets the EP to its chosen emotional temperature and for those seeking an eventual aural palate cleanser of sorts – something to cut through the peaceful, self-reflective mist that's firmly rolled into the sound of this record – Dream Journal isn't prioritizing that kind of functional compositional balance the way other records might.
Midpoint track, "St. Saitta," does give the drums more of designated presence, as they punctuate lead the song's beginning hook with splashy snare hits whose decays ripple just a moment longer thanks to the extra space of the recording's "room." This shift in focus from loose and light tones to sounds with much bolder definition and inherently louder dynamics makes for some degree of a break but the quick to the follow emergence the vocals keeps the music from falling out of its dream-like musical setting. Overall it's a louder track but without breaking the EPs reverie, one could almost see this as a listening apex, particularly given the song's place in the track list.
The EP gradually descends from there, with closer, "People Hold Candles, Nora" ushering in one last gust of instrumental change that manages to leave listeners with some spontaneous intrigue while again, not breaking the EP's generally established sound. And as far as changes go, the inclusion of synthesizer tones, soft in both their dynamic performance and timbre, combined with the echoing nature of Souveneer's music to give the song a style that aligns with chill indie synth-pop of the early 2000s/2010s. And even though percussion is somewhat elevated again in this track, the specific style of percussive sound Maggio chose to use doesn't steal the spotlight. An eighth note patterned electronic drum loop with beats that exude a light, brush-like splash and further intermittent beats that sound like casual, flat stick clacks captured from a distance, each help to move "People Hold Candles, Nora" forward with a slightly more energized pace without disturbing the underlying emotional mood.
Whether looked at for its individual musical route or in the context of its position as Dream Journal's finale, "People Hold Candle's, Nora" gives a classic and quite satisfying ending to both itself and the EP as a whole. The song's more classic full band climax with guitar, bass, drums and full unison play at the peak, eventually narrows itself down to delicate, waves of sustained synth tones and the subtlest plucking of that same reverberating guitar from the beginning, its touch of separate tones sounding the way a soft light captured with a little photo depth looks. The sonic distinction can be heard but it's meant to be a complementary element and let the sound fade away naturally and without a distinct moment of stoppage – the same way no one can quite pin point the exact moment when a dream ends and consciousness begins.
---
Dream Journal is available now.
Find it on Bandcamp, iTunes, and stream on Spotify.
Keep connected with Souveneer through these social media platforms:
Facebook
Twitter (@masonmaggio)
Instagram
YouTube
Bandcamp
Spotify