You read that right: Tigers on Trains return with "Penmanship" single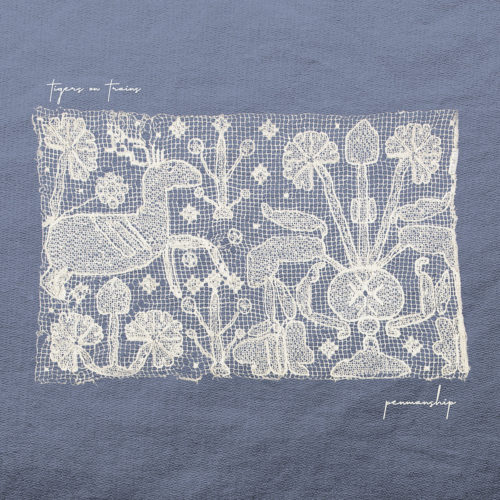 Ever have a piece of new music surface by an artist or band so purely enjoyable that the thought of dissecting it in a severely microscopic manner seems almost like it would be a disservice to the potential of the music's overall experience?
Enter: Tigers on Trains' new single, "Penmanship."
Whether or not one has heard of Long Island, NY duo Tigers on Trains really makes no difference where this short but sweet single is concerned. Though hardly a new band as one that's been making music together since 2009, a nearly five-year hiatus since the duo's last release, Antarctica in Color (independent, 2014), makes this small release feel extremely noticeable in the best way possible but not solely for its sudden emergence.
Tigers on Trains is:
Mason Maggio
Christian Van Deurs
Aside from Tigers on Trains' long running tenure, some fans – especially those local to its Long Island roots – may recognize both players from their roles in fellow Long Island band, The Republic of Wolves. Yet, again, whether or not this larger band's far more aggressive style of alternative rock existed on a person's radar before now would make no difference as Tigers on Trains, despite its striking image of a name, channels a far more delicate sound than its canidae-referencing peers via finger-style fueled guitar folk. This side-project / second band expansion feels reminiscent of groups like Hotel of the Laughing Tree to Cloud Caverns and This Old Ghost to Side Saddle; though the canyon of contrast between Maggio and Van Deurs' two bands is more drastic.
Hit play on "Penmanship" and the quick sparks of associated artist thinking keep coming. The crisply captured quality of the sole guitar arpeggiating the song's main motif, paired with Maggio's opening musings of somber reflection (There's a cold in my system that stays up all night / There's a phone in the kitchen that never rings twice / There's a long list of reasons I'm coming up short / And not one of them will reason with me) echoes a tinge of The Shins of the early 2000s. And once Van Deurs joins in with perfectly aligned harmonies that run along minor thirds, perfect fourths, and beautifully satisfying octaves for the second verse, the two gentlemen's blended voices take on a tone and sonic quality that feels softly rounded in its overlap. Then as the song moves to the first chorus, this somewhat aurally blurred character only increases, evoking an experience that sounds the way the blending of airbrushed paints or powdered pastel chalk looks. Keep going to the instrumental interlude and the introduction of a pliable saw-like tone bolstering the guitars' main melody adds yet another layer of unique lo-fi character, and a moment of nostalgic recollection for the occasionally odd sounds (which sometimes included a saw) of Jeff Magum's Neutral Milk Hotel. Despite these lo-fi elements,  what's heard not at all suggests lazy or short cut production.
If anything, the subtly old-fashioned nature of Maggio and Van Deurs singing together just ushers in thoughts  of more timeless and widely enjoyed folk artists, like Iron and Wine. This isn't to say of course, that "Penmanship" and-or Tigers on Trains as a whole, are merely a product looking to copy or be a direct substitute for any of the many aforementioned bands here. Rather, the beauty of "Penmanship" and its peer-evoking song style is in its carefully restrained venture into shared stylistic space. Similarities rain down with this song but not so much that Tigers on Trains isn't its own entity. Maggio and Van Deurs are not trying to be anyone else and they are definitively recognizable as themselves – both in voice and in the overall composition of "Penmanship" itself. But they harbor enough mutual hallmarks that it's easy to envision the duo put on a show bill with any of these others and be enjoyed by everyone separately but in unified, interconnected experience. In this case, the likening pans out to the degree of knowing what to expect when attending any kind of single item or pop culture festival – metal music, books, tattoos, wine, etc. – everyone present will be showing off the same kind of offerings but that doesn't mean the gathering will lack individuality and an encouragement of nuanced appreciation.
Considering the extended break, "Penmanship" makes for an interesting revival. The song is reserved and exudes an audible kindness in its more despondent words. Yet, even with such an unassuming musical character, when listened to with sincere intention, "Penmanship" has the ability to make an emotional impact as pleasant, enjoyable, and directly affecting, as any isolated single of far more sonically demanding proportions. Tigers on Trains rolled back into the station without much fanfare but that doesn't mean people won't notice this song and tag along after hearing it.
---
"Penmanship" is out now. Find it on Bandcamp.
Keep up with Tigers on Trains through their official Facebook page.
Check out the band's back catalog through iTunes and Spotify.