Ghost Pressure shine brightly through a "Sunless Dawn"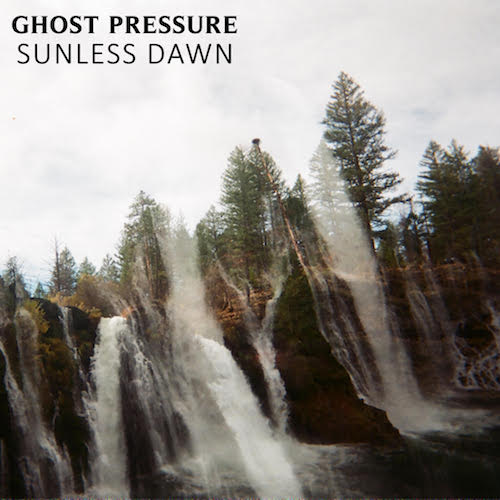 It's incredibly easy to go in search of new music and find that the primary source of inspiration for much of what's out there, is meant to create songs for providing an escape from the weighty, more serious, and often stressful aspects of everyday real life. Just listen to nearly every pop anthem written in time for summer or for a night on the town. Less common, are songs that demonstrate bands are not only willing, but enthusiastic about highlighting a lyrical topic that creates more questions than answers and instills more introspective thinking than external release – especially when the band in question is still intent on presenting conceptual questions in a melodically memorable and appealing manner.
Long Island, NY quintet Ghost Pressure have long embraced this uncommon pairing of complex human concepts with a fluid and relatable songwriting style. Following the addition and formal introduction of vocalist Lauren Diehlmann (Killer Wails, Ninja Tree House) with last year's single, "Tidal Shift," the continually rising indie rock group is showing no signs of its interest in heavier narratives to be waning. Rather, now comfortable with their newly intertwined sound and style of arrangement, Ghost Pressure reveal new single "Sunless Dawn" and, along with it, the sense of freedom that comes from fully meshing together and becoming that much more free to concentrate on telling unexpected stories over having to work on practical adjustments.

While Diehlmann's entrance and the writing of "Tidal Shift" were a large step outside of familiarity for both Ghost Pressure's fan base and the band's own musical methodology – integrating more harmonically driven hooks and polyphonic vocal lines more akin to choral arrangements – "Sunless Dawn" serves as a solidification of this evolution in direction. Not a song about new love, old love, social rebellion, or having a party, "Sunless Dawn" contemplates a question that is simultaneously super specific and extremely universal. The track is a recollection of a few memories in Diehlmann's life: remembering what the sound of her grandfather's voice was like, and remembering the reality that hit her when listening back to videos that featured the patriarch speaking. The singer found herself coming to terms with the disparity between her own sensory perception of the voice she thought she recalled and the subsequent memories that got built around it. That story is Diehlmann's own but everyone has a first sound and subsequent sounds or voices that become special parts to one's life story and so, the reflection on what it means to retain and recall those sounds is something anyone can find intrigue within.
Diehlmann has taken to the post of lead vocalist with confidence thus far. Though her voice is still a key piece of the arrangement, on "Sunless Dawn," Diehlmann is able to spend a good amount of time singing in the upper register of her voice (during the ever crucial pre-chorus and chorus of the song to boot); really showcasing the light and mildly more formal aesthetic of her singing style. The contrast of this very expansive and delicate tone with Ghost Pressure's classic leanings toward defined, metallic, and densely layered guitar and bass tones might seem like a crash course in arranging with oil and water. However, the two styles don't avoid one another or feel forced. Such might be the case if Diehlmann's voice were weak or her technique less aware and possibly littered with things like excess breaths. Yet, there are moments in the latter half of the track especially, where she provides plenty of breath support behind her increasing volume of tone, giving listeners a truly full-bodied sense of singing that can stand up to the rest of the band, as opposed to creating friction with strained belting, which is a commonly befallen habit of some more commercial singers.
Blended altogether, the alternating guitar tones of clean and smooth notes with more edgy and sustained notes work with the low end pulsing (but not overwhelming) momentum of the kick drum and bass to create a somewhat clean industrial sound not far outside of the realm inhabited by Paramore during the years of Riot (Fueled by Ramen, 2007). Ghost Pressure are not chasing pop punk glory by any means but earlier work by the Tennessee band did occasionally have a more steady alternative rock style of writing (see "When It Rains") with which "Sunless Dawn" seems to coincidentally recall a bit of sonic resonance. However, perhaps that's just a matter of individual perception…
Now fully past the period of trepidation that follows a dramatic line change, this new era for Ghost Pressure is proving to be exciting and full of potential on all fronts. After two great outings, the only thing that the band is at the mercy of now, is the momentum of the players' collective imaginations and how fast the band can book more studio time with producer Ray Marte at Westfall Recording Company to get a full batch of songs cut to tape.
---
"Sunless Dawn" is out now and available for purchase via Bandcamp, and streaming on Spotify.
See Ghost Pressure live at PIANOS on 31 March. Full show details are below.
Doors: 6:30PM / 18:30


$10.00
21+

Tickets available
HERE
.
Keep up with Ghost Pressure through its official website and these social media outlets:
Facebook

Twitter (@GhostPressureNY)
Instagram
YouTube
Bandcamp
SoundCloud
Spotify