Ghost Pressure's "Tidal Shift" packs waves of musical texture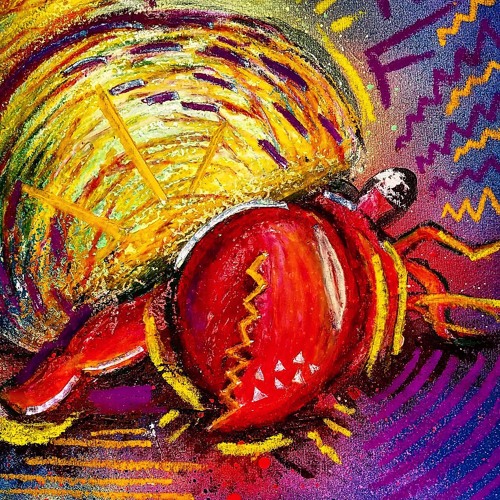 There's something about the name Ghost Pressure – the Long Island, NY based indie rock band (Lauren Diehlmann-Vocals; Nicholas Post-Guitarist, Vocals; Dave Hodgkinson-Guitar, Vocals; Nicholas Femister-Bass; and Karina McMahon-Drums) behind the Chance EP (independent, 2016) – that sets the band up for musical flexibility. Pressure makes one think of intensity and force, while the idea of a ghost brings to mind thought of something ethereal, light, and delicate. Whether the sound is heavy or the lyrics are gentle, either seems to fit alongside with the band's contrasting moniker. While the band's name has always been what it is since day one, this conceptual dichotomy could not be more fitting for the quartet-recently-turned-five-piece. Having joined creative forces with singer and songwriter Lauren Diehlmann (Killer Wails, Ninja Tree House) back in fall 2016, Ghost Pressure are showcasing their freshly fused musicality with a new studio-recorded single titled, "Tidal Shift" – the result of which can only be described as taking the band's sense of contrast to an even more defined place.
One of the most prominent style preferences Diehlmann was excited to bring to Ghost Pressure in her new role as lead vocalist, was that of applying distinct harmonies. Despite the fact that harmonies are a thing praised – often excessively so – from one group to the next, many times over, in countless popular bands of today, Diehlmann's objectives lay beyond simply "having lots of voices singing together at once." Though "Tidal Shift" is noteworthy for several reasons, it seems fitting to spend some time admiring the newest element of Ghost Pressure's sound.
A singer with a voice that projects a smooth, well-rounded, and expansive tone that can rather effortlessly fill a room, Diehlmann encouraged Ghost Pressure to embrace the possibilities offered by polyphonic harmonies that align with her vocal quality. The result, as heard in "Tidal Shift," is a song's worth of lines that not only blend because of the literal notes chosen but also because of the way Ghost Pressure has come together to deliver those notes: the vocalized shape of the words, the depth of the breaths behind each sustained note and, the way each piece of the polyphonic puzzle has been laid out. Not to mention, the reverberating and gradual crescendo aesthetic achieved by producer Ray Marte, that's heard throughout the song (with a particular nod given to the rising backing vocal heard at around 1:42), which shrewdly applies the tools of the studio to enhance, rather than drown out, this sense of synthesis that Ghost Pressure is emphasizing.
During the main verses, Diehlmann stands at the helm of vocal duties; her new voice bursting forth like a splash of unexpected color on a white canvas. Things open up in the chorus (Growing pains come with change) and though Diehlmann is still the point of vocal focus, "Tidal Shift" indeed moves to reveal a taste of Ghost Pressure's new melodic potential with the band achieving a grander sense of dynamic presence via Diehlmann layering multiple sung intervals (including a less common but flawlessly placed 9th!), as opposed to simply playing louder or crowding the mix with a potpourri of instrumental randomness for plain shock factor.
In the bridge (No one said this would be painless) – which comes across as the clear apex of the song's richness – where other members of the band do chime in on vocals, the group doesn't just use a straightforward, "1, 2, 3, everyone sing!" approach. Rather, the band opts for a carefully considered staggering between one voice and one note to the next, creating a flourishing, step-wise harmonic progression that unfolds like an elegant paper fan and elicits a series of pristine moments where Ghost Pressure becomes a choir. "Tidal Shift" might be demonstrating Ghost Pressure's overall transition to a new artistic chapter, but it's compositional decisions such as this, that truly exhibit how the new lineup is much more than merely adding a new voice at the front mic.
Underneath the new blends of vocal sounds, Ghost Pressure's core propensity for themes orbiting inquisitive contemplation still remains, as does its established assertiveness with regard to crisp, metallic guitar tones and a prominent bass presence. The latter opens "Tidal Shift with a solid hook (featuring an uncommon minor seventh interval that's destined to become the signature for when people will shout, "Ooo, I know this song!" only two seconds into the track), which is given even more punch by pairing with McMahon's steady pulsing on the kick drum and hit hat,  and is then all brilliantly stacked in a rhythmic pattern that again, staggers, over simply carbon copying on top of one another.
When listened to and process together, "Tidal Shift" lives up to its title on every available level. Lyrically, it tackles the difficulties and uncertainties of change, melodically it's shown Ghost Pressure to now incorporate methods of blending were previously un-utilized, and rhythmically, when several parts are heard simultaneously, their placements and durations absolutely create a feeling of continual movement – like the steady motion of icebergs in the arctic or the sliding of pebbles toward and away from the ocean shore. Representing the introduction to Ghost Pressure's new transformation, "Tidal Shift" is a near perfect embodiment what it means for a band to fully and gracefully integrate severe change without completely abandoning one sense of identity for another.
---
"Tidal Shift" is out now and available for purchase via Bandcamp, and streaming on Spotify.
Stay connected with Ghost Pressure through its official website and these social media platforms:
Facebook
Twitter (@GhostPressureNY)
Instagram
YouTube
Bandcamp
SoundCloud
Spotify