Foxtrax are making tracks: In the studio and to the stage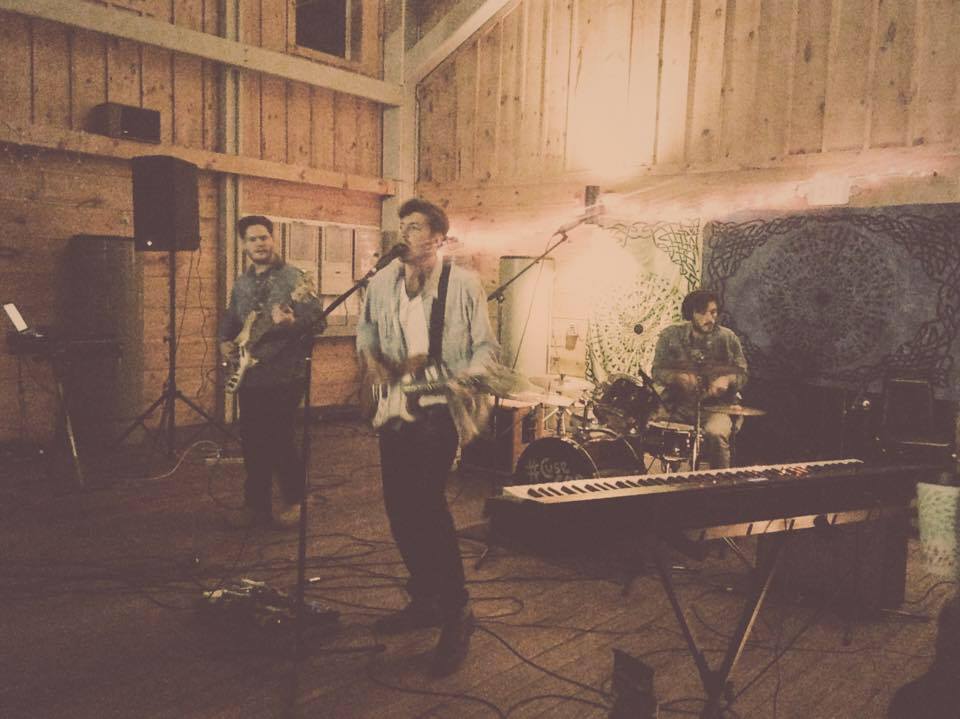 New York City is a like an ever-alluring trap for musicians. The east coast metropolis is a city boasting of never-ending potential but also a simultaneous never-ending sea of competition. When a band is young and just settling into what will become the roots of their story, this famed place can be one of the hardest to bond with because of the sheer volume of others out there, walking the same streets, hoping for the same things and sudden success is usually a turn of phrase reserved for the vein of reality television.
However, New York trio Foxtrax, who only came together earlier this year, have managed to step out onto the streets of New York and introduce themselves to the city with a sound and synchronicity that projects a band who see themselves, and the music they play for others, both as things that are already seasoned and successful –even if their short time as a band might make one first think otherwise.
Foxtrax are:
Ben Schneid (Guitar, Vocals, Keys)
Jared Stenz (Bass)
Jon Stenz (Drums)
The three gentlemen of Foxtrax have shared bonds of brotherhood and friendship prior to forming their group but in just a few short months of coming together as a band, this threesome has crafted a style for their music that is at once widely approachable and familiar, while also retaining a slice of character that leaves their brand of indie pop-infused classic rock safe from direct cookie cutter comparisons.
Today, Foxtrax have just released a new single titled, "Go It Alone," which comes off their forthcoming debut EP, "Everything is Anywhere" slated for release on April 30, 2015.
Check it out below!

Aside from the fact that new music from a promising new band is always an exciting line to read, both this new single and the imminent extended play foreshadow Foxtrax as being a band above the crowd. Not only is the music itself strong, but, this track, along with the rest of the EP, were recorded, mixed, produced and mastered entirely by the band – an aspect of the music process not every new group can likewise tackle – and do so well (from a mountain cabin in Murphy, NC) to boot.
Clocking in at just shy of four minutes, "Go It Alone" starts out with just a touch of misdirection. Schneid's rhythm centered guitar line and a gallop-like drumming pattern present listeners with two varying but still syncopation-focused motifs, both heard within the first ten seconds. Snappy snare hits and a double timing tambourine in the background make the song present like an upbeat clap and dance track. It's only when Schneid's vocals kick in, just under half a minute past, that the projected feel of the track takes on a distinctly different color.
I grew up with all these houses on my street.
Each one looked the same.
Now I yearn so hard to get out on my feet.
So I run,
to where it's calling for me…
Contrasting with the very even and repetitious foundation laid down by the instrumental parts, Schneid's vocal part integrates rhythmically among the rest, with much more flow. (The moderate but not over extended amount of reverb and delay on his vocals also give a flowing and "larger than life" feel to the very self-empowering message Schneid sings.) The lyrics then pair with Schneid's unique vocal timbre to immediately offer a setting, narrative and a ruling inner mentality; things which prompt more care taken when listening than simply dancing along. Listeners need not feel intimidated by this bid for more substance however, as Foxtrax have kept the traveler's introspection to an easily digestible level and balanced the music with a chorus-turned-title that is just simple enough to put the song back toward sing-a-long territory. (You can go / you can go / you can go it alone / You can make it on your own.)
Nevertheless, while this chorus has definite self-perseverance, "anthem power" written all over it, the propensity for anyone to sing this hook back to the band should not lead others to mistake the song as one of shallow inspirations and simply designed to get a crowd going. The inclusion of a slick and very organic, bluesy guitar solo by Schneid, within the instrumental bridge, cements the artistic authenticity of this song –even throwing a nod to the blues/soul passions of the Stenz brothers' previous musical pursuits.
Each of the components to "Go It Alone" interlocks with the others in the smoothest of ways; all of it steadily glowing underneath a framework of astute production and confident, well-practiced performance that make it clear Foxtrax have plenty to show and tell  –both to the music industry and the many music lovers out there. "Go It Alone" is just the song for those who have been yearning for something for which they can instantly start rooting without needing to wait. That might sound too good to be true but that sentiment might just be what makes it clear Foxtrax isn't your average New York City newbie.
---
Those in fact already wanting to hear and see Foxtrax in action can celebrate: The band will be playing in Manhattan this coming weekend. See below for details.
(And look forward to their album release show on May 2, 2015 at Pianos!)
Foxtrax Live at The Bitter End!
The Bitter End
147 Bleecker Sttreet
New York, NY 10012
Date: Saturday, April 11, 2015
Time: 9PM
Cover: $10
+18
You can find Foxtrax and keep up with all their work through these social media platforms:
Facebook
Twitter (@Foxtraxband)
Instagram
YouTube
Bandcamp