The Mountain Goats tag in many styles with "Beat the Champ"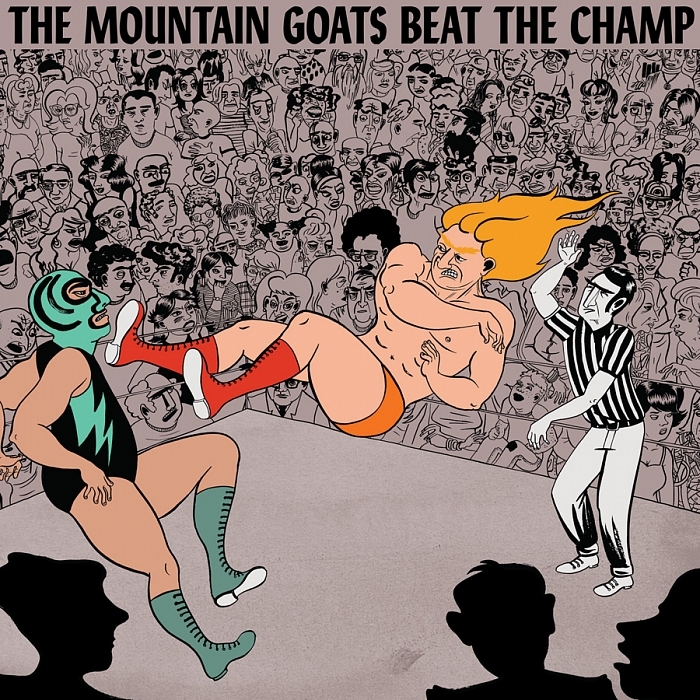 It, most likely, would not be an unreasonable assumption to believe that someone who is a diehard fan of the Mountain Goats and who has been following their music since the band's humble beginnings in 1991, would not have a difficult time coming up with some sort of review for this newest installment – the band's 15th studio album – "Beat the Champ." Whether good, bad or somewhere in between, such devout attention paid to a group's lengthy discography would certainly leave one with plenty to say, one way or the other.
Conversely, choosing to approach "Beat the Champ" with a brevity that easily marks one as a new fan might seem like a massive disservice, but, as an opening statement, let it be comfortably said that:
A lack of a relationship with the Mountain Goats's legacy does not leave this album any less enjoyable. "Beat the Champ" is a record with a copious amount of character, containing more than enough layers on all sides, to generate fascination as a stand alone work.

Beat the Champ Track List
Southwestern Territory 4:14
The Legend of Chavo Guerrero 3:00
Foreign Object 2:51
Animal Mask 2:54
Choked Out 1:42
Heel Turn 2 5:58
Fire Editorial 3:22
Stabbed to Death Outside San Juan 3:48
Werewolf Gimmick 2:34
Luna 3:27
Unmasked! 3:28
The Ballad of Bull Ramos 2:53
Hair Match 5:40
The 13 songs that comprise "Beat the Champ" are, in some ways, offering up core parts of the same songwriting style that leading man, John Darnielle, has come to be known for among his longer time fan base. The songwriter-recently-turned-author (See the New York Times Bestseller, "Wolf in White Van") is very much a narrative-heavy lyricist, with his songs typically unfolding in an un-intimidating manner; much like that of an innocent storyteller's tale. (Whether or not the story reflected in said lyrics ends up nurturing a deeper, more mature, metaphor is another matter entirely.)
This affinity of Darnielle's can be appreciated, regardless of whether or not it is something heard through expectant ears and his song form of choice is very prevalent throughout "Beat the Champ." Three of the tracks have titles alone that read like fables with varying degrees of seriousness. ("The Legend of Chavo Guerrero," "Stabbed to Death Outside of San Juan" and "The Ballad of Bull Ramos.") Darnielle's intended album long cohesion via the theme of professional wrestling is easily spotted as well, through everything from vernacular and theme-laden song titles like, "Unmasked" and "Choked Out," to the album's cover artwork, among other elements. As he explains in a quote shared via Merge Records,
"'Beat the Champ' is about professional wrestling, which was an avenue of escape for me when I was a kid. Wrestling was low-budget working class entertainment back then, strictly UHF material. It was cheap theater. You had to bring your imagination to the proceedings and you got paid back double. I wrote these songs to re-immerse myself in the blood and fire of the visions that spoke to me as a child, and to see what more there might be in them now that I'm grown."
This background and inspirational context illuminated by Darnielle certainly provides the long time fans with plenty to mentally chew on; adding this newest coat of insight to the lineage of places Darnielle has been – mentally, physically, emotionally and spiritually – throughout the time that has elapsed alongside the Mountain Goats' many albums. Thinking of "Beat the Champ" as a single entity however, and coming to understand and digest how this fantastical activity of wrestling stands in as a placeholder for what Darnielle explains is, "surprise surprise…really…about death and difficult-to-navigate interior spaces [more] than wrestling," reveals an intriguing exploration to listeners.
This journey, in the form of a record, manages to rather effortlessly present a neatly wrapped duality between the juvenile and the mature. It does so without feeling either like a laggard gimmick or contrarily, without trying excessively hard to be amusingly witty simply to meet some sense of a conceptual identity, manifested and upheld by fans of the Mountain Goats.
Venturing past face value and quote evaluation, the Mountain Goats's musical decisions over the course of "Beat the Champ" present another pair of impressions, depending on how one processes the music. Played through as a whole, the album initially leaves the impression of a fluid bell curve –with its acme of sorts appearing between tracks eight ("Stabbed to Death…") and nine ("Werewolf Gimmick"), even if the idea of the songs rising, peaking and then descending in intensity does not come to pass with a perfectly shaped predictability.
Speaking more individually about the songs, a few different musical peers come to mind, who might not necessarily be individuals Goats fans think of in tandem with the indie folk trio, but, for an assortment of reasons, peek through on this record.
The prominent incorporation of nicely polished and nimbly playful piano lines, often serving as the melodic rudder when featured, pull up a spotlight on an assortment of chapters in the saga of Ben Folds (Five). There are touches that remind of "Whatever & Ever Amen" (1997), "Of the Sound of the Life of the Mind" (2012) and even bits from "Rockin' the Suburbs" (2001). Darnielle's treatment of the piano, from the notes chosen, to their character of sound recorded to the album, parallels quite eloquently.
---
Looking from the vantage point of lyrics and delivery, the aforementioned darkly-tinged narratives for "Beat the Champ," combined with the delicate blending of other orchestral instruments, recall emotional and structural vibes similarly presented on Duncan Sheik's sixth studio record, "Whisper House (2009)," which features music from an original musical of the same title. "Beat the Champ's" opening and closing tracks, "Southwestern Territory" and "Hair Match" respectively, evoke shared qualities –the first playing out like a musical number and the last tinkering repeatedly between the stability of major tonality with the less-than-comfortable tritone interval as a recurring motif. The delicate, almost recitative-like delivery of "Luna," accompanied by fairly prominent string harmonies, tremolo and the intermittent support of a clean electric guitar, further boost this idea of the Mountain Goats having modern, musical-minded potential. It is difficult not to think back to how this kind of songwriting was part of an emerging trend in arranging that was just hitting a popularized stride on Broadway in the early 2000s. (See the music for shows like Wicked (2003) and Spring Awakening (2006); the latter of which was also composed by Sheik.)
Of course, even if the Mountain Goats never so much as consider the Great White Way, that does not mean their penchant for melody-propelled storytelling is any less clever, even if the stories are contained within a two to three-minute, as opposed to a two to three-hour, period. (Just ask author Nick Hornby and any of the musicians with whom he has collaborated.) In fact, while one can think of show tune type construction with "Beat the Champ," the degree of compositional individualism spread over the 13 tracks keeps the record from fully embracing the level of interlocking connection that musical scores often exhibit. The jazz colored instrumental parts of "Fire Editorial" and the lengthy piano outro-solo of "Heel Turn 2," for example, are what give "Beat the Champ" a great deal of its multi-layered personality.
All in all, there are plenty of listening avenues one can choose to take when playing "Beat the Champ." In this way, it's a record that offers a good amount of replay value. Hear it as a brand new fan and have lots of react to for each of the 13 short stories about which Darnielle sings. Hear it as a loyal long timer and have those inevitable comparison-loaded discussions about the Mountain Goats's evolution. Steadily catch oneself up with the Mountain Goats' other albums alongside "Beat the Champ" and possibly find one's first perception of their music changing with the gradual incorporation of more context. Place a new fan and an older fan in the same room and maybe share a mutual laugh over a single moment; (Nothing quite like cheerfully singing, "I'm gonna stab you in the eye with a foreign object.") a piece of a song found humorous, absent any deeper analysis. The Mountain Goats balance infusion of the new, the familiar and their continuing curiosity, presenting an album that shows an awareness of just how long they have been around and how to adopt change with careful grace over abrupt impulsivity.
---
"Beat the Champ" comes out via Merge Records on April 3 (Australia), April 7 (US and Canada) and April 13 (everywhere else).
Stream it now via "First Listen" on NPR Music!
Keep up with the Mountain Goats through their official website and these social media outlets:
Facebook
Twitter (@mountain_goats)