Stop and think on the "Kosciuszko" with Premium Heart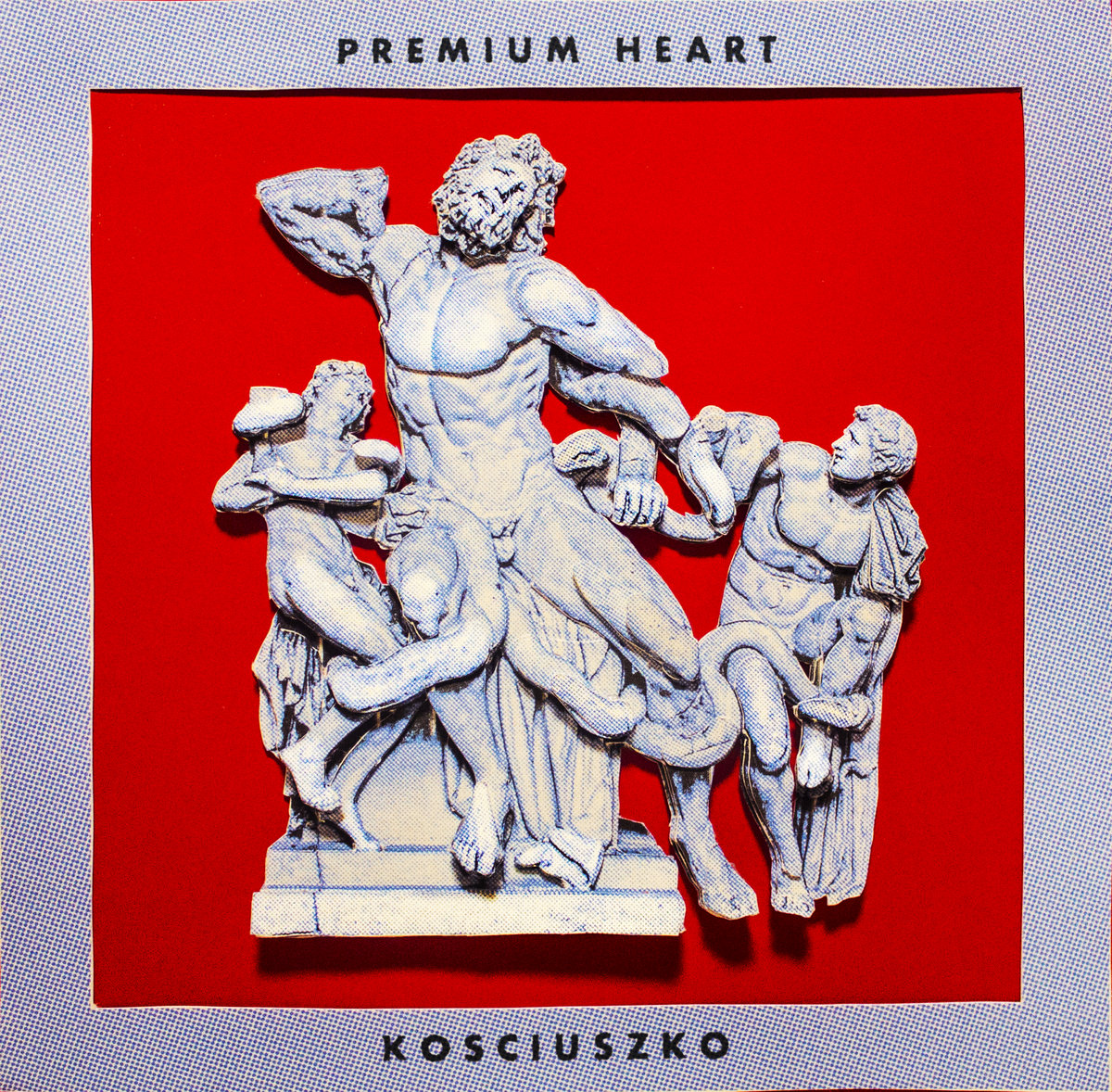 One would imagine, with Premium Heart's debut album carrying the title Kosciuszko, that the record's related semi-titular track, "How To Pronounce Kosciuszko," would be at the top of the record – if for no other reason than to get the verbal elephant out of the room and have a little fun with the often mispronounced name of the iconic Brooklyn-Queens bridge.
For the record, the pronunciation is as follows: koh-shoo-shko.
A group based in Long Island, NY, Premium Heart – and even more so Kosciuszko itself – were born from rumination and reflection over the many iterations of opposition, contrast, and dissonance that flood global consciousness today, with particular emphasis on the internal conflicts that have manifested in reaction to the extremity of politics within the U.S. That's not to say Premium Heart is explicitly or singularly about politics or, only reacting to politics to per se. However, the group's collective intent to write songs that speak to real, unfiltered situations and the real, unfiltered feelings that come out as a result of those circumstances, currently translates to a strong socio-political focus because those are the kinds of issues presently impacting day-to-day life in real time.
The band felt so committed to making an album of down-to-earth, imperative substance, that even the cover art for this debut was a carefully contemplated decision, which led to putting an image of the famed sculpture, the Laocoön Group, on the cover. Found in 1506 on the Esquiline Hill in Rome, Italy, this statue depicts a crucial moment in a story involving Laocoön (the central figure), the Trojan horse, and the Greek gods who sent serpents to kill the innocent Laocoön, along with his sons because he tried to warn the Trojans of a possible deception. Such a sentiment aligns with the current conundrum facing much of today's disgruntled populations, as they struggle to speak up against injustices, only to be met with unfair punishment or backlash. In light of the parallel, this very expressive and famous icon of art is an incredibly sophisticated and visually striking choice to serve as the very first impression of Premium Heart.
Premium Heart is:
Nick Femister (Guitar, Vocals)
David Hodgkinson (Guitars, Backup Vocals)
Ryan Lynch (Bass)
Keith Caylor (Drums)
All the same, even absent any of this elaborate context, the overall musical impression of Kosciuszko is quite satisfying for several reasons. Sonically, each of the band's players – all of whom have some form of tangential connection from either prior band configurations or interaction in Long Island's local music scene – bring a degree of their established tonal and performative preferences to this new lineup: Caylor with dynamically bold and heavy drumming; Femister with very metallic and rigid guitar tones; Hodgkinson with contrastingly more fluid, delicate guitar tones; and Lynch with thick but defined and clear bass tone. The results on Kosciuszko work together surprisingly well, as opposed to perhaps clashing or merely coexisting without a feeling of natural chemistry.
Each of the parts in "How to Pronounce Kosciuszko"– starting with the slightly jagged rhythm guitar chords and continuing with prominent bass, snare hits, see-sawing lead guitar hook, and eventually to densely packed shouting vocals, adds a layer sonic assertiveness that creates a cohesive and musically bold rock track. The lyrical creativity and localized subtlety built into the titular metaphor only then adds to the band's conceptual shrewdness.
You can really make it here
You can blow up like the Kosciuszko
You can really make it here
Fly like a cadillac over the graveyard
– Lyrics from "How to Pronounce Kosciuszko"
Premium Heart goes on to flex other nonconformist compositional muscles with songs like "January," which immediately calls to mind the sonic and rhythmic leanings of another Long Island band: progressive rock icons, Dream Theater. The classic progressive rock time signature of 7/4, combined with the phrase-cyclical and even mildly off-kilter melodic sequence of the opening motif (relying heavily on raised half tones and shifting rapidly between major, harmonic and melodic minor tonalities), sounds very reminiscent of material like "Constant Motion" from Dream Theater's 2007 album, Systematic Chaos.
Coincidentally, the very next track, "Valentine (Pick One)," introduces a definitively sectional song structure that varies greatly from one portion to the next. Here, a guitar hook with tone more akin to Hodgkinson's lighter and smoother leaning flair, presents a similarly cyclical and easy-to-follow hook. Yet, the nearly four minute track proceeds to take a few dramatic turns. Going from drawn out chordal dissonance between parts that resolves at a decidedly slower pace; to a middle section of much more conventional rhythmic flow and breezy indie rock chord patterns (think Weezer); to a heavy, dramatic, chromatic guitar passage that sounds ripped from the pinnacle of "Phantom of the Opera;" before gradually merging all three of the primary characteristics of each section into a cumulative back half. Additionally, the lyrics finally kick in, with a narrative highlighting indecision, contradiction, and a sense of futility about both the former being one in the same. The way Premium Heart gets the music to play off not just the literal lyrics but also to embody the underlying attached emotional progression that comes out of those lyrics, is gratifyingly applaudable.
The urgency in Nick Femister's vocals is the primary deliverer of Kosciuszko's emotional vacillation. Femister's clear but cutting tone fits well to emphasize the prominent place at which the mental and emotional inclinations highlighted by Kosciuszko, sit in much of the public's minds. That said, there does seem to be a mild deficiency where these same impactful vocals are concerned. Given how seamless all of Premium Heart's instrumental components are throughout the record – with tones gracefully overlapping to give the band a sound that is dynamically grand but which hits the ear in a balanced way – the converse dryness recurring on the main vocals makes Femister's part seem at odds with the rest of the band. There's nothing inherently wrong with his performance and nothing is fundamentally missing but, there's a strong feeling of incompletion to the integration this portion of his contributions. One might think of it like taking out the formal dinnerware for a gathering and leaving the head of the table to use the everyday dishes for their food. There's no inherent problem with this arrangement but there's definitely a setting left underdressed for the occasion. That said, it's to be remembered that despite their familiarity with one another, Premium Heart is nonetheless a newly combined group, so a fresh calibration of their styles and collective potential will take more than one record to be fully realized.
Generally speaking, there's an ebb and flow to the level of tonal boldness, rhythmic gravity, and melodic momentum over the course of Kosciuszko, as well as within individual tracks themselves, that make the cumulative experience extremely worthwhile. Whether experienced for the purpose of self-provoking some socio-political reflection, for individual emotional reflection, for compositional stimulation, or just a  gripping listening experience, this is a multi-faceted album that more than earns several rounds of appreciation and enjoyment.
---
Kosciuszko is available now.
Find it on Bandcamp in physical and digital formats.
All proceeds from purchases will go directly to the ACLU.
Keep apprised of Premium Heart's work through these social media outlets:
Facebook
Twitter (@PremiumHeartNY)
Instagram
YouTube