Elevado elevate impactful insights with debut EP "Asheville" (Premiere Play)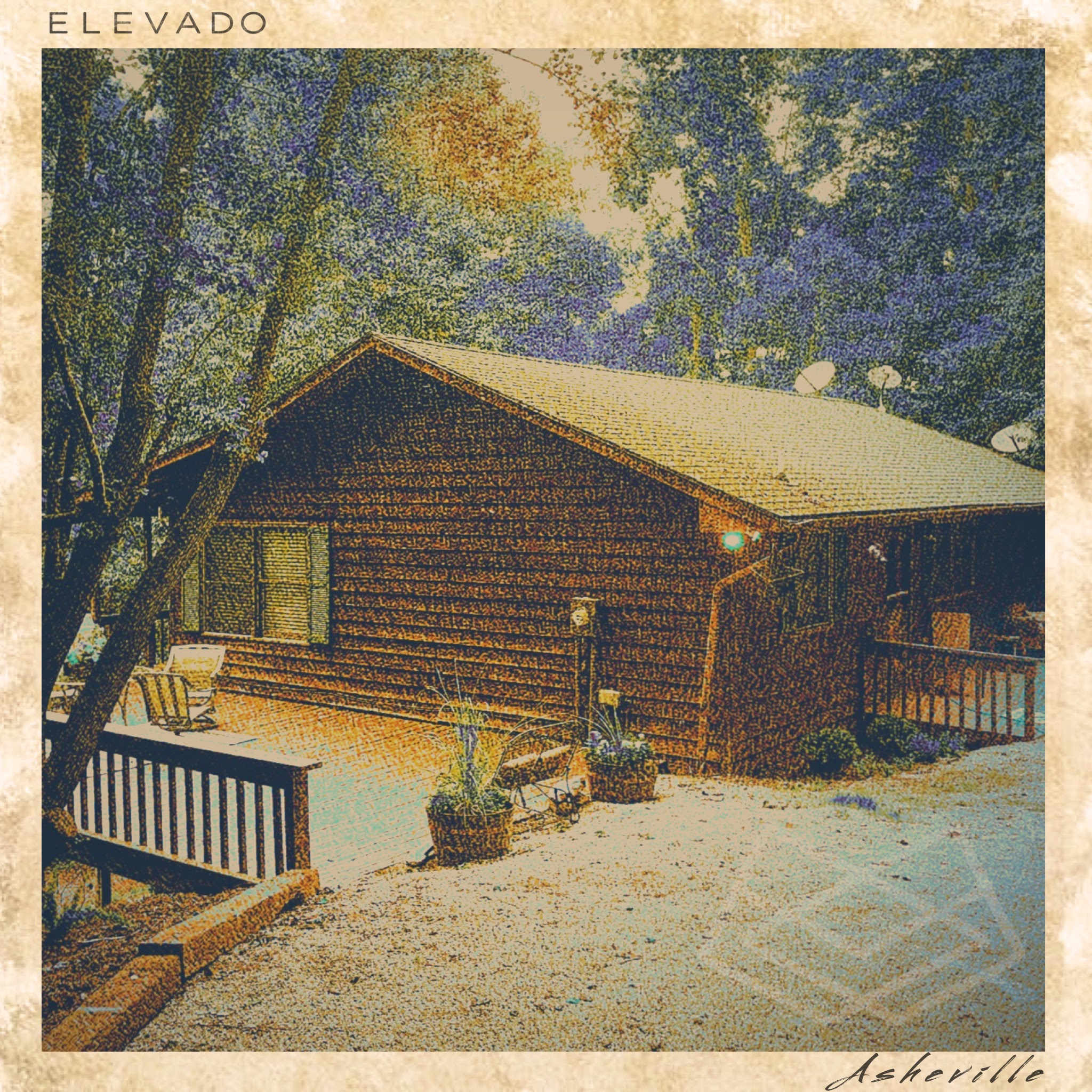 When getting introduced to a new song or album for the first time, so often the ways in which the music's opening impression gets described is via the melodies, the lyrics, or the backstory behind an album's construction and-or its conceptual origins. But what if an album – or even more broadly, a band in its fundamental entirety – were inherently motivated and steered, not by sonic niche, clever wordplay, or specific experiences, but by the idea of constantly evolving purpose. This thought puts forward the idea of songwriting from a future-oriented vantage point more than the past or present-minded inspirational points that tend to shape the aforementioned elements of countless songs.
This doesn't mean that dual-state duo, Elevado, refrain from drawing on life's moments happening around them now. Bradley Rhodes and Brent Shuttleworth, who hail from Alexandria, VA and Nashville, TN respectively, do indeed look around at the day to day of what's happening in the U.S. and the world. Furthermore, both seasoned artists reflect on how the events they are living through have come to affect them individually and as part of the larger global public. Through their debut EP, Asheville, Rhodes and Shuttleworth convey a quick and palpable sense of emotional and experiential severity in the record's five tracks.
Shame
It's the faith that goes unclaimed
Always calls me out by name
With the burden of the blame
Lyrics from "Shame"
I count the pennies in my savings
I count the hours that I sleep
I spend the minutes of my waking
In the grip scarcity
Lyrics from "Swing"
That said, rather than simply a project of retrospection, revealing how the music of Asheville came to be in Elevado's creative sights, or simply a soul-piercing statement on the state of affairs currently challenging the world, Elevado's EP aims to move into a space of committing to a better future. Moreover, it's not just a matter of nodding to a single social action or any exact series of real life events. Asheville is more like a reviewing of roots within oneself and among society as a whole. Its devotion to self-imposed honesty and improvement reflects more of a "come to Jesus" depth of motivation than just a generalized proclamation of intent to, or interest in, change. And yet, the interplay between Asheville's lyricism and its sonically friendly personality do make its very intense motivations unfurl not just with the careful polish appealing to radio but with choruses and melodically satisfying chord progressions often flocked to by many.
Stylistically, Asheville is difficult to pin down, mostly because the sonic profile of the record isn't so much the priority. Crisp, punctuating drum machines, varying tone colors of different synthesizers, expansive strings and smooth vocal transitions are all played with in various ratios against one another that tilt songs into every corner between dramatic pop, lush singer-songwriter, stripped back but bold folk, the emotionally larger-than-life heart of gospel, and even teasings of R&B-esque tonality. Still, what's collectively presented is beautifully arranged, mixed, and produced, with the help of Mike Shimshack (Britney Spears, Joe Cocker, Jimmy Robbins.) Elevado's music plays brightly, boldly, and smoothly, with a rich grandiosity that makes this debut EP feel immediately suitable for radio and sync placements with dramatic purpose. However the stylistic vastness is entirely appropriate beyond aims for radio-readiness, as the applications of lush reverb, long sustains, and an overall large sound stage for often clean and simple instrumentation, support Rhodes' deep, bold, and well-balanced voice, which calls for ample room to expand and thrive in order to make its best artistic impact.
Ahead of their important milestone as a band, Rhodes discussed the uniqueness of Asheville. Reflecting on the band's creative choices – from their cognizance about the EP's locality-focused title, to one of the underlying benefits that arose in writing these songs and how that shaped the EP's purpose-driven core, to a decisive confidence in what listeners can expect from sticking around for Elevado's journey – Elevado makes it clear that Asheville isn't nearly as straightforward and easy to dissect as is information on its namesake city. Check out the conversation below, along with an early premiere of Asheville!
---
Kira: You and your bandmate, Brent Shuttleworth, are from different states, and both of you are decidedly not from Asheville or even North Carolina in general. What made a cabin specifically in the outskirts of Asheville the right / best choice for Elevado to bring the vision of this debut EP to life, as opposed to, say, the equally beautiful rural boundaries of either of your states of Virginia or Tennessee?
Bradley Rhodes: Brent and I had been quarantined and working on music together in my living room in Virginia since the beginning of April and we were getting pretty stir-crazy after a few months in one place. Our friend, producer and collaborator Mike Shimshack was feeling that same restlessness in Nashville, so we decided to meet (somewhat) in the middle in Asheville with an intention to reset and process the current state of the world in a different environment. We felt the energy shift of the stress leaving our bodies the minute we walked into that cabin and knew it was where we were supposed to be.
Kira: Given the subject matter, conceptual focus, and emotional intent of the album, what are you most hoping to accomplish with Asheville? Is there a certain segment of listeners you're hoping will find and embrace the messages in Elevado's lyric-driven music?
Rhodes: The construction of these songs felt like much needed therapy for us through these trying times and our hope is that it's received by listeners with that same sentiment. I think this record is for those who are willing to take on the daunting task of difficult self-reflection to find peace and freedom in their vulnerabilities. That process is scary, it's hard, and absolutely beautiful at the same time. 'Asheville' is a deeply personal record about learning to find growth in spite of the forces that divide, and we hope it can spark connection and belonging through our shared struggles.
Kira: It's no exaggeration to say that Elevado's sound runs freely. While a style-fluid approach is a welcome breath of fresh air and being more embraced all the time by musicians, how did you weigh the pros, cons, and your ultimate decision with regard to the EPs location-specific title, album artwork, and the risk of a specific first impression or expectation on the part of the listener. (I'd be lying if I said my very, very, first thought was to expect an folk-rooted foundation!)
Brent Shuttleworth: Honestly, not much of it was that calculated. We actually like the idea of a series of location-specific titles, where we can capture moments in the actual places where everything is written, recorded and produced. There's a cool continuity to it that we're hoping will help document our journey and create some consistency. The cabin in Asheville had a unique energy and character that defined a lot of what came out on the final recordings. We understand that it might suggest something a little more rootsy, but we just like it. That's how we collaborated on the artwork and is generally our process on how we make most of our creative decisions.
Kira: How (much) would you say music or art of a spiritual-driven nature shapes your life and-or songwriting direction? A good deal of Asheville's lyrics, as well as the production behind its sound conveys a uplifting, or inner adversity-laden aesthetic – especially the first and last tracks of "Shame" and "Moved" respectively.
Shuttleworth: Thank you, we appreciate that last part. I think the truly connected art and artists are all deeply spiritually-driven. So in that sense, it's influenced us profoundly. It's changed the way we view the world and the way we see ourselves in relationship to others. I don't think it's something that we're consciously thinking about as were heading in a particular direction songwriting-wise. The lyrics are very personal and specific, so the inspiration is processing things that are happening in the world or in our lives in real time. In terms of production, there's definitely some more classic influences that have found their way in to help tell the stories.
"I think ["Asheville"] is for those who are willing to take on the daunting task of difficult self-reflection to find peace and freedom in their vulnerabilities. That process is scary; it's hard; and absolutely beautiful at the same time." – Bradley Rhodes
Kira: What's the story behind the places and figures built into the story of "Blueberry Hill"? The titular place sounds like the kind of innocent local place a child might spend their early making fun memories at but, the song paints it as a place full of tension and violence.
Rhodes: The cabin where we wrote and recorded 'Asheville' was actually tucked away on top of Blueberry Hill Drive. As Mike Shimshack began building the track, the title felt like it naturally fit the vibe. The lyric of the song was inspired by our experience with people across the country who've sustained decisive and deadly political ideals without contextualizing their beliefs into a greater life experience outside of their own white enclaves. With all of the grief that has accumulated across the world, we feel it's our responsibility to stand against violent white supremacy and those who protect it in hopes of sustaining their misplaced narratives and blatant acts of racist hate.
Kira: What can you tell listeners they can expect if they stick with Elevado's music journey going forward? Where do you see the music of this band taking you and anyone that's following along?
Rhodes: Listeners can expect to hear an ever-evolving diary of our personal experiences — each record uncovering new truths that we're continuously learning about ourselves and the world we live in. For future records, we plan to repeat a similar writing and recording process to 'Asheville' in different locations around the country, with each project being named after the city the songs were created in. We don't know exactly what the future holds, but believe that as we continue to learn and grow as humans, the depth, awareness, and quality of our music will evolve with us.
---
Asheville EP is due out tomorrow, 1 October 2020.
Elevado is celebrating the release of Asheville with a socially distanced, outdoor, backyard performance in Alexandira, VA this weekend. Information and ticket link below!
Asheville EP Release Show
(Outdoor and Socially Distanced!)
Saturday, 3 October 2020
6:00 PM – 10:00 PM EDT
The Arcadia 1/2 Acre
4015 Arcadia Road
Alexandria, VA 22312
"Doors:" 6PM EDT
Music: 6:30PM EDT
Tickets available HERE.
Stay connected with Elevado through its official website and these social media outlets:
Facebook
Twitter (@ElevadoMusic)
Instagram
Spotify