Tiny Circus's debut makes a big show of flexibility in jazz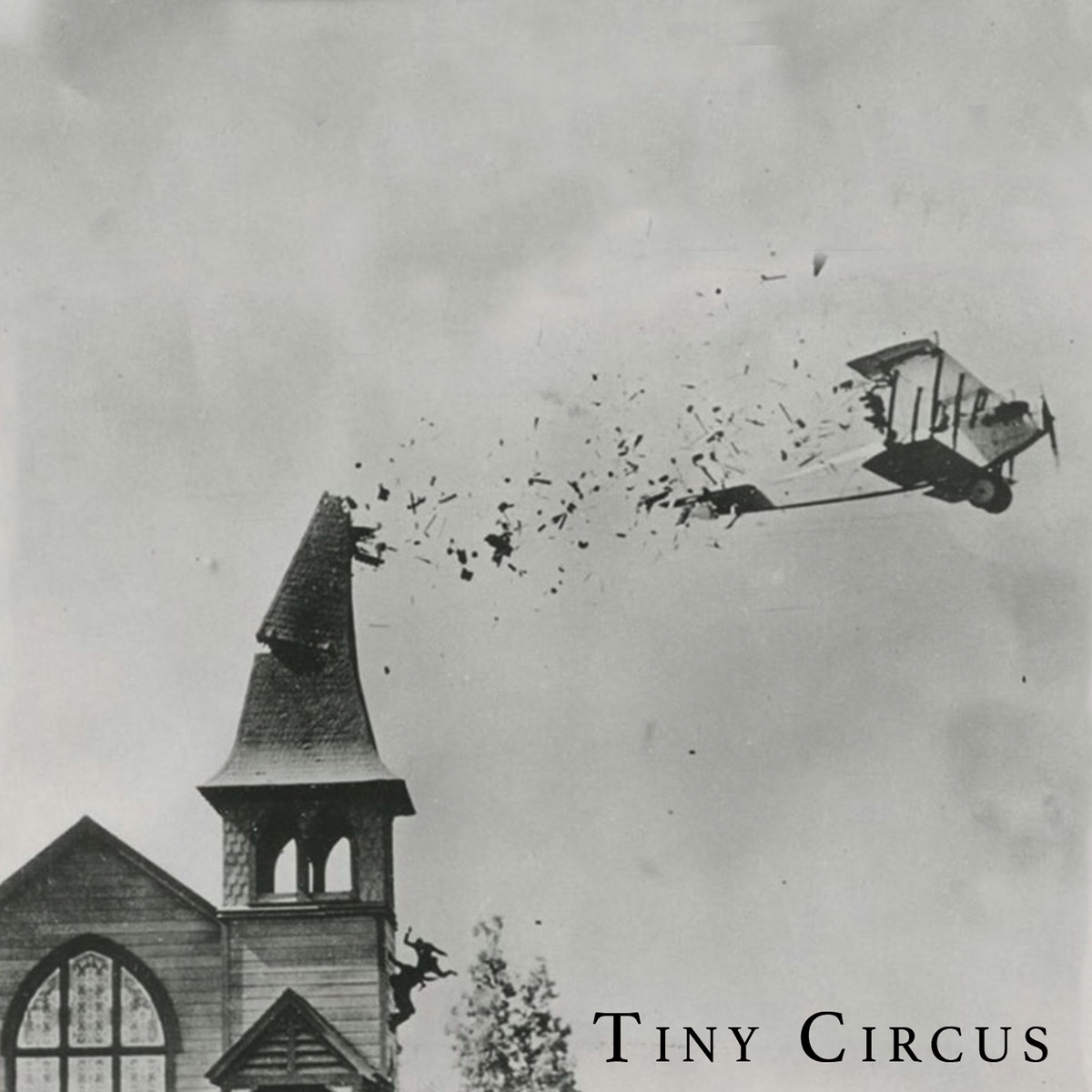 Cataloged as "modern jazz" and "improvisatory" music with Bandcamp's tagging feature, the self-titled debut of Newburyport, MA jazz quintet Tiny Circus, certainly fits both of those descriptors. The 12 track LP is filled with much more detail than those two labels can address but, that doesn't mean Tiny Circus are only flirting with calling themselves a jazz band.
Tiny Circus is:
Jonathan Bousquet (Saxophone)
Matthew Okun (Guitar)
Ben Aiken (Keyboards)
Devon Hurt (Bass/Knobs)
Mike Dettorre (Drums)
The very first track on the record, "Toe Work," presents a less traditional motif with an alternating minimalist pattern of quick bursts from smooth keys and light tapping drum beats. The track steadily expands with Devon Hurt's low-end, warbling, knob tones making a stealthy entrance underneath. The overall rhythmic flow between all the parts gradually becomes more spasmodic and disconnected over time. There are moments Dettore's drumming also gives the piece a notable breakbeat-like quality.
One might argue all these traits makes Tiny Circus and Jonathan Bousquet out to be more stylistic trend chasers than committed jazz folks than was initially posited. However, unlike the electro-acoustic breakbeat leanings that bands like GoGo Penguin or Hexcut are embracing, Tiny Circus often still sounds jazzy in the recognizable sense – if for no other reason than the band utilizes a larger jazz style lineup. In fact, this single aspect of Tiny Circus, as fundamental as it is, works well as an unwavering backstop when other stylistic choices or the very compositional direction of the music could otherwise make the band's uniqueness seem too divergent to be thought of as jazz whatsoever.
An example of Tiny Circus's sonic grounding at work comes right with the following track, "Running on Glass." Starting with Bousquet's saxophone establishing the song's ascending and descending motif and Okun's guitar quickly joining in parallel play, the music feels instantly centered in jazz. Though the hook sounds like an etude exercise, at the 10 second mark the sudden influx of fast drumming underneath seems grab the rest of the parts and take them off on a lightning fast ride. The mood chaing moment turns over fast and the contrast in timbre and tempo are the catalysts. This time though, the shift doesn't obscure the jazz style, only perhaps change the perceived setting from classroom exercise to upbeat soundtrack to a brightly designed level in the latest game of Sonic the Hedgehog. The intermittent tones of crystalline keys alongside the guitar and polished sax really pull that concept together.
In spite of the album's many stand out hooks and melodic themes, this type of bait-and-switch via rhythmic and tonal contrast between each individual player, works well to create surprise throughout TinyCircus, without a ton of extra instrumental or effectual weight. "Bubbles" coalesces around this strategy nicely, as the nimble cyclic opening guitar hook quickly gives way to heavy percussive downbeats in conjunction with a legato sax line. This combination takes the song from a progressive-style beginning to a more deliberate, easy to grasp groove. Additionally, there's a cleanliness and highly polished quality to all of the songs that, especially where the sax, drums, and keys are concerned, give Tiny Circus the kind of modernized sound that fans of Bill Bruford's jazz fusion band, Earthworks, would likely appreciate.
All the same, with so much anchoring in the familiar components and sounds of jazz, there is plenty on Tiny Circus that might make improvisatory seem too tame and avant-garde more appropriate. The general melody in "Hatching" seems typical enough, with the guitar taking the lead role. That is until the individual tones start to warp and distort as they are being played – not throughout the entire duration of the note. It's almost akin to what a picture looks like if water spills on it and the ink starts to run on the damp portion. "Open Air" moves along with a dragging slowness over a background of various ambient sounds, which, fitting with the tempo, sounds like a city during a rainy night. And perhaps the most atonal and contemporary but still jazz-rooted of the bunch, "Parachute Malfunction," is driven by high pitched, glitchy synth tones that feel apt for a sci-fi film. While cymbal splashes, saxophone notes, and piano flourishes are evident too, at only 1:44 in length, this track quickly descends into the kind of cacophonous madness that is hardly improvisational and really just straight free jazz gone wild. The flip side of that coin however, is that parts of this track sound right at home with music found in Robert Walter's discography – particularly his album Spacesuit(Royal Potato Family, 2019).
Tiny Circus would be a daring album for any band, whether brand new or several records into its career. There are more than enough moments on this record that, if heard out of context, would make any listener doubtful that Tiny Circus is a group committed to jazz or consistency around the genre. But just as some of the more contemporary sub-genres of the style necessitate a deeper a look, a deeper listen, and a little more reception to the vastness of the jazz canon, Tiny Circus more than demonstrates its ability to showcase a whole range of the genre. This record takes listeners to the edges of some conventional stylistic boundaries but the idea that Tiny Circus is unquestionably oriented in jazz never fades into the background.
---
Tiny Circus is available now.
Find it on Bandcamp.
Follow Tiny Circus on Facebook.
Keep connected with Jonathan Bosquet through his official website and these social media outlets: