Edison turns to fans to say goodbye with Lion's Heart EP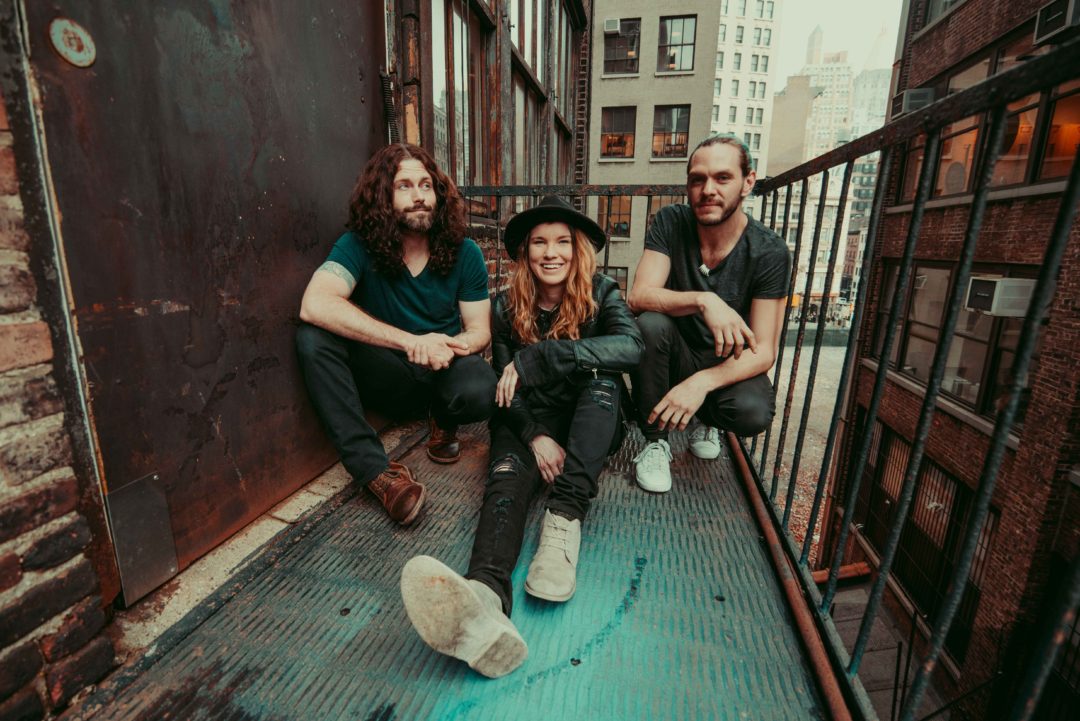 In the midst of what is essentially the beginning of festival and concert season, for a band like Denver, Colorado's Edison, this is the best time of the year – or at least it has been, up to now. Taking to the band's various social platforms on an otherwise typical Wednesday afternoon, Edison announced the end of the trio's time together as a band.
Sarah Slaton, Dustin Morris, and Maxwell Hughes have performed, recorded and, most of all, toured together by way of their trusty van and trailer (cleverly named Van Morrison and Trailer Swift respectively) since 2014. Working hard to make themselves known as independent musicians, in 2016 Slaton, Morris, and Hughes eventually were signed by New Jersey based independent label, Rhyme and Reason Records. After releasing a proper full length (Familiar Spirit) in the fall of that same year, things went quiet on the music front and the band seemed to find itself in a frustratingly silent limbo that ultimately led to being dropped from the label and eventually, this current decision to move on.
It's w/ heavy hearts we announce the end of Edison. We are going to finish our scheduled shows and NEED YOUR HELP putting out a final EP. Learn more about our decision and donate -> https://t.co/403lfyk3Mo

— Edison (@listentoedison) May 23, 2018
Despite this announcement, Edison isn't planning to disband quietly. Harboring songs that are ready to see the light of a studio, the trio have launched a campaign through Indiegogo, in order to make it possible for these last pieces of music to make it on a record in the form an EP titled Lion's Heart and allow the group to say goodbye in the best way they know how: telling stories through songs.
Running through Wednesday, June 13, 2018, Edison are aiming to reach a $5000 goal and these funds will cover the basic expenses of recording an EP, as well as the rewards offered through the campaign:
$3000: 3 days of studio time (+1 mixing day) at the renowned Blasting Room Studios (includes recording, mixing)

$1000: for getting CDs and packaging printed

$1000: album artwork, new photos, promo video, marketing expenses, and covering the costs of delivering Indiegogo rewards
Reward tiers run as little as five dollars for advanced access to a single, all the way up to $1000 for a slew of autographed merch, additional unreleased music, credits on the EP, and, in uniquely Edison fashion, Slaton and Hughes are even offering to get the EP artwork with backers' initials tattooed on themselves as a gesture and reminder of permanent gratitude!
It's a crying shame the never-ending adversity sewn into the music industry leads to situations like this, as there's no denying Edison have been willing to go the distance since day one, love making true friends, and are music makers to their cores. Connected with fans in just about every state, Edison's fan-family can definitely reach the funding goal and after countless hours of driving this trio has done to bring music to others, those who have listened to Edison can now help bring their music to the world, all without needing to drive a single mile.
In the meantime, those around Colorado, Wyoming, or Nebraska (or those with the inclination to hop in a car or on a plane) should definitely make a point to see these remaining Edison shows. Info and ticket links for all HERE.
Edison Final Shows
30 May Lost Lake Lounge – Denver, CO
02 June Manitou Springs Wine Festival – Manitou Springs, CO
02 June Downtown Artery – Fort Collins, CO
08 June Paddler's Pub – Fort Collins, CO
09 June Four Mile Historic Park – Denver, CO
27 July Cheyenne Depot Plaza – Cheyenne, WY
18 August The May Brother's Building – Fremont, NE
---
Read more about Edison's decision and find all the details of the Indiegogo perks HERE.
Find Edison at its official website and these social media outlets all @ListentoEdison:
Facebook
Twitter
Instagram
YouTube
Spotify
SoundCloud