Rock 'til you drop with Dinosaurs in Vietnam on Black Friday!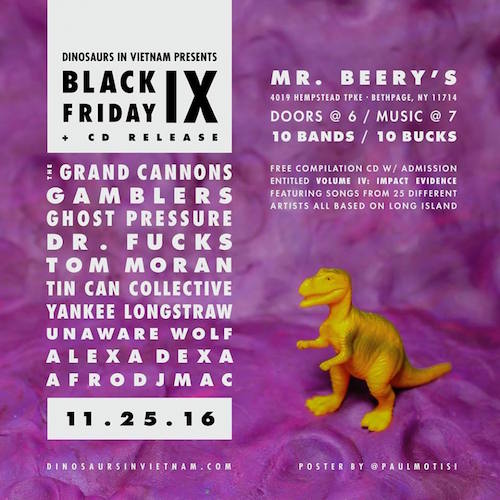 Exactly one week from today, the annual consumer craze of Black Friday will commence across the U.S. and people will wait in long lines, get really hyped up, move around wildly and, of course, spend money.
The funny thing is, depending on how it's described, this very scenario sounds just like another event that will also be taking place one week from today.
Every year for the past eight, Long Island, NY based DIY artist collective, Dinosaurs in Vietnam, has put together and hosted a massive showcasing of bands from around the local area, which runs deep into the night each Black Friday. The bill of artists for next week's show traverses styles from folk pop to electronica, indie rock, experimental, R&B, and more.
Black Friday IX Lineup
Ghost Pressure
The Grand Cannons
Gamblers
Dr. Fucks
Thomas Moran
The Tin Can Collective
Yankee Longstraw
Unaware Wolf
Alexa Dexa
AfroDJMac
2016 marks the ninth installment of post-shopping festivities and in addition to assembling a diverse, 10 band lineup, Dinosaurs in Vietnam will be celebrating the release of its newest compilation album titled, "Volume IV: Impact Evidence" (Volumes I, II, and III are available through Bandcamp). The fourth record comes with all admissions to the show and features an impressive assortment of 25 artists exclusively from the Long Island community.
One of the bands slated to play the "Black Friday IX," Ghost Pressure (Nicholas Post-Guitar/Vocals, Nicholas Femister-Bass, Karina McMahon-Drums, David Hodgkinson-Guitar), is a band known for infusing a twist of avant-garde into their indie rock base. Steadily growing and evolving from their small town, Babylon, NY beginnings back in 2014, Ghost Pressure have become a staple name of the Long Island music scene. Years of enthusiasm and dedication has seen the band bring their style of sound to increasingly recognized venues, clubs, and even an out-of-state stoop or two, along the east coast.
Well now, just in time for the showcase, this spectral quartet is gearing up to unveil the next chapter in the ongoing story of their group. The addition of a new band mate in vocalist, Lauren Diehlmann (also of Killer Wails), brings with her, an energizing shift to Ghost Pressure's very sonic foundation and those present at Black Friday IX will be first to hear the new combination. Guitarist and current lead vocalist, Nicholas Post, sheds light on how Diehlmann came into Ghost Pressure's picture:
[The band] had been talking for a long time about where we wanted to go as we continued writing songs and what new elements we wanted to add. The idea of adding a female singer was kind of in the back of our minds for months but we never acted on it. We came to the realization that adding a new voice to the band would be the perfect choice as we were [starting to write] vocal melodies that didn't seem to fit my voice perfectly. We wanted to find someone who really understood the spirit of what we're doing but could also add their own creativity." Post continues, elaborating on why not just any vocalist – even a solid one – would do. "We didn't want someone who would just sing our stuff; we wanted a new partner in crime. The first person we thought of was Lauren Diehlmann and a week later we got to work. I think the fear in adding a new member to a band is that the dynamics will change. That's what initially kept us back. Lauren's been great [during] this whole (on-going) process. She has an incredible ear and she finds things in our ideas that we never would have. She's also a really open, down-to-earth human and she makes the practice space feel like home."
Excitement and anticipation surrounding "Black Friday IX" is practically a given, as it represents a local tradition of sorts. However, the longer term significance of what this kind of change means for the now quintet, is not lost on the band."[W]e're all very excited about the future. This past year has been huge for us – we put out our first EP, we've played all over the region and we've been lucky enough to meet some amazing people along our journey that are becoming lifelong friends for all of us. This band is evolving musically and that's one of the most exciting things for us. We're looking at 2017 with bright eyes. I think it's gonna be a big year for us."
Re-focusing back into the present, there are already signs of positive amazement and promise – at least according to what's been happening behind the scenes in practice. "There have definitely [already] been a few "whoa" moments in this initial work with Lauren. The very first time we practiced with her, it just felt right. I remember listening to her sing melodies I had created," says Post, "thinking, 'What? I didn't know it could sound that good.' Another [shock] I can specifically mention is what she's done with our song, "White Lighters." I don't want to give it away but we've made some changes that suit the power in her voice and the result had us all really jazzed."
The flyer for "Black Friday IX" might not mention Ghost Pressure's new reveal outright but Post and the rest of Ghost Pressure saw their inaugural inclusion in this year's show as just the occasion to commemorate the new lineup's first public performance."We're especially honored to play Black Friday IX. This is our first time playing the show and this is one of those shows that I look forward to every year. Will Forthman of Dinosaurs in Vietnam has been working hard for the Long Island music scene for over a decade." In hearing Post's deep gratitude, it is not difficult to understand why, despite perhaps sometimes being overshadowed by New York City, Long Island's musicians persist – enthusiastic and determined as ever – to get out there. "So many of the artists on the bill are our personal friends and to me, I look at it like a yearly reunion for the Long Island scene, in a way. As our homegrown bands grow up and do their thing all over the east coast and even the country, it's wonderful to see everyone come together." Whether Long Island, NY or some other small community locale, shows like Dinosaurs in Vietnam's "Black Friday" represent an annual re-invigoration of a music community's many goals and most importantly, its friendships.
---
"Black Friday IX" happens in seven days, on 25 November 2016. Full show information is below.
Find more information on all the bands above. Connect with Dinosaurs in Vietnam through its official website and these social media outlets:
Facebook
Twitter (@dinosinvietnam)
Instagram
Dinosaurs in Vietnam Presents

:
Black Friday IX
Friday, November 25, 2016
Mr. Beery's
4019 Hempstead Tpke.
Bethpage, New York 11714
Doors: 6:00PM
Cover: $10 (Compilation CD included with admission)
21+