There's more to Citizen Zero's "State of Mind" than what it seems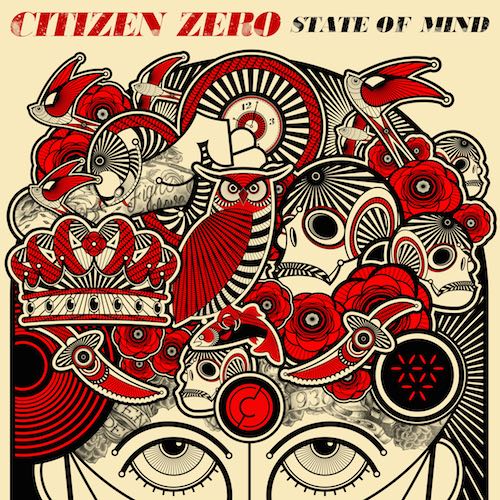 After writing about songs, EPs, and full lengths for a long time, it can become almost like a default reflex, for a reviewer to mentally mark down benchmark characteristics like "well-produced," "lo-fi," once instruments and vocals kick in a track. There's an understandable connection to one's own experience with this default, not being the last word on a piece of music or album but, it can also become a hindrance because like any other semi-automatic thought, the conclusion is quickly drawn without too much purposeful depth.
This was the starting point for State of Mind, the debut full length by Detroit, Michigan rock band, Citizen Zero. Due out 12 August 2016 via Wind-up Records, the 11 track album follows a debut EP titled, Explodes, released independently in 2012.
Citizen Zero is:
Josh LeMay (vocals, guitar)
Sammy Boller (lead guitar)
John Dudley (drums)
Sam Collins (bass)
Not quite rough, grainy, or loose enough to jump on the garage-blues rock revival of the last few years, but not gentle or formulaic enough to conform with average pop (alternative) rock fare, State of Mind, unsurprisingly keeps sonic company with similarly in-between bands like Black Stone Cherry and Shinedown. Groups like these also have large fan bases, well made pieces of recorded work and an identifiable sound, yet, don't shape themselves out to be mobbed by every terrestrial rock station from here to Seattle, Washington. Incidentally, from the first moments of opening track "What a Feeling," with a stand alone, punctuating, seven-note, and almost cyclical lead guitar hook, it was extremely difficult, if not impossible not to think, "This was recorded and meticulously produced in a very good studio setting."
Letting the album run its course all the way though, the "well produced" first instinct is correct. Kick beats are defined and highlighted in the mix ("Go (Let Me Save You)") and lead guitar solos ("Come Away," "Bangin' in the Nails") showcase plenty of tonal texture and bite. Not to mention, the actual performance of the solos is what shows Citizen Zero's appreciation for bands like Stone Temple Pilots and Guns N' Roses – but no picked note contains even the slightest bit of natural fuzz or crackle. State of Mind is a record full of polish and there's no denying it after hearing equally distributed treatment across several tracks. However, what's better than an album that manages to knock a listener off their axis after establishing a pattern?
Listeners might be hard pressed to believe a curveball will appear after a few tracks of present them with noted similarities but just when it might seem like a listener will bow out, there are enough smaller choices that turn the ear and keep the interest in seeing what will come next. The titular song, four tracks in, does this nicely: a quick bit of drum fills run through a very cranked high pass filter around the 2:30 mark create a windy, crackling sound that stands out against the rest of what's been heard.
The instrumental choices of Citizen Zero don't go too far off into the unorthodox reaches of the musical world but at around halfway through State of Mind, the album undergoes a compositional and emotional shift. "Come Away" marks the entrance of a leading hook that takes on a lighter, and cleaner guitar tone, setting up for what feels like the first ballad of the album (You give me something I can feel / to make it through this night). "Lure and Persuade," the latest single to premiere before release, employs an augmented 4th interval – the classic tritone – in its hook, giving the music its first bit of obvious melodic destabilizing. Citizen Zero retains a consistency in sound through the rest of the record but the remaining half also manages to aggressively strip away the notion of predictability the first half established. Later tracks bust out everything from a sudden move to major key melodies ("Applause and Fame"); to an almost progressive rock slice of songwriting ("When The Rain Comes"); to inclusion of overt Christian metaphors (Does a cross bury your sorrows? / Do the nails you drive in ease the pain?)
Once the closing track, "Home," rolls around, the shock in just how many more songs have played through since the initial impression, might set in. Closing the album with a track that is both vocally exposed and melodically singable sees Citizen Zero going for the classing wind-down on State of Mind's wrap up. Listeners are left with a song that emits nothing but resolution. The track does so thanks to lyrics (I'm coming home / to a place where I've felt I belong / Resting my soul in a ghost town I call home) and a friendly melody that can be interpreted as peaceful, optimistic, and-or perhaps inspire contemplation of one's own personal difficulties, which is far more intimate of a songwriting mindset than the album's beat and tempo driven first half might have initially lead anyone to believe Citizen Zero looking to display.
State of Mind is a powerful debut; one that is bound to leave many positive impressions with patiently waiting, long time fans or new ones who will come to find them post-release. The band's particularly favored vein of hard rock has many places it can fit – parties, workouts, long drives with open windows and a cranked bass. The bit of sameness that almost felt like an ingrained weakness was just the surface layer. If anything is a weakness, it's that State of Mind, does require a little extra patience to get to experience its full range of tonal and lyrical offerings, which is a big hurdle in today's fast-moving world of entertainment. That in mind, much like the like the slightly deeper explanation of this review, give State of Mind some extra attention and hear what it has to say from start to finish. While the record have been assembled with a smooth listening experience in mind, State of Mind proves itself as a debut not simply set and left on sonic cruise control.
---

State of Mind is due for release on 12 August 2016 through Wind-up Records.
Pre-orders are available now though HERE.

Catch Citizen Zero live throughout the month of August, which includes an NYC show ahead of their release, at American Beauty, Thursday, 4 August. Tickets for that show are HERE. Full tour info is below.
Citizen Zero Live Dates
8/4 NEW YORK, NY – American Beauty
8/6 CAMP HILL, PA – Gullifty's
8/7 SHARON PA – Quaker Steak and Lube
8/10 PONTIAC, MI – Crofoot
8/11 FT.WAYNE IN – The Rusty Spur
8/12 GREEN BAY, WI – The Sandlot Entertainment Complex
8/14 STEVENS POINT, WI – Live On Main
8/16 OMAHA, NE – Whisky Tango
8/17 DENVER, CO – Moon Room
8/19 SPOKANE, WA- Knitting Factory
8/24 FRESNO, CA – Fulton 55
8/26 WEST HOLLYWOOD, CA – Whisky A Go Go
8/27 SCOTTSDALE, AZ – Rock Bar
Stay in the loop with Citizen Zero through their official website and these social media platforms:
Facebook
Twitter (@Citizen Zero)
Instagram
YouTube
SoundCloud