Julie Mar's new "Theorem" is ready to expand your musical horizons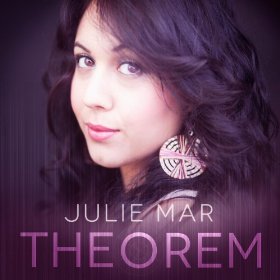 The life of any aspiring New York City songwriter or musician can, at times, feel like the ultimate paradox. Imagine living in one of the most dynamic, densely populated, culturally and age-diverse cities in the world –a place where nearly every walk of life is embraced and flourishes. One would presume under such conditions, that as long as the will and the creative energy is there, any musician that takes that first step will explode onto the scene with artfully graceful ease. Despite this utopian ideal, trying to stand out is probably the most difficult task facing any fresh face in the music business because there are so many people out there.
Quite the conundrum, isn't it?
Funny that following my last post discussing scientists and musicians, a friend of mine, whom I first met thanks to some help from random chance, has a great and unlikely artistic combination of her own to share with the world and the day for her to do that has finally arrived.  
There might not be one scientific formula to ensure a musician's success but singer-songwriter, Julie Mar, has tapped into just the right blend of exceptional spirit, tight songwriting and genuine support to bring her to the newest echelon in her career with her debut album, "Theorem."
The hometown New Yorker just busted out the new record on April 2nd and the official launch party will be held tonight, April 4th, at classic venue, The Bitter End, in Greenwich Village. Julie opened up about some of the tidbits behind what makes Theorem so near and dear to her heart and where her place is on the stage of "The Greatest City in the World." Read on for more about Julie Mar and the exclusive Q&A!
[Julie] Mar's zeal for music began at the young age of [seven] when she started piano and guitar lessons and although her interest in singing began as a lighthearted hobby, she later pursued voice training. The raven-haired songbird began writing lyrics and poems at age 11 and her talent with text manifests itself on [Theorem] through poignant and gut-wrenching lyricism. The album is emotionally charged, yet hopeful. There are elements of loss, heartbreak and self-discovery; a scrapbook of feelings and experiences everyone can relate to.
**********************
Kira: So, I opened up this whole piece talking about the dual nature of what it means to be a creative soul in New York City: The big versus the small, the many versus the few, the common versus the uncommon…You grew up in "the big city" and you clearly grew up with music deeply infusing all aspects of your life. How would you describe the way you both view and tackle the uniqueness of NYC's landscape for yourself as an artist and your particular style of sound? Do you believe you and other native NYC'ers have some kind of advantage, as adversed to those outside the area, when building up your music?
Julie: I wouldn't necessarily say that New Yorkers have an advantage because of the uniqueness that surrounds the city because inspiration comes in all forms. For one person, the city may be crippling to creativity and to others it's a fountain of inspiration. For me, I'd say the hard work that people put into their daily lives in the city is what inspires me. I don't think it has an influence on my sound, but then again, it must in some ways considering it's where I dwell.
Kira: No one can argue that your music, your lyrics in particular, are on a plane of their own. When one writes and comes so heavily from a place of personal story weaving, well, there's virtually no copying it! Was any of Theorem put together as the events in your life unfolded –perhaps early on in the composition process? Track listed with chronological reference? In other words, with a specific narrative pathway in mind. Or was it just important that the music be from a place based in "organic" reality, as you like to put it?
Julie: Unintentionally, the album naturally laid out in a storyline. While we were nearing the end of its creation we realized that it had a positive outline, as if it were a guide to life. That was really great for me to see. Like you said, every song is a personal story and you want to be as relatable as possible. At the beginning of the album, there are stories of confusion and loss, but it progressively builds to confident stories and ends on a positive note in finding strength. Most of the songs were written as the events were happening, so the emotions and words were quite accurate at the time. You get intense detail of what I was going through when you listen to Theorem.
Kira: You know, as sincere and substance-filled as your material is, I would be lying if I said I didn't hear some real strong potential for sync placement. The track "No" is the first one I heard that brought that to mind. When you arranged and orchestrated the songs, was the possibility of other uses in media something you consciously included in your creative choices or would it just be awesome extra gravy?
Julie: The funny thing is that "No" started as a joke. I had been told several times that I needed to write happier songs and something that would make people move and have fun with, so my friend Sophie Dupin and I got onto a piano and started playing something really poppy which quickly turned into "No." But it's somewhat of a trick. It sounds happy but it's a story of perseverance and struggle and never giving up no matter how many times you hear the word "no."
Kira: On that note, what would you say is your favorite facet of being an active and record-making musician? Live performance? The songwriting process? Recording?
Julie: All aspects of being a musician have its pros and cons. I love performing live because I get to see how people react to the music first hand; the song process is difficult and can be frustrating but it's fun. I'd have to say the recording process is my favorite. You see and hear the songs that you created over the course of time truly come to life and it's extremely satisfying.
Kira: Why the title "Theorem?" It's rare in average conversation that a person will actually reference a full theorem, rather than just throwing around the word "theory." It might be splitting semantics a bit but theories are not yet proven while theorems are –care to share the motive and the meaning? Are you out to show you've proven something?
Julie: The definition of theorem that I know is that it's a truth accepted by means of other truths. I thought it embodied the album perfectly because the songs on the album are all from my life experiences and what I've come to learn from those experiences. I'm not out to show that I've proven something, I simply feel like I have a lot to say and it can all be heard in Theorem.
Kira: It is not too hard to miss your listed artist influences on the record and yet there is something indescribably and pleasantly self-sustaining about how all the musical pieces come together. The songs are incredibly layered. Signature instruments and combinations like piano, lead guitar and cello easily bring the Fray, Coldplay and OneRepublic to mind but you do not box yourself in at all. What is it about those and your other influences that touch you as a musician?
Julie: Their simple instrumentation with signature instruments, like you said. They are bands that focus on the art of words and melodies as much as I do. I think that it's becoming increasingly more popular that musicians sped too much time trying to create music that sounds appealing but the words and melodies totally lack. In my opinion, it's a team effort; music and words should do each other justice.
Kira: Now for a few fun questions: If any artist in the world were to discover Theorem tomorrow and pick up a microphone to record a cover of one track off the record, which artist do you wish it would be and what song do you think they might choose?
Julie: This is such a difficult question. I think I could hear OneRepublic covering "Staircase." I think it suits their sound.
Kira: American Idol, the Voice or are you not a fan of reality TV?
Julie: The Voice!
Kira: Any plans for a tour in the future?
Julie: There's been talk of a mini-tour, so we're working on that.
Kira: Lastly, what's the first word that pops into your mind to describe how you feel seeing your album finished and loaded up in iTunes?
Julie: Surreal! You spend so much time trying to keep everything a secret so it's not spoiled before it's release and then all of a sudden, boom! The world has access to it.
Theorem is out now and can be streamed on Spotify and downloaded from iTunes and Amazon. 
You can keep up with Julie Mar through these outlets: