Born to Raise Some Thoughts on John Mayer's Introspection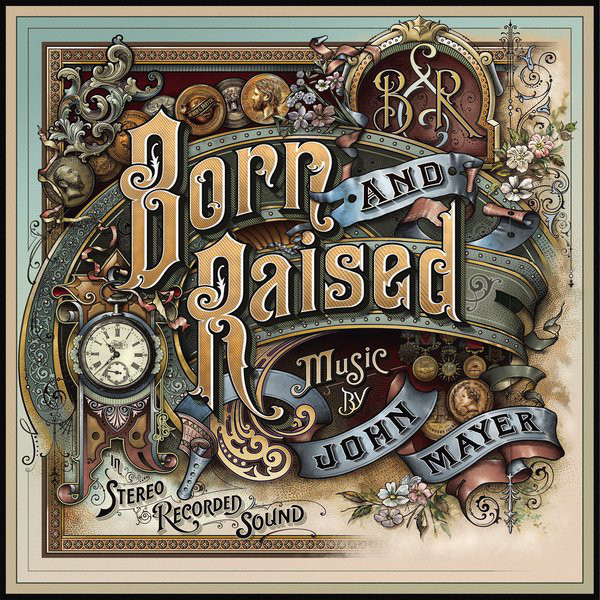 This post just happens to be the 100th for "Throw the Dice" and hey, why not do something special to mark the occasion? So I'm shaking things up going into the next 100 posts. A review here and there might pop up, just to keep you readers on your toes! Don't worry though, my original writing M.O. isn't going anywhere.
To be perfectly honest, I wanted to get something up sooner but my thoughts were all over the place and for the first time in a while, it was one of those, "Where the heck do I start?" kind of situations. Well let's start off with the facts and we'll go from there:
John Mayer
's new studio release, his fifth, is titled
"Born and Raised"
and officially hit the download queue and store shelves this past Monday, the 22nd. What's being buzzed around the internet as 'John Mayer gone country' can certainly be filed under
Americana
,
Folk
 and does have aspects of typical
country
 in it. A fully loaded 12 song record, the track list is below, as well as the first track, courtesy of Mayer's official VEVO channel.
1. Queen of California
2. Age of Worry
3. Shadow Days
4. Speak for Me
5. Something Like Olivia
6. Born and Raised
7. If I Ever Get Around to Living
8. Love is a Verb
9. Walt Grace's Submarine Test, January 1967
10. Whiskey, Whiskey, Whiskey
11. A Face to Call Home
12. Born and Raised (Reprise)
Now, this isn't a flat out album review. I'm more taken in by Mayer's drive behind the record and compliment these declarations with praises for the songs. It's my opinion that this album can be listened to many consecutive times -not just because one might like it but because each repeat can highlight something else both profoundly emotive and expectedly accomplished.
Summarizing the whole picture, this work is both incredibly straightforward; (bordering on cliché) and rather (pleasantly) unexpected. Without deconstructing every single syllable, the semi-cliché nature I'm talking about is clear from just the lyrics. (Though is cemented in so much more by following interviews alongside.) Mayer is allowing us to hear real things that happened to him and real things he thought and felt along the way. Just the opening verse from "Queen of California" when you first hit play makes this narrative format crystal clear, even if you never plugged into the hollywood chatter around Mayer's life outside of his CDs.
"Goodbye cold, goodbye rain.
Goodbye sorrow and goodbye shame.
I'm heading out west with my headphones on,
Boarding a flight with a song in the back of my soul,
that no one knows."
Just because I used the word cliché, I don't mean to imply that as a negative. Any lack of mystery in lyrical composition only serves to reinforce this idea of Mayer sincerely bearing a transparent and evaluative spirit this time around. To briefly mention his last release, Battle Studies, real life connections could certainly be made from there. Consequently, it's not as if the content was any less factual but aside from Battle Studies mentioning real events, by comparison, Mayer's newest content speaks truth, substance and change.
What I just said may seem like an obvious statement as glaringly bright as the sun, seeing as how 'country John' has caught many off guard, to varying degrees. However, to address this detail specifically, the very fact that Born and Raised sees Mayer in yet another box, seemingly packaging his albums in a new genre every release, speaks volumes to his technical changes as a musician.
It's not often that an individual can jump to new territory so fully, and without gradual transition, the way Mayer does. Much of the time, when an easily style-identified artist makes any kind of drastic shift to themselves; particularly with the very thing that they got noticed for, there's shock, disagreement and often pleading for the old ways from their admirers. (See most forums comparing Battle Studies with Continuum.)
To jump ship abruptly and so largely to another style is unusual because if each were so easily picked up, everyone would know how to do everything. Opera singer, Renée Fleming's, venture into indie rock with "Dark Hope" is a prime example of a greatly skilled artist occasionally being at a loss because the singing style is so unlike anything she'd had to do up to then.
John Mayer removes this line of thinking though and stands modestly like a rare exception to the rule, because he never let the rule take him in, in the first place. (Perhaps I speak too quickly of "rules" though, as these days the mass trend of collaboration makes genre defiance a little less shocking.) Mayer's guitar prowess and genuinely individual but memorable voice fit into many molds. Simultaneously, there are definitely things both artistic and technological that make Mayer have his 'signature sound.' His particular guitar and chosen pickups can be recognized from album to album, as well as certain gently emulated hooks and rhythm patterns. In this way, Mayer has something extra special, in that the things we can recall and retain from project to project are things that identify him and his strengths specifically; not necessarily the genre communit(ies) surrounding him.
To get back to what I said before about change in a less obvious way, there may have always been honesty in Mayer's older work too but the heavier impact of outright soul bearing is unavoidable and truly sets Born and Raised apart because he has taken a stance behind and within the album, of proclaiming inner growth and maturity so intense and important, there is no turning back. In turn, this means that besides hearing new words in new songs, each track illuminates the mentality of a changed man, who has settled into his skin of adulthood and all the admirable qualities it brings. This element is new in a way that no crazed fan could possibly leak out to the internet.
After discussing things like his relapsed granuloma, having to learn to "live like a monk [again,]" (Cit. NPR, "John Mayer: Restoring an Image and An Instrument," All Things Considered, 5/19/12) and giving up control -both on his social media outlets and on "the idea of correction," there's no denying Mayer has had some kind of deep reconnection with his "original plan, which was to make music for anyone that wants to hear it." (Cit. Mayer, NPR)
The pair of most poignant things he also stated during his NPR interview, in my opinion, are his shift to appreciation rather than imminent reward and his realization that 'gossip world John Mayer' is much less his core self than 'apt musician John Mayer.' (which can be construed as a bit high brow, but is ultimately just personal acceptance of his musically passionate difference from what he thought was the expected norm.)
"[…being so successful from a young age] doesn't happen to everybody, and I think, once I realized that, I retroactively recoded everything that happened to me, as something to be appreciated…and not just deserved."
"Like, I-I know I can change vacuum tubes in an amp, or play roughly, uh, a rough assimilation of like, of any guitar player you throw out at me…like…I'm the only guy in Us Weekly, who knows who Clarence "Gatemouth" Brown is. You know what I mean? …I don't belong in [magazines like Us Weekly.] And the big problem is when I started seeing all that stuff as my problem. Like, dudes in the bushes…They don't want to take my picture because they think I'm some kind of guitar hero or something like that. They want to take my picture because of what world I put myself in."
To be blunt about it for a minute, I saw John Mayer's music nerd side in that quote, and I thought it was the coolest validation of his increasing detachment from a previous fixation on holding attention for the sake of holding attention. Being the talk of the town doesn't always mean people are actually saying anything (worth value) about you. If you go right from this thought and then listen to the album again for the compositional assembly, (I think at this point we're up to three full plays,) you get another experience out of it entirely. "Something like Olivia" and °Love is a Verb° throw nice bones to those admirers that still clamor on about Continuum and 'Blues John Mayer,' with a solid 12-bar blues in the former track and playing style/possible micing that kindly imitates the featured piano from Norah Jones's 2002 hit cover of Jesse Harris's blues tune, "Don't Know Why," in the latter. Smooth jazz trumpeter, Chris Botti, even lends his talents to the unusual but poetically beautiful track, Walt Grace's Submarine Test, 1967
There's risk, there's vulnerability, there's even a touch of momentary randomness, but, I don't need to spell the verses of every track out on the page for you. That would deprive you of so many moments of intrigue. I'm still enjoying this new CD for the many reasons that I believe it can be put on repeat. Even more than the record itself though, I think there's a bit of basking that can be done when you fully process just how intimate and revealing Born and Raised is. Mayer might be far from the first person to have the kind of maturing revelations he's singing about but, if being witness to a man really coming into his own isn't the ultimate fan to celebrity admission then let's see 140 characters and an "@" symbol shed light on inner demons with the same amount of refined depth and exclusivity.
Give the album a listen and feel free to agree, disagree, and share your opinions on anything I've said and let's see what comes of it. Happy listening!